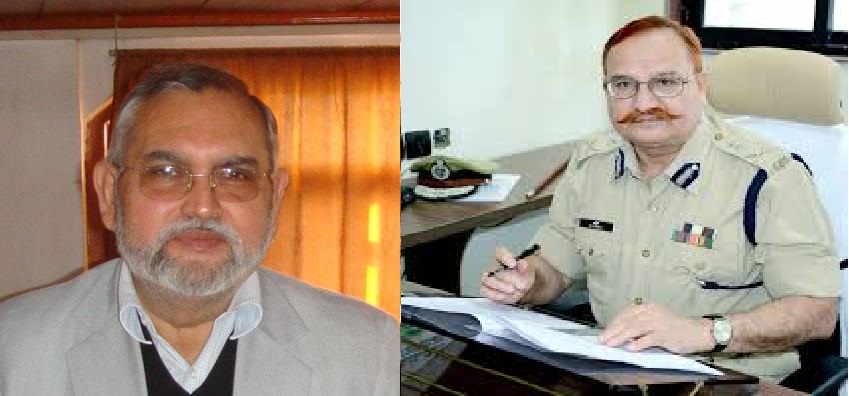 I am noting with grave concern that since few years, a negative trend has emerged in country wherein all those people are threatened, harassed and slapped with unfounded charges. Their voice is being choked though for the positive and functional democracy, participation every section of society is necessary.
The latest case is of Delhi Minority Commission Chairperson and renowned author Dr. Zafrul Islam Khan who is being not only targeted in systematic manner but has been charged with sedition charges.
Delhi Police has booked Delhi Minorities Commission chairman Zafarul-Islam Khan on a FIR lodged by one Kaushal Kant Sharma, a resident of Vasant Kunj, New Delhi slapping sedition charges after he allegedly wrote some alleged "provocative" posts on social media on 28 April . Not only this, a petition has also been filed in the Delhi High Court, seeking action against him for the post.
According to the FIR , Dr. Zafrul Islam Khan has been booked under sections 124 A (sedition) and 153 A (promoting enmity between different groups on grounds of religion, race, place of birth, residence, language, etc. and doing acts prejudicial to maintenance of harmony) of the Indian Penal Code.
On the other hand a petition has also been filed by one Manoranjan Kumar against Khan wherein he stated that he ( Dr. Zafrul Islam Khan ) used the medium of social media and networking to propagate hatred amongst the Muslim community against Hindu Community as a whole. He has played a wicked game by not even hinting as to who specifically he referred to as Hindutva Bigots, thus implicating the whole Hindu Community and outraging their character and conduct on volatile social media turf Facebook.
Let us examine who is Dr. Zafrul Islam Khan? He is a renowned Islamic scholar and an authority on Palestine affairs. He has command on English, Arabic, Urdu and Hindi languages. He obtained Ph.D. ( Islamic Studies) from Manchester University. Not only this, he had received education at Al Azhar University ( Egypt) and Cairo University. He is also a renowned author and translator who has penned and translated more than 50 books in English, Urdu and Arabic. Apart from that, He is founder editor of English language fortnightly The Milli Gazette which has served as best plateform to raise Muslim problems and concerns. His Charity Alliance, a NGO runs school for poor children in Murshidabad ( West Bengal). Few people know that Charity Alliance has built houses in Shamli (UP) for 32 victim families of Muzaffarnagar anti-Muslim carnage. Dr. Zafrul Islam Khan was elected Chairperson of Muslim Majlis-e-Mushawrat for three terms .
It pains me that now when Dr. Zafrul Islam Khan has been targeted, most of the so called Muslim organisations, community leaders and intellectuals are silent.Though number of other civic leaders and saner elements of society have openly come forward to question the conspiracy behind hounding out of Dr. Zafrul Islam Khan but there is need to frontally defend him within Constitutional and legal parameters.
We should not forget that Article 19 (1) (a) of Indian Constitution clearly says that " all citizens have the right to freedom of speech and expression. Freedom of Speech and expression means the right to express one's own convictions and opinions freely by words of mouth, writing, printing, pictures or any other mode."
What is sedition charge ? The sedition provision punishes anyone seen to " excite or attempt to excite feelings of disaffection against the government", even though this may be by their words alone. It is a non-bailable offence, and has life imprisonment as the maximum punishment.
In recent times, there has been an increase in the instances in which sedition charges were pressed against many intellectuals including students who didn't toed the government line. This is not healthy trend for the survival of democracy in the country.
Let us examine the crime of Dr. Zafrul Islam Khan for which he has been charged with draconian sedition charges. In his post, he just pointed out the huge violations of human rights of Indian Muslims. We should not forget that today the world has become a small village and it is almost that incidents in any country didn't attract attention of the world community. Even if Dr. Zafrul Islam Khan or anybody else keep quite and didn't voice any concern, the ongoing onslaught on the second largest population of country, Muslims will be taken note of by international community and forums. Those who have responsibilities to maintain positive image of country and delivery of justice should contain and control rising tide of Islamophobia and hate campaign rather than accusing Dr. Zafrul Islam Khan or his likes to tarnish the image of country abroad or terming their concern for justice as waging war against nation and consistently slapping sedition charges against them.
I think that there is bigger conspiracy against Dr. Zafrul Islam Khan than what meets eyes. A few politicians with ulterior motives and TV news channel anchors have mischievously misinterpreted his comments in post and called him as anti-Hindu and anti-India. But the hard fact is that Dr. Zafrul Islam Khan has only said what saner elements of society , civic leaders, international forums , OIC, European governments, the United States of America and United Nations Human Rights organization have repeatedly voiced on increasing human rights violations and injustices heaped upon Muslims in country .
Though I am not legal expert but as former police officer of long standing, I believe and legal opinion stand with me that the charges of sedition against Dr. Zafrul Islam Khan are "baseless" and would not stand in any court of law. Though the charges levelled against him are matter of investigation but I am sure that the police claims against Dr. Zafrul Islam Khan will fall flat in courts.
I am compelled to draw the attention of nationalist and sane people towards another angle of the issue under discussion. When our leaders professing a certain socio-political ideology and even the government voice concern on the status of non Muslims in neighbouring countries, then why no other country or individual may speak for Muslims in India ? This is the question on which all stake holders should ponder over. The trend overlapping the country is not in best interest of nation and our composite culture which is hallmark of our Constitution.
This is right time when the government should review its policy of silencing voices of society people and make effort to provide justice to every section of society which will translate election slogan of Prime Minister Narendra Modi into ground level reality. It will certainly improve image of the country abroad which is nosediving presently.
But before that the government must act in a democratic manner and take necessary steps in withdrawing sedition charges against Dr. Zafrul Islam Khan. This will send a positive message to world particularly in Arab world where Dr. Zafrul Islam Khan is treated with high respect.
I must make it clear that I hold no brief for Dr. Zafrul Islam Khan. I have penned the above in national interest to save image of my country.
Mohammad Wazir Ansari IPS, The writer is Director General of Police, Chhattisgarh (Retd.) and renowned social activist. He may be reached at mwansari1984@gmail.com /mwansari@rediffmail.com Views are personal.