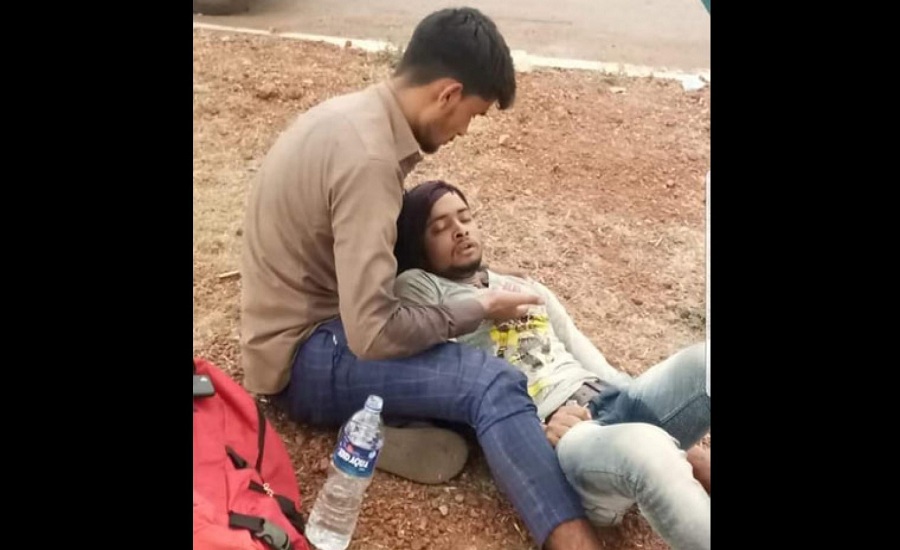 In a heart-wrenching tragedy, a 24-year-old migrant worker died here after his fellow travelers, except his friend, left him behind on their way to Uttar Pradesh. 'A friend in need is the friend indeed' goes a saying. This has been proved once again by a heartwarming story of Yakub and Amrit, both migrant workers struggling to reach home. Yakub steadfastly stood by his friend Amrit in his adversity. Yakub was the only person to remain with Amrit till his last breath. Yakub was relentlessly calling out to passersby for help. No-one stopped. A local resident took a picture of the moving scene, but by the time it went viral, the friend was dead.
A photograph of Mohammed Yaqoob (23) weeping and cradling his friend Amrit's lifeless body in his lap on Saturday by the roadside in Madhya Pradesh's Shivpuri district as his friend calls for help has been widely shared on social media.
Yakoob and Amrit worked in Surat and decided to return to their native places in UP after losing their jobs in the lockdown. They paid Rs 4,000 for standing space in the back of a truck and set off with a large group, via Nasik and Indore, said Yakoob.
Amrit fell sick on the way. He had a high fever and started vomiting. There were around 50 to 60 workers in the same truck. They all began shouting that he should get out. Amrit started gasping for breath just as they reached Shivpuri district in MP. Fearing he had COVID-19, the other laborers forced Amit off the truck near Kolaras Bypass. Yakub refused to leave him alone and jumped off the truck to stay with him.
Civil surgeon Dr P K Khare said that the samples of both the deceased, Amrit, and Yaqoob have been sent for COVID-19 testing. Yaqoob has been kept in isolation ward due to suspicion of coronavirus infection, he said.