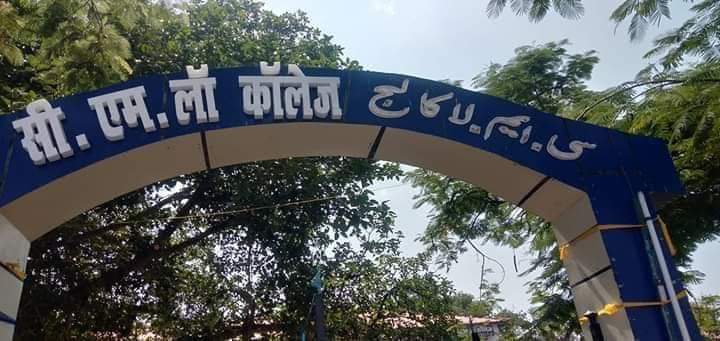 At a time when the world is fighting Coronavirus, the administration of Darbhanga C.M. Law College, Bihar (India) has removed the name of the college written in Urdu language.
It is learnt that the erasure of the Urdu letters has been under the pressure of communal forces.
Note that Urdu is the second official language in Bihar.
Ahead of the Bihar assembly elections, a communal agenda is in place to demonize Urdu as a language of a particular community and religion.
The communal forces have become active in Mithila region. They are trying to present Urdu as "the other". It is also projected as the "obstacle" in the path of achieving proper recognition of Maithli language.
We should not forget that what is unfolding in Darbhanga is not different from the national politics. The names of several cities, railway stations and roads have already being changed.
In last January, the Railway department decided to replace the names of stations written in Urdu with Sankrit names at the railways stations in Uttrakhand.
In Mithila region attempts are being made to associate Mithala culture with a particular caste and religion, excluding all others.
Unlike such attempts, the fact is that Mithila is a regional identity. It can never be made an identity based on caste and religion.
For those who want to fight for the rights of Maithli language, we all support them. But we will never support a politics based on a binary between Maithali and Urdu.
My article in "Inquilab" today (May 21) makes an appeal to all secular and progressive sections. We must stand with Urdu.
The college administration should immediately undo the damage it has done to Urdu.
Updated: After the outbreak of public discontentment on Twitter, earlier hashtag UrduLikhoCMcollege trended on social media, the college administration has undone its shameful act of removing the name of C.M. College, Darbhanga written in Urdu. Urdu letters are put at the main gate of the college.
Abhay Kumar is PhD from JNU. Minority Rights and Social Justice are his areas of interests.