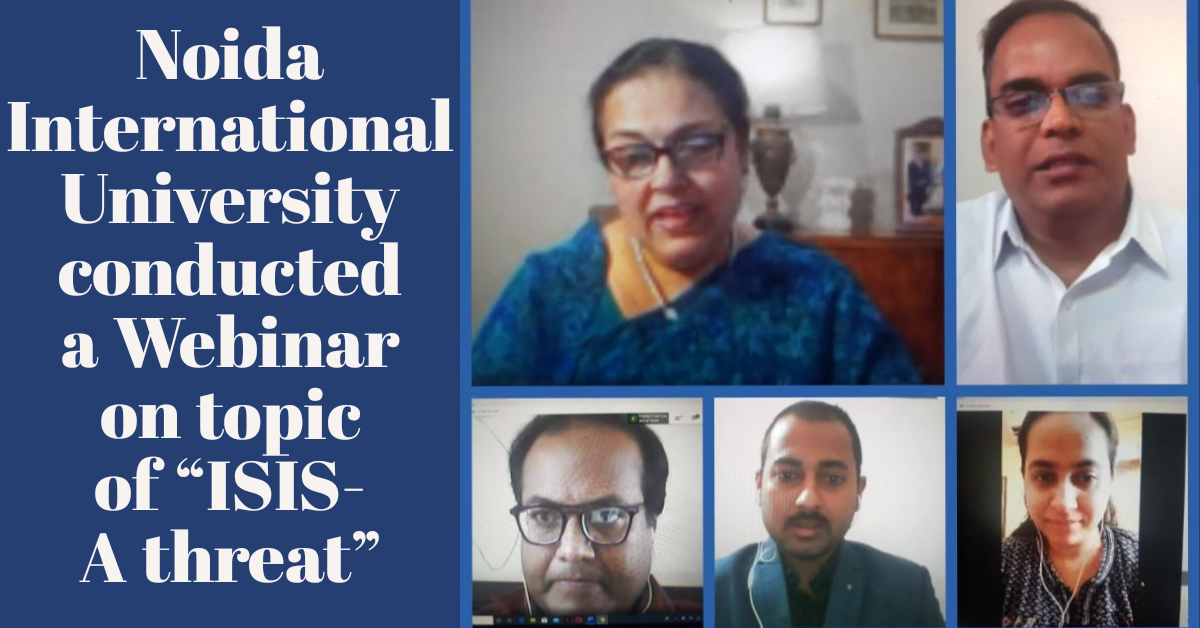 School of Law and Legal Affairs, a department of legal studies in Noida International University conducted a Webinar on 31st May, 2020 on a very interesting and relevant topic of Islamic State of Iraq and Syria- A threat. The keynote speaker of this webinar session was Ms. Professional retired diplomat Susmita Gongulee Thomas. She was the Indian Ambassador to Turkey at a very interesting time from 2011 to 2014, when the ISIS issue was warming up.
The session started by introduction session initiated by Mr. Baidyanath Mukherjee, Assistant Professor School of Law and Affairs then the welcome speech was delivered by Honourable Vice Chancellor Prof. (Dr.) Jayanand. The Head of the Department Prof. (Dr.) Parantap kumar das extended regards to the Guest speaker. The session went phenomenally exceptional in all quarters as intellectual and most experienced guest speaker spoke remarkably well on the topic of ISIS.
She said during her speech that ISIS is a powerful terrorist militant group that has seized control of large areas of the Middle East. Infamous for its brutal violence and murderous assaults on civilians, this self-described caliphate has claimed responsibility for hundreds of terrorist attacks around the world, in addition to destroying priceless monuments, ancient temples and other buildings, and works of art from antiquity.
Throughout its existence, ISIS has been called several names, including: ISIl, IS and daesh. The roots of ISIS trace back to 2004, when the organization known as "al Qaeda in Iraq" formed. ISIS became recognized around the world for carrying out heinous acts of violence, including public executions, rapes, beheadings and crucifixions. The group has earned an nefarious reputation for videotaping brutal killings and displaying them online. This militant group is unstoppable and their ideology pose threat to all nations. United Nations has been continuously has garner world economies to fight together against this ongoing disease of terrorism. India is continuously supporting United Nations in its all mission to help the world to fight and eradicate terrorism. India initiatives are applauded by every UN Agencies.
She also mentioned that COVID-19 has cut a wide swath of pain and loss across a world which has struggled to keep pace with a deadly virus that has moved swiftly across borders. But for ISIS group, the global pandemic has translated into regional opportunity. The Islamic State militant group has sought to expand upon the rebuilding effort it began last fall and use the coronavirus to spread its own, more violent Form of destruction and terror. Though India does not suffer from any current vulnerabilities of establishment of Caliphate by ISIS. It is next to negligible because India's biggest strength is its strong roots of liberalism, democracy and secularism and this creates trouble for ISIS agendas. But as suggested above the modus operandi of ISIS could come into various shapes of radicalization and merging with local terrorists groups. Therefore, India needs to wear its spectacle of precaution in uprooting the home grown terrorism and radicalization.
On this note the session ended with vote of thanks delivered by Soumi Chatterjee, Assistant Professor School of Law and Legal Affairs. The session was an exemplary example of how education and general knowledge can be promoted during this pandemic period. The guest speaker speech gave in-depth knowledge to the students.