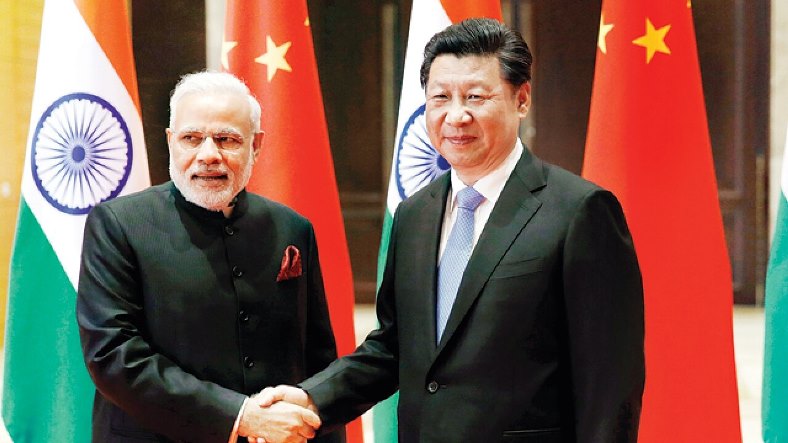 Majbuddin
Good foreign relations with other countries are valuable assets for a nation. Trade relationships are bilateral, multilateral, and global but Diplomacy is one to one relationships. Diplomacy between the two countries is built over a long time. Good Diplomacy with any nation takes hard efforts, knowledge of the past of the nation, its trade policies, and most importantly its foreign policy towards other nations and what you can offer it. Either you can offer a good market for its product or services or you share similar ideology or fear. A better foreign relationship is built on opportunities and strength. When you get an opportunity to help or stand with other nations in the hour of need build trust and showcases your strength. A good foreign relationship requires all of these so it is a long process. When you fail in diplomacy, you destroy years of trust and effort. Diplomacy is something to be preserved.
After 2014, When the Modi government came to power, India's foreign relations with its neighbors deteriorated be it China, Nepal, Bangladesh, Bhutan, Pakistan, or other nations like USA or UAE.
BJP's Pro Hindu approach and failing Diplomacy with UAE, Pakistan and Malaysia
UAE is 3rd largest trading Partner of India and constitutes around 50 Billion USD trade per year but India is the largest trading partner of UAE. It means UAE exports maximum goods and services to India. Its foreign policy with India is very much affected by trade. UAE cannot risk a bad relationship with India as it offers the largest marketplace for UAE and directly impacts its economy. But from time to time after 2014, steps were taken by the current Ruling government to appease the majority and its pro-Hindu approach has led Muslim nations to take a stand and express their dissatisfaction. UAE lately vetoed Pakistan and OIC (Organization for Islamic cooperation) stand on Kashmir. It was reluctant to take and stand against India for around the past year. Some experts say that the serial arrest of Anti CAA protesters under section 124 A (Sedition) and 146 (Rioting) is conceived as a conspiracy against Muslims in Delhi February Riots 2020. UAE stand to support OIC this time is a big step and Victory for Pakistan's Diplomacy against India. It is here to be noted that OIC wants independent reports on Kashmir's situation by Human rights organizations and referendum in Kashmir.
After the dissolution of Article 370 and 35A in Kashmir and projecting it as a major success of the BJP government to appease the majority against this time led to intensify and worsen India Pakistan relations. Pakistan has been discussing the issue of 370 in Kashmir at UN and OIC and the plight of Kashmiris ever since the dissolution of 370. Major Military progress like Pulwama, URI, and several ceasefire violations in recent past have worsened relationships.
Malaysia lately has also recorded its dissatisfaction over CAA and NRC and targeting Muslim protesters in India by BJP ruled government. The Indian government in retaliation imposed sanctions on Palm oil imports from Malaysia which it has eased off now.
Turkey has a clear stand against the Citizenship amendment act of India and it has also registered its dissatisfaction and supported Pakistan's stand in OIC. It is here to be noted that Organization for Islamic cooperation is an organization consisting of 57 nations out of which 54 are Muslim majority, headquartered at Jeddah, Saudi Arabia.
Failing Diplomacy with USA
United States is the second-largest bilateral trading Partner of India accounting for around 75 Billion USD trade a year. The USA is a major game player be it the economic or political sphere of countries and has its vested interest in Asian countries. USCIRF (United States Commission for religious freedom) is an independent agency in US which keeps an eye on religious autonomy in a country. Currently, it has submitted its report on India and downgraded its religious freedom and attributed CAA, NRC (national register of citizen), Delhi Riots, and lately formed anti-Procrastination Law in India to it. It has advocated US to impose sanctions against India and to put it in the same category as Pakistan and demanded an independent group of human right vigilantes to visit and study the situation in India to which India declined and not permitted saying that it was India's internal affair.
Currently, United States imposed sanctions on India and temporarily restricted H1B Visa for Indians until December this year. It has also imposed sanctions on Air India run Vande Bharat flights meant to bring back Indians from America. It has also urged from time to time to mediate in India Pakistan and India China conflicts. It has also cut trade benefits and tariff benefits of India by keeping it out of the list of developing nations. Such actions indicate that good Diplomacy requires time and effort which Howdy Modi, Namaste Trump cannot do.
India Bangladesh Diplomacy decay
Bangladesh is India's ally just because it is an enemy of Pakistan. India Bangladesh had good diplomatic and trade relations after 1972. But India's stand on Rohingya Muslims, CAA, NRC, and recent pro-Hindu and Pro majoritarian developments has lead Bangladesh to record its dissatisfaction. It has also condemned and criticized India over CAA and statements of atrocities on Hindus minorities in Bangladesh. China Bangladesh's recent trade deal may help Bangladesh come out with a stronger stand on these issues.
Ally becoming enemy: Nepal
Nepal which is undergoing recent territory conflicts with India in Lipulekh, Kalapani, and Limpiyadhura has asked China for help as a part of its strategic Diplomacy which China declined. Nepal has signaled strong sovereignty by including these regions in its recent political map. It has also changed Citizenship Rule for India where an Indian marrying a Nepali woman will now be required to wait up to 7 years to be Nepali citizen.
Diplomacy with China and boycotting Chinese goods
Ever since 1965 Sino India war, China is an untrusted ally of India. It is due to the Aksai Chin conflict and its sidelines with Pakistan. Current India China Military standoff and martyring of 20 Indian soldiers including one officer broadcast its failed diplomacy with China after 1965. India China Galvan Valley face-off is the largest and most intense after 1965 says a lot about Indi's failed diplomacy to handle the situation.
In a bid to financially hit China after the face-off and anti-China sentiments in India, many have decided to boycott Chinese goods. It is here important to understand that Chinese goods are more affordable in India due to high cost of manufacturing in India. Cost with quality is something China maintains. It is after this, that many Indians would be required to forgo their needs of electronics like A.C, TV for example, which they could have afforded. They will end up either forgoing it or buying goods of lower quality in same price value.
It is here also to be noted that China only accounts for around 3% of its total exports to India while India accounts for around 16% of its exports to China. 100% Boycotting of Chinese goods is not possible. For example, If we uninstall Tik Tok as an attempt, we forget that the mobile phone may also be Chinese, if not the phone then the battery, it not the battery then its parts, there is somewhere something Chinese everywhere in India. Now consider a situation where China also starts boycotting Indian goods, it will financially hit India's import around 16% directly hitting its economy which is unbearable. The boycotting of Chinese goods is doing more harm to India than to China.
The current China-Bangladesh trade deal may be seen as an attempt of China to compensate its losses with India. China has decided to exempt tariff on 97% of Dhaka Goods export. It is expected to triple Bangladesh export to China.
India-China diplomatic relationship should be rebuilt and in a way it was during 1938 Sino Japanese war. Dr Dwarakanath Santhram Kotnis who served Chinese soldiers and provided medical assistance till his last breath in China during war held in high respect in China. China dedicates whole south Memorial to Dr D.S Kotnis where his statue lies. During 1940, Mao wrote to the Jawaharlal Nehru "our emancipation, the emancipation of the Indian people and the Chinese, will be the signal of the emancipation of all down-trodden and oppressed". Such sentiments bring solidarity and help build a great diplomacy.