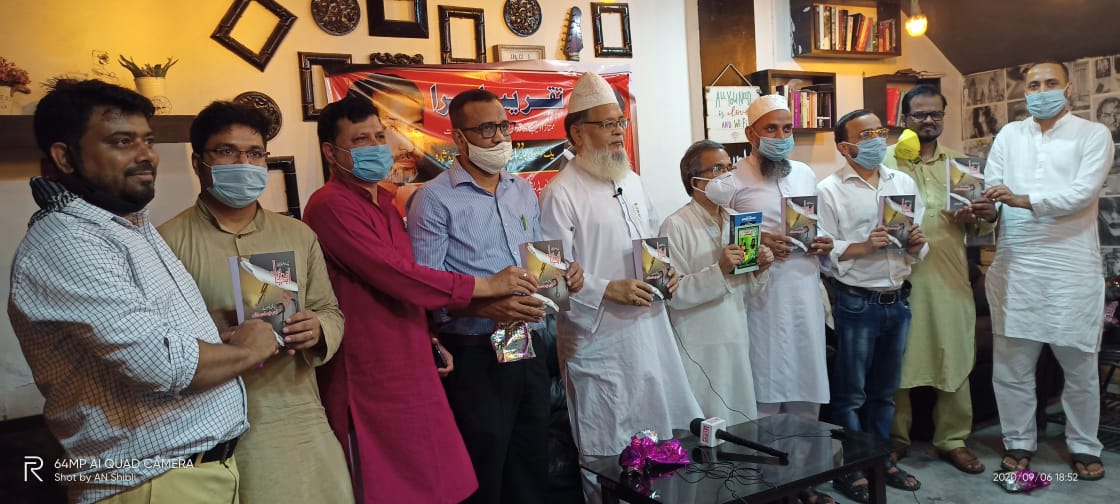 By Manzar Imam
New Delhi: Andaz-e-Bayan is the outcome of my passion, a passion which I did not allow to die even during unemployment and the pandemic. These views were expressed by renowned Urdu critic and writer Haqqani Al-Qasmi. He was speaking at the launch of the third book of his famous single-theme Andaze-e-Bayan series at a cafe in Shaheen Bagh, New Delhi on Sunday, 6 September, 2020. The present journal, which in fact, is part of a series of books, "discusses about those poets, litterateurs, authors and novelists, who, despite being in the medical profession, are serving Urdu in areas of research and criticism", said Haqqani.
Speaking on this occasion Maulana Ajaz Urfi Qasmi, president of All India Tanzeem Ulama-e-Haq, who chaired the session, lauded the author for his powerful, creative style of writing which had won him global acclaim. Haqqani Al-Qasmi is an accomplished and distinguished litterateur and critic serving Urdu with great sincerity and humbleness. There is an unusual amount of literary taste in his works which can be felt by the reader. He further said that Haqqani is not unaware of the social world. "From above the literary firmament, Haqqani surveys the mundane world", Mualana Urfi said adding that one can see that in his literary journal series Andaz-e-Bayan as well.
Abid Anwar, a senior journalist with UNI remarked that to say anything about Haqqani would amount to explaining the obvious. Urdu critic and Post-Doctoral Research Fellow, Dr Noman Qaisar presented an overview of the author's literary journey mentioning about some of his well-received and critically acclaimed books like Philisteen Ke Chaar Mumtaz Shu'ara, Tawaaf-e-Dasht-e-Junoon, La Takhaf, Takalluf Bar Taraf, etc which are full of literary aesthetics, creative imagination and academic insights.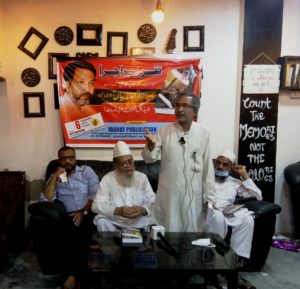 It should be noted that the first issue of this book series (Andaz-e-Bayan-1, May-July 2016) was dedicated to literary contributions of women, especially of women from marginalized sections of society, with reference to biographical writings and their analysis. The second one was dedicated to the creative facets of the police while the latest is an effort to unmasking the unrevealed literary contributions of doctors and medical professionals not just in Urdu literature but in English and Hindi literature as well.
Persons from media and different Urdu literary circles present on this occasion included Shahidul Islam, A N Shibli, Dr Khan Mohammad Asif, Ashraf Bastawi, Zubair Khan Saeedi, Majid Khan, Manzar Imam, Mohammad Alamullah, Nayab Hasan, Maulana Firoz Akhtar Qasmi, Shams Tabrez Qasmi, Ahsan Mehtab, Anwarul Haq, Abdul Bari Qasmi.
The launch programme was coordinated by T M Ziaul Haque. Salam Khan, head of Ibarat Publication which has published the book, presented the vote of thanks.