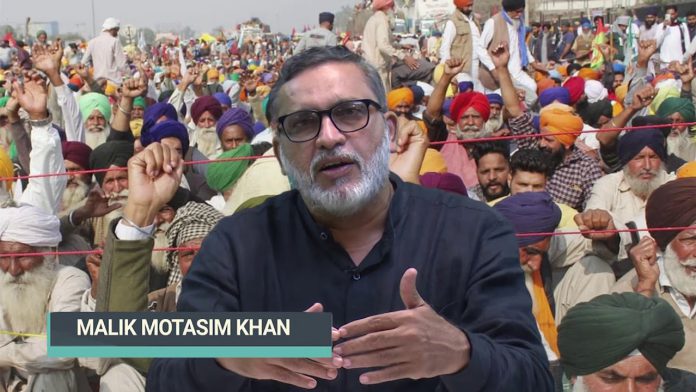 A total of eight people had died in Lakhimpur Kheri's horrendous incident of violence on Sunday in the midst of the farmer's peaceful protests over the anti-farmer laws on the visit of Union Minister Ajay Mishra in Lakhimpur. Minister's son Ashish Misra was named in the FIR filed by the Uttar Pradesh Police and accused of mowing down protesting farmers. It is important to note that the incident took place after a provocative speech made by Ajay Mishra a few days back about quelling the farmer's protests in just two minutes. Though a case of murder has been made by the police no arrests have been done so far.
APCR General Secretary Mr Malik Motasim Khan has strongly condemned the Lakhimpur Kheri violence and said, "it not only the precious human lives which are lost but our democratic right to dissent has also been laid down on deathbed.
Malik Motasim Khan claimed: "There is an alarming rise in the Indian government targeting anyone who dares to criticize or protest the government's repressive laws and policies in the last few years. It has started with the crackdown on Anti-Citizenship Amendment Act protestors and now new tactics are being deployed to quell the anti-farm legislation protests.
"When dissent is crushed with violence and power, the democratic space shrinks and the legitimate exercise of our fundamental rights like freedom of expression, association, and peaceful assembly are delegitimised and often criminalised. Human lives are reduced to numbers and mere monetary compensation is equated with justice," said Mr Khan.
He also welcomed the move of honourable CJI N.V Ramana who took the suo moto cognizance of the incident. According to him, "the intervention by the SC in the matter will pave the way for justice delivery in a fast, efficient and fair manner. We are hopeful of some good directions from the court in the favour of the powerless."
Association for Protection of Civil Rights(APCR) makes the following recommendations as demands from the Uttar Pradesh government:
A high-level judicial inquiry by a sitting High court judge under the supervision of the Supreme Court.

The accused named in the FIR should be arrested immediately for free and fair investigation.

Ajay Kumar Mishra should be immediately dismissed from his post of Union Minister of State for the impartial investigation in the matter without any influence of his position and power.

Monetary compensation and government jobs for families who lost their family members in this violence. nd also the proper treatment and care for the injured.

Government should ensure that the right to protest and dissent should be protected and not denied.

Repealing the oppressive farm laws and similar anti-people laws and policies.
APCR expresses its deep condolences and offers its complete solidarity and support to the bereaved families. We denounce and reject every form of violence in total and advocate and dream of a just, peaceful and violence-free society.