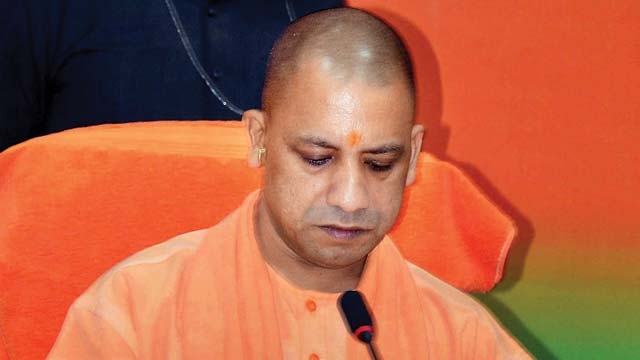 New Delhi: (Ibn Ali) Couple of days ago ,speaking during a program Uttar Pradesh Chief Minister Yogi Adityanath claimed that Chandragupta Maurya, who laid the foundation of Maurya rule, had defeated Alexander the Great, but historians still do not call him (Chandragupta Maurya ) great.
Mr. Yogi said " itihaas ko kaise vikrt kiya gaya hai ! itihaas ne chandragupt maurya ko mahaan nahin kaha , mahaan kise kaha ? jo unse haar gaya. ve sikandar ko mahaan kahte hain desh ke saath dhokha hua hai lekin itihaasakaar is par chup hain ( How is history distorted! History didn't call Chandragupta Maurya great, whom did it call great? The one who lost from him. They call Alexander, the great.
The nation has been cheated. But historians are silent on it .) " After Mr.Yogi's claim round of reactions started as expected . America's world-renowned South Asian historian Dr. Audrey Truschke wrote on her Twitter handle " I am part of this Great Historian Conspiracy. Here it is: We don't make up crazy nonsense that never happened, like Chandragupta Maurya fighting Alexander of Macedon.
" Following this Majlis leader and Hyderabad MP Asaduddin Owaisi asked Yogi to read history and he took a dig at CM Yogi by saying " Hindutva is a fake history factory. Chandragupta & Alexander never met in war. This is yet another example of why we need good public education system. In absence of good schools, Baba-log get to make up facts according to convenience. Baba doesn't value education & it shows .'
' Even if you take off the political spectacles , there is no exaggeration in Asad Owaisi's counterattack because a person with even a little understanding of history knows very well that the statement of Chief Minister Yogi has nothing to do with the facts. Yes there is slight difference of opinion among historians regarding the personal life of Chandragupta Maurya, but it is absolute clear that the reign of Chandragupta Maurya began after the death of Alexander the Great.
Earlier in 2018, Prime Minister Narendra Modi had described Kabirdas Guru Nanak and Baba Gorakhnath as mutual companions in one of his statements. In the words of the Prime Minister, "This is where Sant Kabir, Guru Nanak Dev and Baba Gorakhnath Ji sat together and had a spiritual discussion." While the truth is that these three were people of different periods.
Apart from the factual discussion, one must also focus on the confidence to garner applause by speaking anything from such respected posts .
The tongue of the leaders slips , such statements cannot be placed in this category because here the leaders do not even consider it necessary to clarify their statement ! So now the question is here that how can someone talk as poppycock with so much confidence from such respected post.
The answer that seems most appropriate at the moment may be that he is quite confident that not only can he garner applause from his supporters by saying anything but his logical opposition has weakened so much that it will be buried under the burden of his appreciation .
Let's just put all things aside, the valor of Chief Minister Yogi must be praised for making possible the war between rulers of two different periods. Sikandar could never muster the courage to face Chandragupta Maurya so he died just before Chandragupta's reign began , this statement could have been given instead of the recent statement .
Because all the restlessness of the Hon'ble Chief Minister is to prove Chandragupta great in front of Alexander. It also needs to be brought to the notice of the Chief Minister that like Prithviraj Chauhan and Maharana Pratap, Chandragupta could have been declared great without winning the war because the winner will always be great , this is not a universal law .