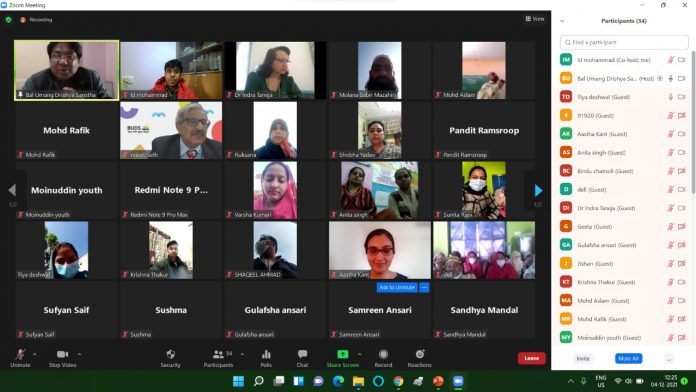 BAL UMANG DRISHYA SANSTHA (BUDS)
Community Health Worker-Led Intervention for Vaccine Information and Confidence
(The CIVIC Project)
Dissemination meeting
Nuh, Mewat Saturday, 4 December 2021.
Bal Umang Drishya Sanstha (BUDS) held a Dissemination Meeting for a very unique community based advocacy program called'The CIVIC Project'–an acronym for 'Community Health Worker-Led Intervention for Vaccine Information and Confidence' in collaboration with the Sabin Vaccine Institute andJohns Hopkins University, on behalf of its Bloomberg School of Public Health, International Vaccine Access Center (JHSPH), USA.The focus of this initiative is vaccine hesitancy.Ghasera Village inNuh, Haryana was selected for the intervention. The Principal Investigators of the CIVIC Project are Dr. Rajeev Seth, Managing Trust of BUDS, Dr.AnitaShet and Baldeep Dhaliwal from Johns Hopkins University (JHU).
Snapshot of the dissemination meeting
Nearly 60 participants were present in this virtual meeting. All 12 members of the Community Accountability Board (CAB) –including Moulana Sher Mohammad Amini,Moulana Sabir Mazahiri, Pandit Ramswroop, Sarpanch Asraf, Imran Khan and ANM Sushila, along with Community Health Workers (CHW) of 'The CIVIC Project', including Mr YawarQaiyum (Director Operations BUDS), Dr. Indra Taneja (Trustee BUDS), Project Coordinator Ms.BettyThankachen, Senior Community Mobilizer Mr.Shakeel Ahmad, Ms.Sunita Rani and Community members were present.
The invited dignitaries and participants felt that BUDS has been able to understand what the people of Mewat think about vaccines and how vaccination rates can be improved across Mewat.
Immunization in Mewat
In Mewat only 13.1% of children under two are immunized with BCG, measles, and three doses each of polio and DPT vaccines. Such low vaccine rates could lead to disease outbreaks, such as measles; may harm children or become fatal.
Although vaccinations are one of the most efficacious life-saving interventions, vaccine hesitancy is contributing to the resurgence of vaccine-preventable diseases (VPDs). Overcoming vaccine hesitancy and ensuring access to vaccinations has become even more critical considering the COVID-19 pandemic, as this has disrupted normal vaccine-seeking behaviour.
Project goals
The CIVIC project sought to investigate what people think about vaccines, and how their tensions about vaccines could be eased; to use this knowledge to work with community health workers and community leaders to bring about vaccine improvements in Mewat.
Conduct of the intervention
BUDS and JHU led focus groups discussions with members of the community (ASHA and Anganwadi workers, father, mothers-in-law, pregnant mothers, and community leaders) to understand perceptions of vaccines in Mewat.
The entire intervention would address training needsof community health workers, information gaps and misinformation in the community, allow for community accountability and ensure long-term sustainability. Unique features were the creation of a Community Accountability Board (CAB), Human-Centered Design Workshops andsustainability through monthly meetings of the CAB.
Summary of findings from baseline
The baseline study involved 25 Caregivers, 10 – 12 Community Accountability Board Members and 10 Community Health Workers.
Some of the findings were:
Community Health Workers (CHWs) would benefit from using real-life examples of people in the community who support vaccines, and real-life examples of influential leaders encouraging vaccines.
They had difficulty communicating with parents of their clients (children)
Involving religious leaders is important since they are much respected in Mewat.
Many people were nervous about COVID-19 vaccines, and they were hesitant to accept the COVID-19 vaccine (mid-2020, before approvals).
Unique features of the project
Creation of a CAB (Community Accountability Board): community leaders, such as religious leaders, teachers, sarpanch, and ANMs met on a common platform. Monthly discussions were held on progress, course correction and important vaccine issues in Mewat.
Training on communication and ways of overcoming vaccine hesitancy were imparted to Community Health Workers. Pamphlets portraying local leaders and parents; short video bytes from local leaders and religious leaders encouraging vaccination were disseminated via WhatsApp on smartphones. The focus was to encourage vaccination in the community.
Materials, methods and outputs
Skill development of CHWs (online platforms, collaboration, communication)
Videos and pamphlets produced facilitated the work of CHWs
The Routine and Covid Vaccinations gained momentum.
Videos were bridged communicationgaps with parents
Community's response is heartening
BUDS rapport with the community facilitated the conduct of the intervention. By engaging the CAB and CHW through the design and implementation phases facilitated ownership and engagement in vaccination decisions.
What we learnt:
Community members believe vaccination clinics provide them with many benefits.
Anganwadi and ASHA workers are important in helping parents understand vaccines.
Anganwadi and ASHA workers face many problems when talking to parents, and they don't always feel they have been prepared properly to talk about each vaccination question parents may have.
Certain community and family members are important in a parent's decision about vaccines for their children.
Religious leaders play a very important role in improving vaccination in Mewat.
Connections with community leaders were strengthened.
The community-driven, diverse, approach of the intervention led to its success.
However, a felt need to address more broad problems in Ghasera emerged as a result of project implementation
A Success Story
Initially bothhusband and wife had many doubts about vaccination. Even though they were told vaccines were good and easy to get, they were still not convinced. Talking did not convince them. Then theywere then shown avideo byte bythe local Maulana. The husband was very impressed by seeing the video clip. He said 'if our Maulana is asking to get the vaccination and is saying that the vaccines are good, then I will definitely get my wife vaccinated'. He also agreed to get the child fully vaccinated after the birth.