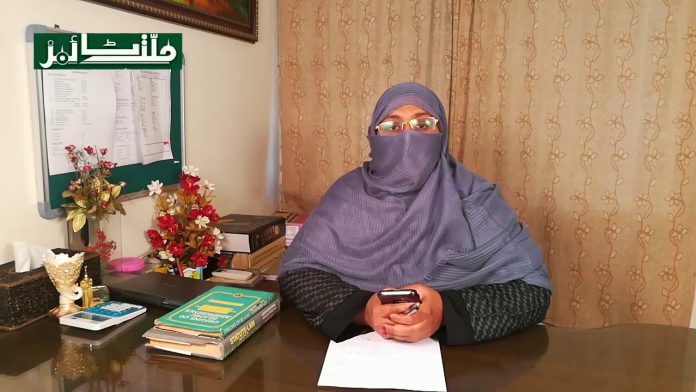 Since the Hijab issue started in Karnataka state in Udupi district , I had been following the developments. The matter was serious and could spread to other places ,therefore it was important that it is handled  wisely at the state level.
My visit to Bengaluru on Womens Day gave me a Chance to meet Aliya Assadi and her friend, students from Udupi where it all started.
Question : How long have you been facing the discrimination due to Hijab?
Student  : As it is a Government College Muslims regularly face hate comments and remarks. Our seniors and super seniors have also faced the discrimination due to Hijab. Such incidents do happen in Udupi but this time it is escalated to this extent.
Question : What was the discrimination you faced ?
Student  : Our lecturers tell us to remove Hijab , sometimes thenon muslim students forcibly pull off our head scarf. They pass comments such as "Do you wear it even while taking a bath?" Its not just us but our seniors and super seniors , all have faced hate and discrimination. Most of the Girls don't wear Hijab to avoid the hate but still they are targeted some way or other. Our principal is a BJP member and he tries to enforce Hindutva ideology in students. He is not neutral.
Question : How does your College allow Hindutva ideology ?
Student : The ABVP conducts enrollment drives , all students become member by making a payment of Rs 5 /- even muslim students are forced to take membership. They allow all religious activities of majority community. One of our student didn't want to enroll she went to principal to talk , but the Principal told her to enroll or else he would punish.
Question : Since when did you start wearing Hijab?
Student : we have been wearing Hijab since we Joined College . We wear the same colored uniform and cover head and neck with Hijab ,we follow dress code . but the MLA of our area is a Communal person. He wants to remove Hijab by force. We had only 2 to 3 months left to complete our course. But the college authorities stopped us from attending classes since early December 2021. We tried to meet Educational authorities and local leaders to get help. Our Parents tried very hard to get permission. Everywhere we got the same answer, the government is BJP so we can't expect them to allow. We told we are in a secular country and wearing Hijab is our Fundamental Right. It was then in january the media noticed our Protest.
I wear Hijab since 1ststandard.I don't remove Hijab even when I attend wedding functions , I keep myself covered always. How can I uncover in classrooms.
Question :Have you approached Muslim Community leaders ? didn't they guide you in this matter?
Student : yes. We attended many meetings with our Parents. They also tried representing our issue at many levels but could not get any success. We waited for more than 2 weeks . then they said its very difficult as MLA is BJP and Government is BJP .They told us to stop agitations and attend classes.
Question : Do you mean to say they asked you to remove Hijab ?
Students : They said it's a Girls College . You can remove in Classrooms and wear it on way home. There will be no Sin. Instead if this issue is magnified many girls will be forced to remove Hijab and the responsibility and sin will be on us.
Question : You have been very stubborn Ziddi in not understanding the larger issue , this is what is being told about six of you.
Students : We cannot remove our Hijab, we are facing so much of pressure from Muslim Community also . They are telling us and holding us responsible. But it is BJPs agenda from beginning. It is they who stopped us from classes. We are not being stubborn. We are just raising voice for our rights and missing our classes and now  practical exams.
Question : What is your connection with Campus Front of India?
Student: They are supporting us, that's all. The media alleges that we attended training camps at Campus Front and we are terrorists etc.etc. We are fed up of answering these questions.
Question : Why are you angry at media ?
Students : Media persons came to our homes with cameras to do some kind of sting operations. Only my grand mother was there. They went to one of our friends father , he had a bakery by name of BISMILLAH . Media released edited video of the father speaking about saffron shawls to provoke hindus. Then a mob came and attacked the bakery . it was vandalized . her brother was hurt . they lost their business. Two other businesses of same name were attacked. Her father had only said Hijab is worn since ages but the Saffron shawls are started just now.
Question : Now that the case is heard in Court , and decision pending , what do you feel about the issue, where it is headed?
Student :We are hopeful about the decision. We cannot remove Hijab at any cost. It is our Dress. After this incident few Muslim Girls started wearing Hijab and they are also not allowed in Classrooms.
I told her the Girls not wearing Hijab are a Biggest Challenge because then the argument comes that when they are removing in classrooms why cant you ? She said yes .
I told her that if we start bringing awareness that it is Compulsary to Wear Hijab definitely there will be a Change in Society and the Number of Girls who start Hijab increase Allah swt will definitely reward you for the same, she said Yes InshaAllah .
Then I got an appointment to meet the JamaateIslami Ameer at his office.
Purpose of my meeting was
To know what jamaateislami is doing for the Hijab Issue, What is their role at Milli level in taking cause further.
Why has JamaateIslami distanced itself in beginning from the issue and why is the Local Udupi jamaat not supporting the six girls ?
Women in JamaateIslami can also play an important role in furthering the cause, How can we coordinate ?
Instead of condemning the Hijab Ban thru Interim Court order , Why did the organisations focus on explanation of interim order ? Does that mean you are ok with Hijab Ban in Colleges with CDC.?
During my discussion with AmeereJamat he said jamaat is following up the issue. There are many issues the Community is facing, mob lynchings , love jihad and now Hijab. We are trying our best to guide and lead. We are coordinating in all meetings with different organisations. His muavin Ameer said out of 37 districts in Karnataka only 17 districts are facing the issue where Muslims are very less in number.
I told him that in the whole discourse around Hijab one important aspect is missing ie HIJAB IS AN ESSENTIAL OF PRACTISE it was not emphasized by the leaders,  Especially when the debate was around the essentiality in media channels, it would have better if a united Voice would come on this issue. He said that you should ask Ulemas . They said there is no proper guidance from AIMPLB . And no Milli organization at Center had contacted them for this issue.
There is unity among Muslims for Hijab in Karnataka . The issue is political also. They said they are doing their best, even their Girls Islamic Organisation has organized protests apart from SIO and Women. Regarding the Udupi Girls they said these Girls misguided the Federal Movement team also recently and they came to our office to ask for explanation. When we showed them our programs with non muslim organizations they understood our efforts.
I could not get clear answers to my four questions but could understand that it was not possible to confront and oppose interim HIJAB BAN by them.
I got a chance to meet AmeereShariyat the same evening. He was being updated on the issue by his close members and Dr Asifa Nisar also.
AmeereShariyat said when the Fitna started there were efforts to handle it at local level only. But it failed. Now the entire state has to face the issue. We are waiting for the verdict from the Court. He said he had been in touch with the Members of AIMPLB and updated them of local situation.
When I asked him that the Girls are alleging that they were told to remove Hijab even by Muslim Community leaders and Ulemas he said As it is a Girls College we told them it will not be a Sin to remove Hijab .
When I told him that there are male lecturers and many non teaching staff who are males in College even though it is a Girls college, he said he is unaware of this fact. I told him the message coming from Ulemas is JISME JITNI HAYA WO ITNA PARDA KARE instead can't the Religious Clergy give a statement that HIJAB is an OBLIGATION , AN ESSENTIAL OF PRACTISE. He replied they have said this. But since the Government is BJP we have to understand our Voice is not heard.
As the exams are near and the Muslim Girls are in dilemma What will be the guidance to Girls Students he said we are waiting for Court order. These Girls made a very big Mistake by going to the Court Now the entire state will have to follow the order.
I tried to explain and convince him that either the leaders take a strong Position in this matter and Oppose HIJAB BAN. Or ese each girl will be seen fighting at gates and entrances. He said that reward of Rs 5 lakhs for Muskan was very wrong move. Now every Girl is trying to imitate and follow.
We had appealed to come back from gates peacefully if they are not allowed in Hijab. This agitation on roads is not proper. We have discussed in detail regarding protests even with General secretary AIMPLB. Everyone is of opinion that it should be avoided. So are hoping for a relief from High Court.
I got a chance to meet an educationist who was in teaching field for 40yrs . She said the problem is more in Government Colleges and Schools, not yet in Private schools. But as the Board exams are near Girl Students are stressed up.
Another teacher who was worried about Board exams said tenth and twelth class students are told to take off Hijab for 3 hrs for writing Exams and later they can wear and go home. It's a very Challenging situation especially where managements are not cooperative and guidelines are clear there should be no Hijab inside calssrooms. Separate rooms are allotted to remove Hijab in Schools and Colleges and Media is banned from covering this.
I had a chance to meet one of advocates who belonged to a Girls organization She said the interim order was being implemented in a wrong way, even Colleges which never had a CDC ( College development Council ) were implementing the order and forcing students to remove Hijab. We tried to help out those students legally. I asked her what about Students of Colleges who have CDC , she replied that matter is in Court and we have to wait for the Verdict. And when I asked her cant the Girls and Women Organisations say that interim Court order is Violation of article 25 and we oppose Interim Hijab Ban , she said no, we are waiting for Court Verdict.
So as of now we can understand the state of Karnataka is facing HIJAB BAN in schools and Colleges. And students are being groomed to accept this, leaders are reluctant to protest and matter is in Court. It may take time to get verdict, it may also drag to Supreme Court. The activism and protest is seen by organisations associated with SDPI or CONGRESS. The political angle is clear but non politicalCommunitys  strong united stand is missing. Most of the leaders are busy in promotion of Peace. So choice before Muslim Community is little Wait because its HIKMAH or face Riots because Right Wing is ready for Genocide.
I have been into Social Work since last 28 yrs . My opinion is Muslims have seen Demolition of BABRI MASJID , INTERFERENCE IN PERSONAL LAWS through TRIPLE TALAQ judgement and many RIOTS and KILLINGS like the GUJARAT GENOCIDE 2002, but to me the HIJAB BAN is a very serious issue.
Its an issue of IDENTITY, issue of MODESTY HAYA an issue which will impact MUSLIM GIRLS EDUCATION vast and Deep and also the Morality of Generations. Many Muslim Girls are removing Hijab and many are discontinuing their education and both are equally wrong. It will lead to a kind of DEMONITISATION of Muslim Girls EDUCATION and if we see this with NEW EDUCATION POLICY 2020 the intentions of government are Clear and straight.
The Muslim Leadership is still reluctant and hesitant to take up these urgent and pressing issues upstrait. There is huge difference planning ahead and waiting for situation to unfold and respond accordingly. A clear message needs to be sent NO COMPROMISE ON HIJAB IT IS OUR FUNDAMENTAL RIGHT.
There has to be alignment on this whether they are Udupi Girls or Leadership at Bengaluru. And milli organisations at New Delhi must atleast start showing their presence now , as elections in UP are Over. Our Constitution gives us Rights , Right to wear Hijab is a Fundamental Right. It is the GOs of state governments that need a Constitutionality clearance from Courts, not the HIJAB which is being tested as Essential to Islam or not.