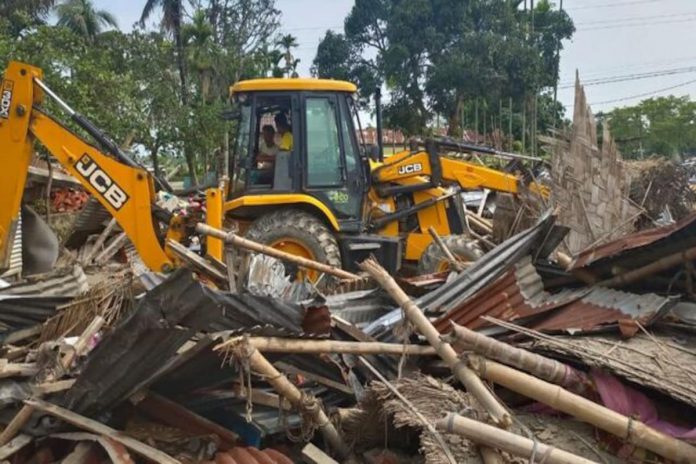 New Delhi: Assam administration has demolished the houses of people who were allegedly involved in setting fire to a police station while protesting an alleged custodial death.
The demolition took place at Salonabari of Assam's Nagaon district on Sunday, May 23. The houses of five families were destroyed in it, Indian Express has reported. Locals claimed that six houses were demolished by the district administration, according to PTI.
News of Assam's demolition drive comes after similar ones have been taken up in New Delhi's Jahangirpuri and Shaheen Bagh, among other locations, Khargone in Madhya Pradesh, Anand in Gujarat and several places in Uttar Pradesh. Residents there have alleged that the drives have targeted Muslim property.
On Saturday, around 40 people from the village had set fire to a part of the Batadrava police station after a local fish seller died after having been taken into custody.
Locals said police had asked for Rs 10,000 and a duck as bribe to release Safikul Islam. When the family reached the station on Friday with just a duck, police allegedly asked them to arrange for cash. When they returned on Saturday morning, they found that Islam was severely ill; on the way to the civil hospital, he died.
The Assam DGP Bhaskar Jyoti Mahanta has claimed that Islam had been released by the time he began feeling ill.
By afternoon, an angry crowd had gathered at the police station and set a section of it ablaze.
On Sunday, the Nagaon administration suspended the Batadrava officer-in-charge, ordered a judicial probe into the death and also set up a special investigation team to look into the arson.
The DGP, according to Express, said in a statement that while police would not let off any officers found guilty, they would be "even tougher" against those involved in the arson. "While we will not let go any police personnel found guilty, we will act even tougher against elements who think that they can escape the Indian justice system, by burning down police stations," he said.
Police also picked up 15 people and arrested eight from among the mob, including a woman and minor.
On the same day, bulldozers reached the village and destroyed homes which police claimed were "illegal" and belonged to "those who were involved in setting fire to the police station." A top cop told Express that "illegal settlers" had occupied the land with forged documents or through other illegal means, without explaining how police ascertained as much within the short time since the arson.
Villagers claimed that the houses of Islam, whose death in the police custody had triggered the arson, and those of his relatives were among those demolished, PTI has reported.
An official from the Nagaon district administration told the paper that no notices were sent from the circle office to the village prior to the demolition.
On Sunday evening, Assam chief minister Himanta Biswa Sarma appeared to endorse the demolition drive.
"A police station was burnt down. Till our government is in power, we will not pardon such crimes," Sarma told reporters, adding that "a lot of land in Batadrava was under "illegal occupation".
"I have directed the district administration to identify such areas. We will take action – either through eviction or other laws – against any element trying to disturb the peace of Assam," he said.
DGP Mahanta, who visited Batardava on Sunday, also told reporters that "perhaps the mob was organised by people who were trained by outfits engaged in anti-India activities."
The DGP said police have information that fundamentalist outfit Ansarullah Bangla Team (ABT) was trying to set base in Nagaon and adjoining areas.
He said, "ABT modules were busted recently in Assam, Tripura and Bhopal. We are aware that some of them are functioning in these areas. They have entered mosques and madrassas, but they don't have the support of common people.
"They are trying to create sleeper cells so that foreign mujahideens can be brought here," he added.
Mahanta said that the incident seemed "systematic and planned".
"In this particular incident, we have seen an element of preparedness. People were provoked," he claimed.
The DGP also said that a drug peddler and a dacoit have been identified in the mob that had set ablaze the police station, with the police also trying to find out if the attack was aimed at burning down evidence and case diaries.
He stated that an additional SP of neighbouring district of Karbi Anglong, Prakash Sonowal, has been entrusted with the task of conducting an independent inquiry into the allegation of custodial death.
"I have seen a photo which clearly indicates that Islam was drunk or high on drugs when he was brought in to the police station on Friday night. Technically, he died in custody. There is allegation of fault on part of the police and the independent inquiry will determine it," he added.
(The Wire)