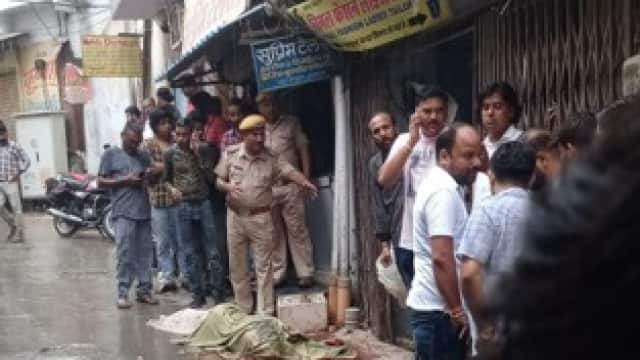 New Delhi, June 29, 2022: On Tuesday, a tailor in Udaipur, Rajasthan, who had shown support to suspended BJP spokesperson Nupur Sharma, was brutally murdered. In the afternoon, in the Maldas street area beneath the Dhan Mandi police station, the accused arrived at Kanhaiya Lal's store. Kanhaiya was attacked by one of the attackers, who was later identified as Riyaz, who used a sharp-edged weapon while the second man recorded the murder on his phone. The two attackers have been taken into custody, and further investigations have been launched.
The 40-year-old Lal wrote a social media message in favour of Nupur Sharma after learning of her provocative words about the Prophet Muhammad, which were widely denounced. Mobile internet services were suspended for the next 24 hours, and prohibition orders prohibiting public gatherings were issued statewide for a month. In addition, a curfew was put in place in seven police station areas of the city of Udaipur until further orders.
APCR General Secretary, Malik Motasim Khan expressed his grave shock and anguish over Kanhaiya Lal's terrible murder. "It is quite depressing to witness how our Indian society has been overtaken by a tide of violence and hostility, casting a shadow over our long-lived peace and togetherness. Violence in our society is fueled by frequent mob lynchings, targeted killings, extrajudicial executions, dowry deaths, mass murders, etc. and… a society that normalizes a culture of impunity for violence can only dash people's aspirations for justice." Mr. Khan said.
According to him, "highly polarised, divisive, and provocative TV debates and news content, rising digital hate and disinformation, hate-filled songs, slogans, and speeches have gripped our nation that has never been imagined. This crisis has shockingly impacted our collective conscience and resultantly our inclusivity and tolerance have been severely victimized in a way to dupe violence as the ideal solution for the ensuing problems, which offers no good rather only serves the political interests of few."
He further reiterated, "To successfully address this issue and restore the public's faith in institutions of criminal justice, the state must act immediately. Every act of violence, no matter how committed, is unacceptable and unjustifiable. Kanhaiya and the many others who have been waiting for justice for years should receive it and the rule of law should prevail.
The Association for the Protection of Civil Rights has urgently urged all state and non-state actors to uplift humanity by ensuring enduring peace and jointly addressing the structural reasons for the rise in hatred and violence. Mohammad Zubair, Teesta Setalvad, RB Sreekumar, and other civil society activists who have been relentlessly advancing human rights for decades must not be the subject of the government's harassment and repression. Our democracy has shattered as a result of this unanticipated situation, and institutions have failed to fulfil their obligations to the nation's citizens. We fear that if the current situation persists,  there won't be any respite from the violence very soon. In our opinion, India urgently needs extensive human rights work to establish accountability for this threat of hatred and violence.
We send our heartfelt sympathies to the grieving family and friends and ask God to give the family courage during this terrible time.