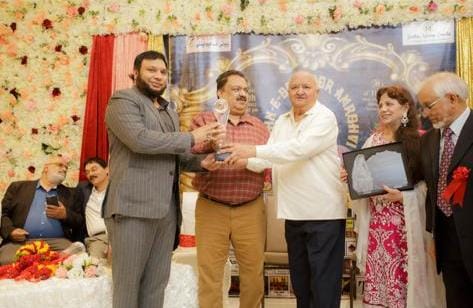 New Delhi (Shah A. Siddiqui) They say Urdu is one of the most lyrical languages tailor-made for literature enthusiasts and poets. It has the elegance of French and the sweetness of Bangla, which is why even the blandest statement sounds quite rich.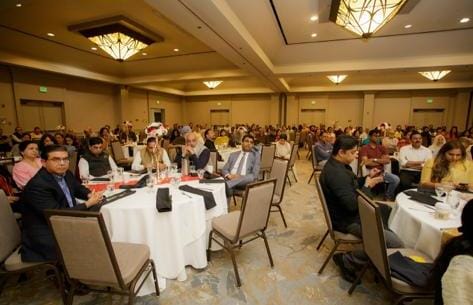 On June 25, 2022, Dallas Forth Worth experienced the magnific charm of Urdu literature when an Aalmi Mushaira was organized in a beautiful Hilton hotel in Dallas, TX. The decoration in the hall was wow and everyone was impressed with the sitting arrangement and stage of the hall.
It was organized with the efforts of Sheikh Ijaz Ahmed of the Beauty of Humanity and Shah Alam Siddiqui of Bandhan Marriage Connection with support of one of the most prominent poetesses of the town, Dr. Shamsa Qureshi. This mushaira was organized to honor Dr. Noor Amrohvi for his dedicated services to promoting Urdu and its literature around the world. He is a prominent name in the Urdu literary societies.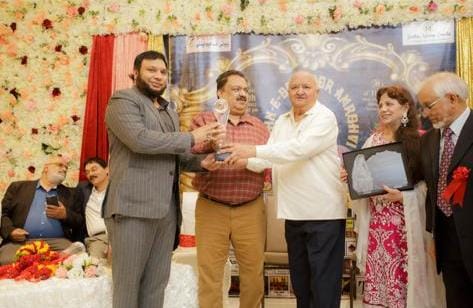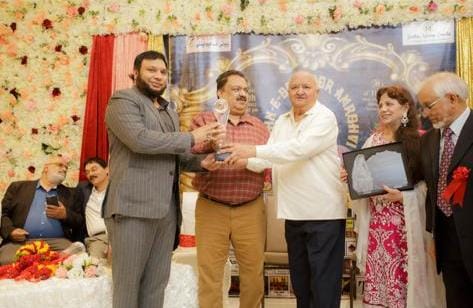 Dr. Noor Amrohvi is a social worker and author and is considered the guardian of Urdu Literature in North America and Canada. His organization, Al-Noor International Inc., is famous all over the region for organizing NaatiyaMushaira and grand international mushaira every year in Dallas/ Fort Worth.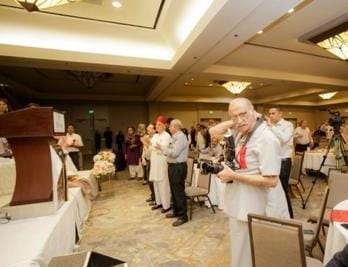 Recently Dr. Amrohvi was honored in Chicago by FunGaam Art Group and in Houston by Taqdees-e-Adab International.Taqdees-e-Adab International is a brand name around the globe in organizing Urdu literary program and Mr. Fayyaz Khan as the President, dedicated himself to serve the Urdu and promote mushaira around the world.
This Aalmi Mushaira welcomed many significant and honorable names in Urdu literature from America, Canada, India,and Pakistan after a long time. The Dallas/Fort Worth people were honored to listen to Mr. Manzar Bhopali from India, Mr. Abbas Tabish and Mr. Khalid Masood from Pakistan, and Mohtarma Fatima Zohra Jabeen from Canada, who glorified the event of Jashn-e-Dr. NoorAmrohvi with their presence.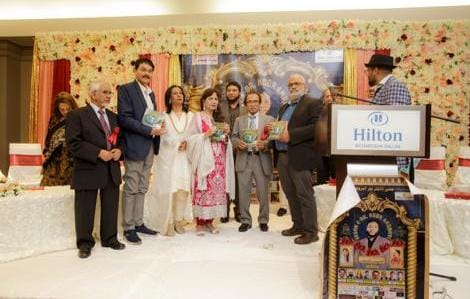 Many prominent Pakistani American names also enthusiastically honored the mushaira, like Dr. Yasin Atir, Prof. Hammad Khan, Ahmad Shah Ghazali, and Ghazanfar Hashmi.
We consider our local poets as our assets, and therefore, I specifically want to mention the name of Dr. Shamsa Qureshi, who always stands upfront when it comes to organizing any mushaira in Dallas; her financial support and encouragement are something we always honor.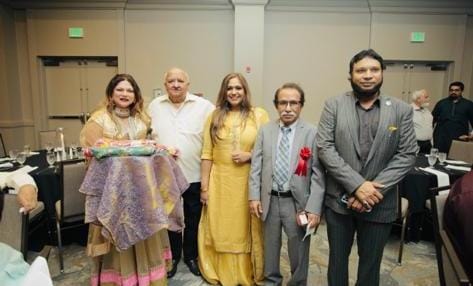 Besides being a major contributor to mushaira events, she is also a charm to listen to, and therefore whenever she graces the stage, the audience can't stop applauding her. We were honored to receive her as the Chief Guest of mushaira; Mr. Abbas Tabish honored us to chair the Mushaira as the President.
This event consisted of two sessions. The first session comprises 'Izhar-e-Khayal' about Dr. Noor Amrohvi, which Shah Alam Siddiqui conducted quite beautifully.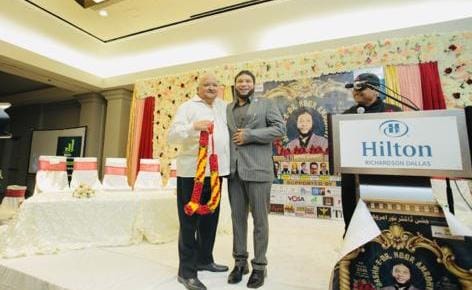 He invited some of the prominent guests to speak about the esteemed 'Sahib-e-Sham,' Dr. Noor Amrohvi. ISNA President Mr. Azhar Aziz graced the stage first to say a few words for Mr. Amrohvi, followed by Dr. Amer Suleman, Mr. Fayyaz Khan, Mr. Rizwan Hasni, Mohtarma Fatima Zohra Jabeen, and Mr. Khalid Masood shed light on Dr. Noor Amrohvi's admirable services in the promotion of Urdu literature.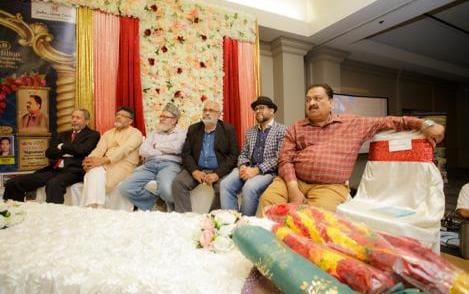 Dr. Shamsa Qureshi, said in her remarks that, "Dr. Noor Amrohvi is not my real brother but for me he is like more than a real brother. I have not seen the fame and respect that Dr. Noor Amrohvi has received all over the world at a young age.MohtarmaNeelofar Abbasi, in her statement said that, "NoorAmrohvi has reached this height today only after the grace of Allah and with his own effort and ability.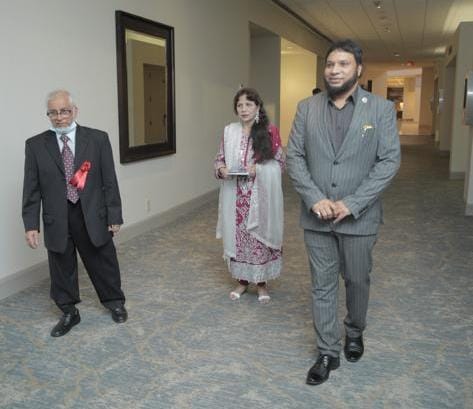 He is currently the most popular and famous poet of Dallas". Mr. Manzar Bhupali, praised Dr. Amrohvi and said,"Dr. Noor Amrohvi is the name of a brand without which the history of India's recent literary and Urdu poetry is incomplete.
We all Indians are proud of him".Mr. Abbas Tabish said that,"Amroha was known for her identity with the reference to Jaun Elia, but this identity of Amroha has been carried forward by Dr. Noor Amrohvi, so it can undoubtedly be said that Amroha would have ended at Dr. Noor Amrohvi starting with Jaun Elia".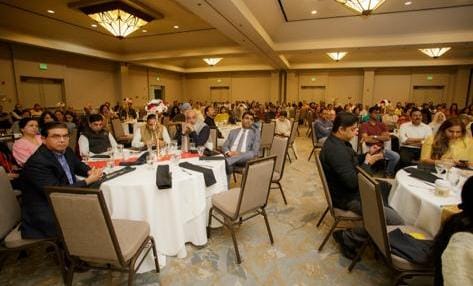 Finally, Dr. Noor Amrohvi was called on stage with the sound of thundering applause by over four hundred attendees. Being a simple, humble, and down-to-earth person, Dr. Amrohvi spoke for a few minutes in which he mostly thanked all the speakers and guests present at the event.
After the 'thank you' speech, of Dr. Amrohvi, the book launching ceremony of his new book 'Signature' was started.  It was a history-creating moment when, after the launching ceremony, Dr. Noor Amrohvi donated all 50 books for auction to help the noble cause of the Beauty of Humanity.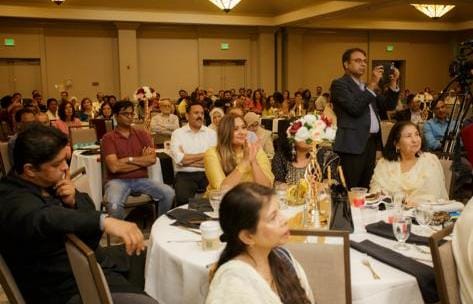 Though it was not a fund-raising event but upon the request of Dr. Amrohvi, Mr. Aijaz Ahmed, President of Beauty of Humanity, and the management agreed to auction Dr. Amrohvi's book. Mr. Mujeeb Kazi, President, CEO, AUSTINSSI, a prominent community leader, preacher, and thinker, was very kindly invited to the stage to start the auctioning process.
The first book 'Signature' was auctioned for $1000 and all other books at $11000. The audience wholeheartedly showed their love and support for Dr. Noor Amrohvi's book and the cause of Beauty of Humanity. The mushaira was a memorable one where 400 attendees joined it, and it lasted till 2 am.
The mushaira session also included an award ceremony. Few awards were distributed to recognize the efforts of the supporters who worked selflessly to make mushaira 'Jashn-e-Noor' a remarkable event. A special award was given to Dr. Shamsa Qureshi and Dr. Noor Amrohvi. We appreciate the cooperation and hard work of R.J. Meenakshi Sharma and recognizing her services an award was conferred to her.
MohtarmaShazia Khan, a prominent and famous radio personality of the DFW area, conducted the mushaira of local poets. Shazia Khan is a prominent name, and whenever she holds any event, be it a literary event or any musical show, it is bound to succeed. The mushaira that she conducted also received a lot of praise. Unfortunately, due to the lack of time, not all of our all-local poets could recite their poems except Shah AlamAsar, Promod Rajput, Sheikh Ijaz Ahmad, Dr. Shamsa Qureshi, and Mohtarma Nahid Shad.
It is for the kind information of all the readers that Mohtarma Nahid Shad is one of the gems of our community. Her talented personality shines through every event that she participates in. She is an anchor and an excellent program coordinator and conductor. She conducted the mushaira of foreign poets very nicely, which was appreciated by the audience.
Shah Alam Siddiqui of Bandhan Marriage Connection and Sheikh Ijaz Ahmad, President of Beauty of Humanity, paid homage to all the supporters, friends, and well-wishers. Special thanks to Dr. Shamsa Qureshi, Mr. Naeem Sakhia of Sakhia Law Group, Mr. Promod Rajput,who is a pillar of our literary group, and he always offers his services to organize the event with Al-Noor International.
He never hesitates to support financially and sometimes host our guests at his home at lunch or dinner which is a great help. Mr. Mujeeb Kazi, Sheikh Hyder Ali, supported us to extend all kinds of protocol to the incoming guests from abroad and pick & drop the guests at the airport. Zia Khan is a professional photographer who always shows up whenever we request, but he never demands over the price for his services.
We appreciate our dear friend R.J. Meenakshi Sharma, who helped us to find professionals to decorate the stage and filming the event. Mr. Wasif Hussain, Mr.TariqTowheed, If we do not praise and honor Mr. Shawkat Muhammad of New York Life, who is very humble, down to earth community member, always supports morally and financially in every community program. Mr. Shawkat Muhammad is a big fan of Dr. Noor Amrohvi, and always cooperates with Al-Noor International events.
H is a diamond of our community. Mr. Irfan Ali, who is a social worker, volunteer, a very loving personality of our community who always supports financially and morally to the community.
His presence in Mushaira is a sign of the success of the event.  Mr. Mateen Modi of CarzDealz, Rana Zahid of VOSA TV, Mr. Munir of Chalta TV, Radio Azad, Yamini of GoldDust Decoration, and Priya of FlashBrush.
A lavish 5 course dinner was served to all the guests after the award ceremony. The food was very delicious, and it was liked by the guests. It was appreciated that tea/coffee was available from the start of the function to the end.
Last but not least, our special gratitude goes to Dr. Noor Amrohvi for being kind enough to accept our request to celebrate Jashn-e-Noor to recognize his services to the Urdu literary work in the United States, Canada, Pakistan, and India.
The management has been receiving hundreds of felicitation messages from the people who attended and enjoyed the wonderful mushaira "Jashn e Noor".  According to the audience, this mushaira will be unforgettable for a longtime. The security arrangement and parking were excellent which was appreciated by the guests.