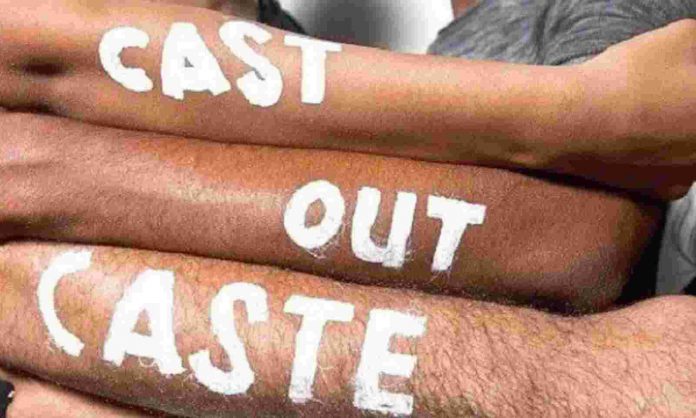 A Dalit kid was harshly beaten by his Upper Caste school teacher for drinking water from the pot in Jalore, Rajasthan. The 9-Year old breathed his last on Saturday in a hospital in Ahmedabad, Gujarat.
Indra Meghwal was a student at a private school in Surana village of Sayla Tehsil in Jalore, Rajasthan. He was in class 3. The incident took place on July 20th. It came to light after the death of a Dalit kid. The police arrested the accused teacher, Chail Singh, on murder charges and under sections of the Schedule Caste and Schedule Tribe (Prevention of Atrocities) Act. He is an upper caste.
राजस्थान के जालोर में दलित छात्र ने स्कूल में मटके से पानी पीने पर टीचर ने बेरहमी से पीटा, गुजरात रेफर के दौरान बीच रास्ते में दम तोड़ा! @ashokgehlot51 @RajPoliceHelp @JalorePolice @jigneshmevani80 @devjimpatel @amrita_meghwal_ @NishantJain1111 @8PMnoCM pic.twitter.com/SKntJb4KVa

— Dr. Ashok Sharma (@ashok_aajtak) August 13, 2022
According to the media, the child's father said, the boy's face and ear were seriously injured. His eyes were sore. He was taken to the district hospital in almost an unconscious state and from there he was referred to a hospital in Udaipur. Observing no improvement in the boy's condition even after a week, his family shifted him to a hospital in Ahmedabad, where he succumbed to his injuries on Saturday, August 13.
Indra was brutally beaten by teacher Chail Singh for drinking water from the pot that belonged to upper caste people. The accused made casteist remarks against the Dalit boy. He was admitted to the hospital. His ear was bleeding and the kid was unable to move one side of his body. He got a hemorrhage that resulted in his death during treatment in Ahmedabad. The victim's father, Dewaram Meghwal told the media. He alleged that caste discrimination took his son's life.
According to The Indian Express, after this incident, the victim's family was forced to do a compromise by the Rajputs. At least 40 people from Rajputs, Dewasi, and Meghwal communities gathered in a meeting. Indra's uncle, Kishore Kumar Meghwal along with his father attended that meeting. Rajputs, the society that Chail Singh belongs to, pushed them not to file a police complaint. The teacher also confessed his mistake. He paid 1.5 lakh Rs in a couple of installments and was willing to pay another lakh for the boy's treatment.
जालौर के सायला थाना क्षेत्र में एक निजी स्कूल में शिक्षक द्वारा मारपीट के कारण छात्र की मृत्यु दुखद है। आरोपी शिक्षक के विरुद्ध हत्या व SC/ST एक्ट की धाराओं में प्रकरण पंजीबद्ध कर गिरफ्तारी की जा चुकी है।

— Ashok Gehlot (@ashokgehlot51) August 13, 2022
Chief Minister of Rajasthan, Ashok Gehlot expressed his condolences to the victim's family. He announced the financial aid of Rs 5 lakh from the CM relief fund to the Dalit boy's family.
The state education department has initiated an inquiry to investigate the incident. SC Commission chairman Khiladi Lal Bairwa ordered that the case should be investigated under the case officer scheme.
इंद्र मेघवाल हत्याकांडः सुराणा गांव में प्रदर्शन कर रहे ग्रामीणों पर लाठीचार्ज

जालौर जिला व पुलिस प्रशासन की बर्बर कार्रवाई, मांगों पर सहमति नहीं बनने के बाद पुलिस ने लोगों को जबरन खदेड़ा pic.twitter.com/H8d7qErwc4

— The Mooknayak (@The_Mooknayak) August 14, 2022
Meanwhile, protests broke out in the village against the alleged murder of a boy. Police did lathi-charge against the protestors. A heavy police force is deployed and internet services are suspended in the area to avoid any tensions.
This is the second incident of death in recent days after being brutally beaten by teachers in school. A few days ago, a 14-year-old Muslim kid Dilshan was mercilessly beaten by three teachers on school premises. According to the Hindustan Times, On July 23, Dilshan went to seek admission to a school in Madaiya village of Kannauj district, Uttar Pradesh. There, he was beaten by Headmaster Shivkumar Yadav on the allegation of stealing a watch. Shivkumar's associates Prabhakar and Vivek also joined him. They locked Dilshan in a room and beaten him.
The boy's father, Jahangir, and mother, Shabana Begum said to The Print that their son, Dilshan visited a private school in hopes of getting admission to class 9. Dilshan along with two others was caught by the teachers, doing mischief with a watch. The teachers hit three of them and later let the two others go while kept beating Dilshan. He returned in a critical condition from the school. Dilshan was referred to Kanpur hospital but he couldn't recover from his injuries and died. Till now, no FIR has been filed in this case. In fact, the police rejected all allegations of torture saying that the boy died of untreated illness, however, the family denies their son was sick. Dilshan's family also alleged the police of threatening them if they take the case further.