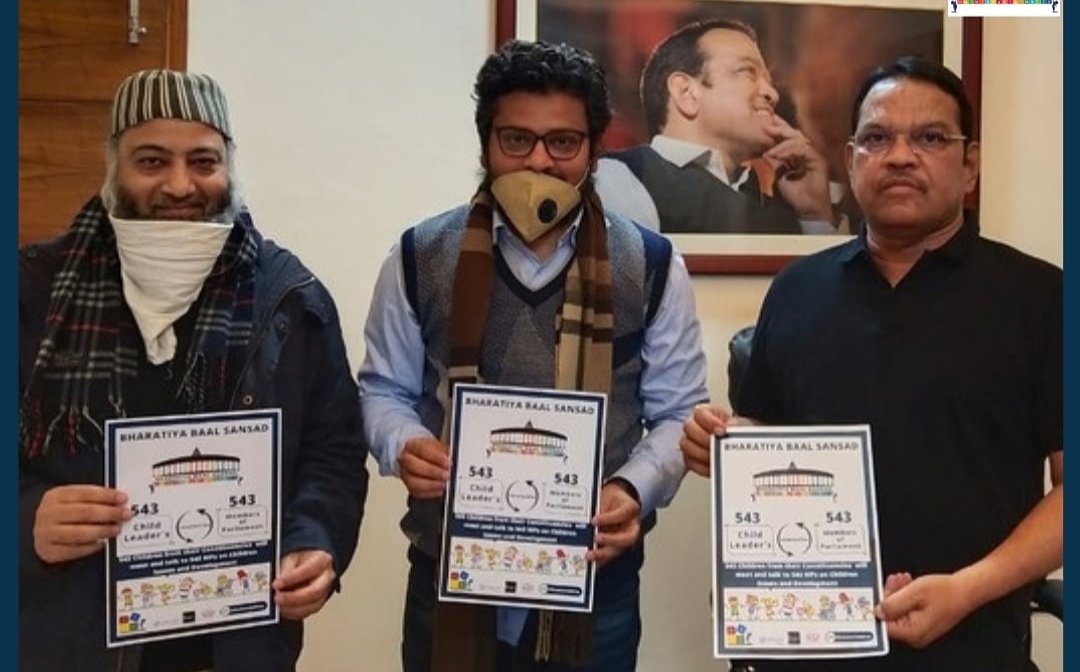 The team of Indian Children's Parliament is meeting MPs continuously. BBS team has reached 20 MPs so far. It has been working hard to ensure issues pertaining children reach the Parliament directly and 10% of GDP (6% Education and 4% Health) is dedicated to children. Covid 19 is the reason behind increasing the health budget by 1%. There are many issues that stunt their personality growth in the initial years.
For eg, a number of children are unable to clear the Entrance Examination of Government University for lack of good teachers in school. Similarly some children miss out the cut offs of their favorite subjects for lack of guidance. BBS ensures training of all these children and ensures their issues are brought before the government.
Allow us to tell you that the age group of BBS is from 12 to 17 years, we believe that if children's potential are tapped from childhood their growth can find unlimited prospects, paving way to making them into future change-makers, legislators, professionals, democrats and leaders.
What do we train children in?
-Moral Values (Character Building)
-Personality Development (Communication)
-Skills Development
-SDS Goals
-UNCRC (Child Rights)
-Child Led Advocay
All this is possible when our MPs help our Children Parliament and communicate directly to our Kids MP. Our kids MP are the voice of thousands of children and can pioneer development at the grassroots with the help of NGOs Staff, Teacher in their area, community organisations, etc
The Association for Holistic Development of Children is a registered organization AHDC works exclusively on problems related to children and has worked in many aspects before. Keeping in mind the mental and physical development of children, BBS has been launched.
Why is the Indian Children's Parliament Campaign needed?
1- Children's institutions help in instilling leadership qualities and confidence in children. The Indian Children's Parliament provides children with the platform that they can use for self-development. When they gather together, they discuss various problems and issues. They clarify their assumptions, make decisions and carefully follow those decisions. They get opportunities to interact with elders, meet important people and participate in training and formation programs. They get to visit places and learn. These experiences are naturally organized.
2- The purpose of the Children's Parliament of India is to inspire people to envision a new world order and provide a systematic and well-equipped answers and solutions to a number of village heads, parents, teachers and community members. To spread awareness and instill confidence about the campaign in those who doubt its efficacy.
Once the benefits of training and empowering children are clearly presented to the elders, they themselves will be excited to set up the Indian Children's Parliament. The concept and success stories must be presented so interestingly and confidently that they believe in the concept with trust and enthusiasm.
3- Students who engage only in text books, tuition and examinations are ill equipped to face the modern realities and challenges of life. They lack the confidence and other abilities to live life to the fullest. They are easily depressed and are more likely to give up under those special circumstances.
The Children's Parliament of India broadens the mental horizon of children by introducing a world beyond their narrow and immediate worldview. These parliaments help children succeed in life and become an ideal person individually.
4- The Children's Parliament of India works towards character building and skill development.
Self-confidence and leadership are essential to life, especially when it comes to jobs and business. Growth and progress in social life directly contribute to children's confidence and leadership qualities. These qualities do not come miraculously in a moment, nor are they acquired only on the basis of educational qualifications.
One needs to interact with a larger society to gain confidence and leadership qualities. An additional corpus of general knowledge goes a long way in making oneself confident and inspiring leaders. Today unfortunately the hindrance in the development of the personal qualities of children is the lack of adequate forums.
The Children's Parliament of India provides children with a platform that they can use for self-development.
5- The Indian Children's Parliament empowers members to express their views publicly.
6- The Children's Parliament of India has made the children aware of their rights, besides providing education for protection from all forms of harassment.
7- The Children's Parliament of India acts as a safety net in the society to monitor children in difficult circumstances, such as securing fugitive children, missing children, trafficked children, etc.
The Indian Children's Parliament is being convened by AHDC, which is one of its many ongoing projects.
Social Welfare organisations namely Hamraah Foundation and the Imperfect Society are holding us strong in the ongoing BBS campaign, and we want all such organizations go ahead and strengthen this campaign,
We are meeting every MP with this hashtag #MeetingWithMPsForChildren. Some of the photographs of such meetings we gladly present before you.
Press Statement issued by: Association for holistic development of children