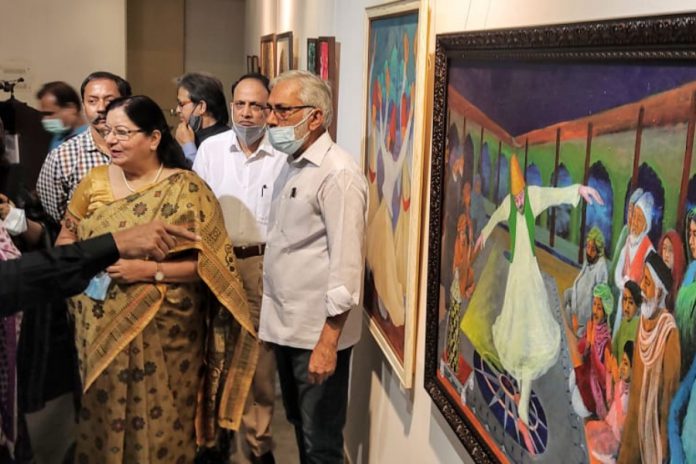 Jamia Millia Islamia is celebrating 101 years of its glorious existence with 101 internationally acclaimed artists. The idea behind the group show exhibition of 15 days organised by Jamia's faculty of fine arts and inaugurated by the Vice Chancellor, Prof. Najma Akhtar at M.F Hussain Art Gallery on 29th October, 2021 is to bring all artists on one platform to display their art after the prolonged pandemic restrictions.
Chief Guest of the Group Show was Ms Anjoli Ila Menon. Mr Shah Abul Faiz besides coordinating this exhibition is showcasing his new series of paintings that display a sufi mystic exchange of ideas.. The series is a group of paintings on mystic poets, Rumi and Amir Khusro. The idea behind the painting is to carve "sama" dance of whirling dervishes besides the artist displaying a group of paintings portraying love and devotion  of  Amir Khusro-14th century courtier, poet, mystic and a spiritual disciple of Nizamuddin Auliya of Delhi.
Shah Abul Fiaz has made a painting (one on each couplet ) of Amir   Kushro's famous Rubai "Chhap tilak sab cheen li ray mosay naina milaikay" (You've taken away my looks, my identity, by just a glance).This is quite interesting to see an artist converting poetry into painting given the fact that mysticism for centuries has exercised a profound importance in our society and sufi mystics have played a crucial role of Cultural synthesis from their sufi centers. Therefore the Sufi exchange of ideas needs to be freely exchanged today in all forms and art being no exception.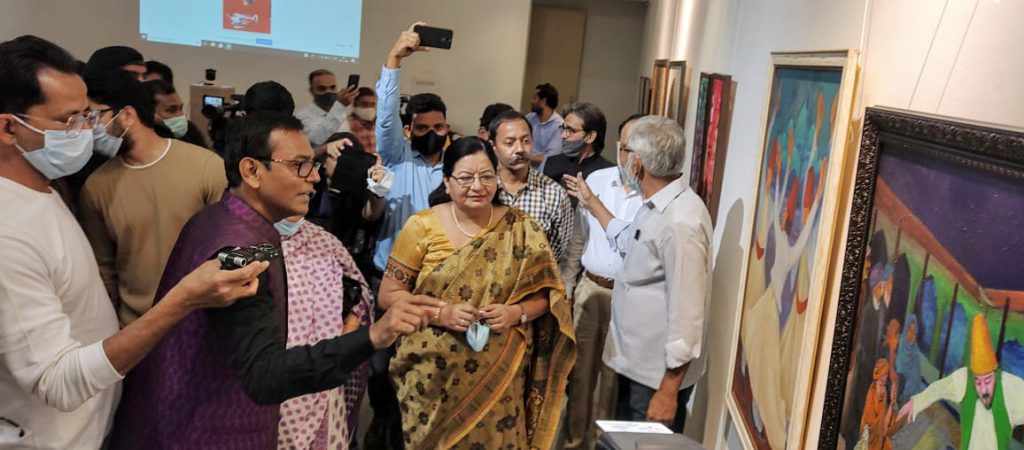 Shah Abul Faiz is exactly doing that and contributing in a profound way. He is staunch disciple of Jamia School of Art and have a good expertise on all forms of medium. His main Art form has been critically appreciated for Portrait and Dancing. He has been participating in many exhibition both solo and group show.