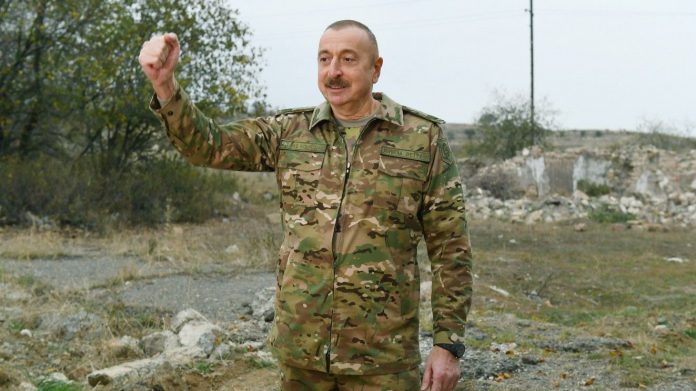 Azerbaijan's president Ilham Aliyev said in a TV address to the nation that the military operation was over, and the Armenian population in Karabakh can now breathe easy. They are our citizens. We have no hostility toward the Armenian people. We held those at the top of the criminal regime accountable. He also seemd to offer Armenia an olive branch.
Aliyev said that "Azerbaijan restored its sovereignty as a result of successful anti-terrorist measures in Karabakh."
"The separatist fighters had accepted demands that they disarm and depart the region. The process of disarming was in progress. The illegal Armenian armed units have begun the process of withdrawal from their positions in Karabakh and started surrendering their arms", he added.
"All assigned tasks (in Karabakh) were accomplished within a single day. Terrorists have been punished. Azerbaijan's sovereignty is restored in the region," Aliyev said in the televised address.
Nagorno-Karabakh lies in the mountainous South Caucasus region, which is internationally recognised as part of Azerbaijan, but large areas of it have been controlled by ethnic Armenians for three decades and with a population of about 120,000, mostly constitutes ethnic Armenian. Azerbaijan regained the territories and parts of Nagorno-Karabakh itself in fighting in 2020.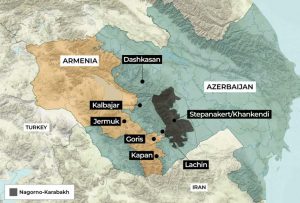 Also, President Aliyev acknowledged the "unexpected political competence" displayed by Armenia and its importance in the anti-terror activities' conclusion.
Under the truce deal, the separatists said they had agreed to dismantle their army fully and that Armenia would pull out any forces it had in the region.
Azerbaijan's defense ministry said that "all weapons and heavy armaments are to be surrendered" under the supervision of Russia's 2,000-strong peacekeeping force on the ground.
Both sides said talks on reintegrating Karabakh into the rest of Azerbaijan would be held on Thursday in the city of Yevlakh.
Russian peacekeepers said Wednesday evening that the cease-fire was held and no violations were recorded.
Baku's operation marked the latest spasm of violence over the rugged territory.
Meanwhile, President Recep Tayyip Erdoğan and Aliyev held a phone conversation on Wednesday to discuss the situation in Karabakh.
Erdoğan reiterated Türkiye's support for Baku to protect its territorial integrity.