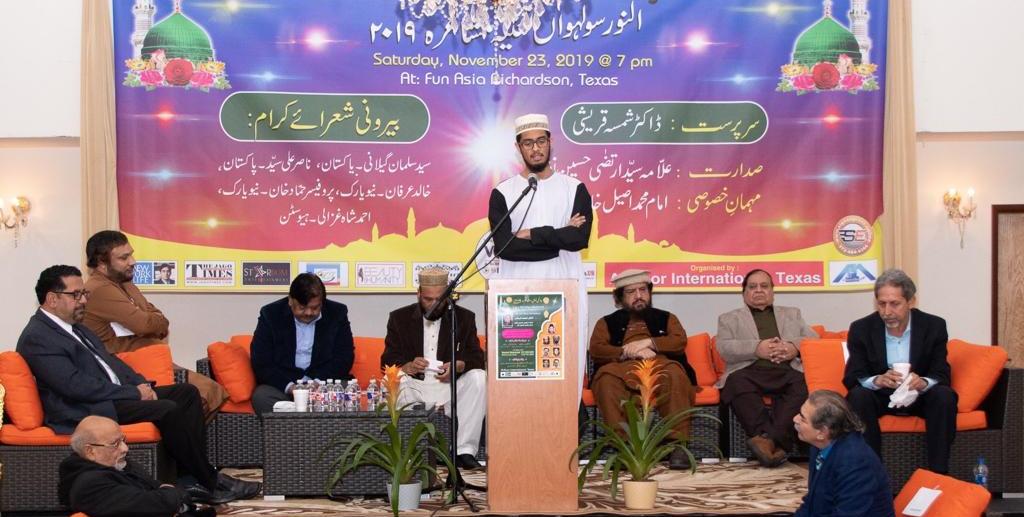 The 16th International Natiya Mushaira was conducted under the aegis of the "Al-Noor International", a religious, cultural and literary organization at Dallas in American state of Texas. This spiritual event has been hosted by renowned personality and poet Dr. Shamsa Qureshi and Dr. Noor Amrohvi very well annually in an orderly fashion.
Well known personality Dr. Shamsa Qureshi said that the aim of this function is not only to celebrate the holy birthday of our beloved Prophet Mohammad (Peace be upon him) but make an effort to educate and inculcate the new generation with his teachings and practices as well. That is why we have always been provided the stage for children in our event and also large numbers of young people participated in it with great zeal and passion.
Dr. Noor Amrohvi said that our long-standing tradition has also been associated with Mushaira was that it is immensely aimed at delivering the message of Shia-Sunni unity among Muslims. The event was presided by leading and prominent Islamic scholar Allama Syed Irtiza Hussain Naqvi while a well-known Islamic scholar Imam Mohammad Asil Khan had appeared as the chief guest at the event.
The audience partaking in Mushaira had told that the role and contribution of Dr Shamsa Qureshi and Dr Noor Amrohvi making an event successful are having worthy of admirable and remarkable, moreover both deserving respect and worthy of imitation for the community. Both were the soul and spirit of the mushaira.
Yunus Ejaz, Saeed Qureshi, Masood Qazi, Dr. Aamir Suleman , Nahid Shad, Zahra Chishti, Ajaaz Sheikh, Asif Thanvi, Syed Nasim al-Hassan Zaidi, Shah Alam Siddiqui and other foreign poets participated and gave a great, enlightening and scholarly speech in this spirit-gathering program, in addition to presented their beautiful poetry.