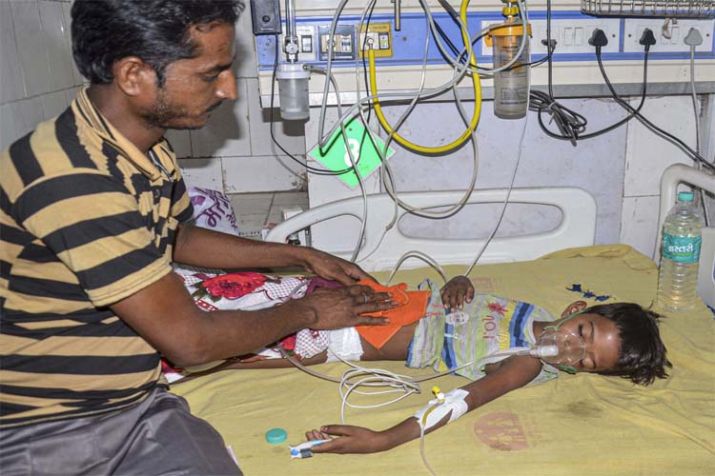 Dr. Basma Hasanat, New Delhi
Sorrow and grief engulfed Bihar's Muzaffarpur district. More than 70 children died due to encephalitis in the last couple of days while hundreds of them are in critical condition. At this perilous situation, a holistic approach and a comprehensive plan are required so that further lives of children could be saved. Encephalitis (Chamki Bukhar) is not new in Bihar. According to the data since 2010, nearly 398 children have died due to suspected AES.  The question is why the entire health department remain in slumber despite their past experiences? Every year encephalitis creates havoc and claims lives ahead of rain. Health minister of Bihar claims that government is not leaving any stone unturned but ground reality suggests otherwise. Most of the ICU units are full and children are being treated in corridor of the hospitals.
What is AES?
AES (acute encephalitis syndrome) is characterized by the onset of fever with vomiting, nausea, mental confusion and disorientation etc. It is causing the death of children for decades. The first case of encephalitis was reported in Vellore, Tamil Nadu in 1955. After that, the first outbreak of Japanese Encephalitis Virus (JEV) was reported in Bankura district of West Bengal in 1973. Thereafter, sporadic cases of AES outbreaks have been the leading cause of premature deaths in India.
JEV (Japanese encephalitis virus), Nipah Virus and other enteroviruses cause the disease, AES. These viruses mostly affect the children under the age of 15 in Eastern UP, Bihar, Assam, West Bengal and Tamil Nadu (JE endemic zones). High temperature during summer, along with humidity more than normal, is considered to be an ideal situation for the outbreak of AES.
Precautions
For precaution of AES, we have to improve hygiene. Wash both hands frequently and thoroughly with soap and water, particularly after using the toilet and before and after meals. Parents should give the flu shot to children. Vaccines like JENVAC are available against these viruses. According to the research, most of the deaths are taking place due to hypoglycemic shock (low glucose level in the body). For this, giving a small amount of sweets with water could also provide some relief.
The virus is transmitted to human through the infected mosquitoes. Therefore children should be protected from mosquitos' bites. Pigs are also a host of the JE virus. Thus pig-rearing profession should be avoided.
Meanwhile, the government needs to address the sudden outbreak and provide emergency medicine and ambulatory care immediately in all district level hospitals in the affected areas. Provision of proper treatment on time is the most important. Because patients affected with AES needs urgent treatment after diagnosis as window time between the diagnosis and treatment is very short. They should also provide the facility for the proper nutrition of AES affected patients as most of the affected are from lower economic strata of the society. In this regard, the government needs to prepare a comprehensive and sustainable plan for prevention and protection. Awareness program in the regional language could play an important role.