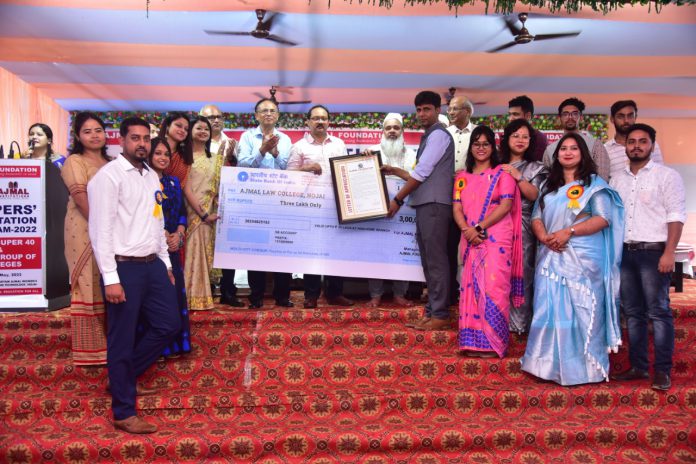 Hojai, Assam: Ajmal Foundation, Hojai organized a grand felicitation program for the successful candidates of Ajmal Super 40's NEET & JEE exam – 2021 and the rank holders of Ajmal Group of Colleges, including Maryam Ajmal Women's College of Science & Technology, Nazir Ajmal Memorial College of Education and Ajmal Law College at the premises of Maryam Ajmal Women's College of Science & Technology, Hojai on Sunday.
Prof. Nani Gopal Mahanta, Education Advisor to Govt. of Assam; Prof. Alak Kr. Buragohain, Former Vice Chancellor, Dibrugarh University; Brigadier Syed Ahmed, former Pro Vice Chancellor, AMU; Shri Pradyut Bordoloi, Hon'ble M. P., Nowgong; Shri Ramkrishna Ghosh, Hon'ble MLA, Hojai; M. Badruddin Ajmal, Hon'ble M. P., (Dhubri) & CEO Ajmal CSR and Mr. Sirajuddin Ajmal, Hon'ble M. L. A. Jamunamukh & Managing Trustee, Ajmal Foundation including other distinguished luminaries were present on the occasion.
It is to be noted that the NEET & JEE 2021 results of Ajmal Super 40 was an emphatic statement of the sustained brilliance of the unique institution under the Ajmal Foundation. A total of one hundred and seventy-three (173) candidates from Ajmal Super 40 qualified in the All-India NEET & JEE Examinations of 2021. It may be mentioned that last year eighty two (82) students came out with flying colours qualifying themselves in this much sought- after professional course.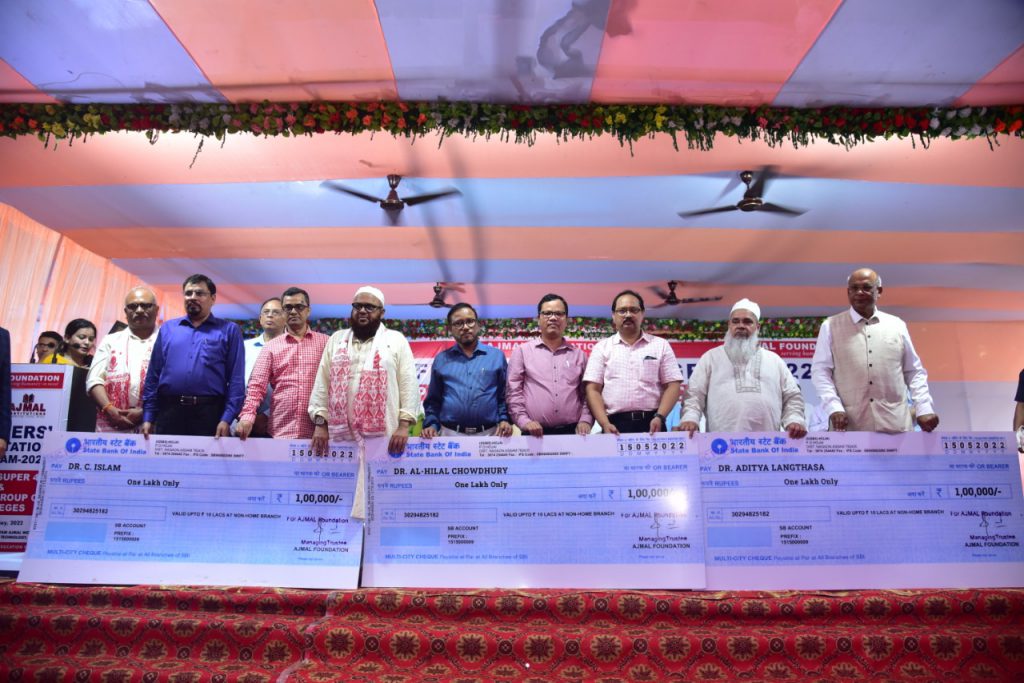 The brainchild of the Ajmal family, the AJMAL SUPER 40 concept was mooted in 2016 and Ajmal Foundation gave concrete shape to the project that intended to establish an institution of excellence in order to prepare students from educationally backward areas and from disadvantaged sections of society to compete with the students from urban and affluent sections to prove their potential merit in the qualifying examinations for medical and engineering studies.
Today, the Ajmal Super 40 has established a name for itself in All India Level competitive examinations as it has been able to give wings to the dreams of these poor but meritorious students. In successive years the Ajmal Super 40 students have dazzled in NEET & JEE examinations and have validated the Ajmal Foundation's conviction that if proper care, attention and quality teaching is provided to the rural and poor students, their innate talent can flourish and they can show excellent result.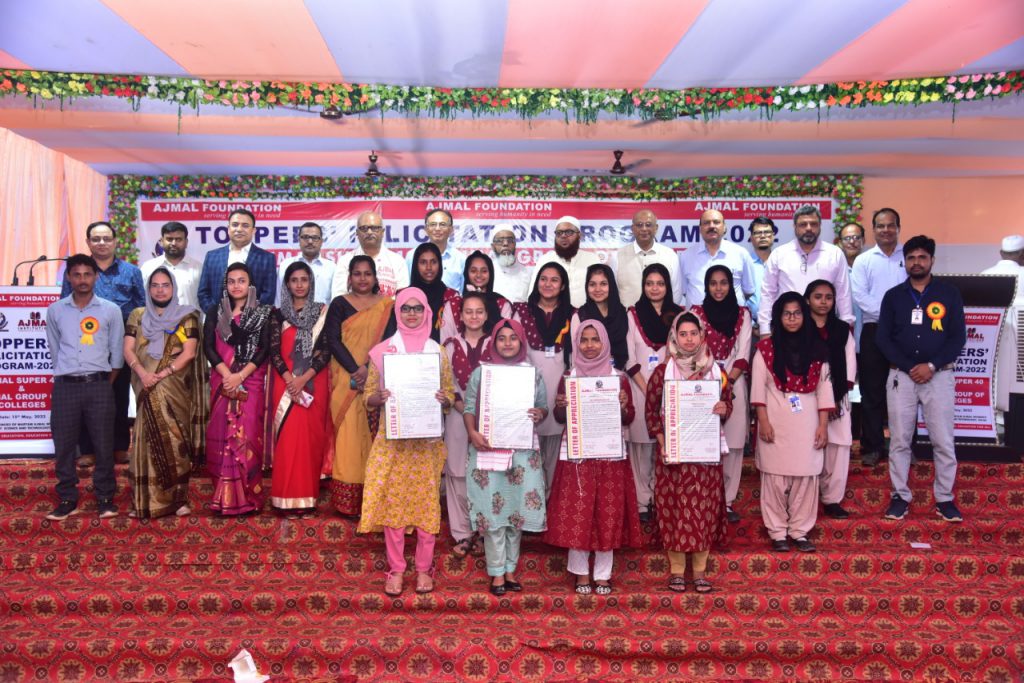 Ajmal Super 40 has brought fame to the State as 173 number of students have qualified in 2021 examinations. Minhajul Islam became the topper in Ajmal Super40 by securing 647 marks out of total 720 marks while ZH Barbhuya secured 633; Saha Farnaz secured 626; Tahir EM Ahmed secured 625; Armina Parbin secured 624; Sagnik Banik secured 616; Krisanu Dev Ray secured 609 and Saiful Islam who secured 604 are the highest scorers among 155 successful students.
The saga of success scripted by the Ajmal institutions is not confined to Ajmal Super 40 alone. The Ajmal Law College, the Ajmal B. Ed College and the Maryam Ajmal Women's College of Science and Technology are not far behind in their fair share of success.
It may be mentioned that, in the academic year 2021 the 1st batch of Ajmal Law College students bagged 1st Rank (Nikil Mundra), 4th Rank (Afsana Begum) and 5th Rank (Devjani Das) under Gauhati University and the students of Nazir Ajmal Memorial College of Education bagged 2nd Rank (Muhaimina Shabnam), 5th Rank (Jonaki Saha), 10th Rank- (Mahmodul Hassan), 13th Rank-(Deepanjali Pandit), 16th Rank-(Santa Devi) and 20th Rank-(Ashona Kakati) under Gauhati University while the students of Maryam College and Science bagged 4th Rank BA-English-(Abida Begum), 5th Rank B. Sc- Botany (Jesmina Ahmed), 8th Rank B Sc-Botany- (Rohima Begum Choudhury) and 10th Rank, B Sc-Botany (Rumana Begum) under Dibrugarh University.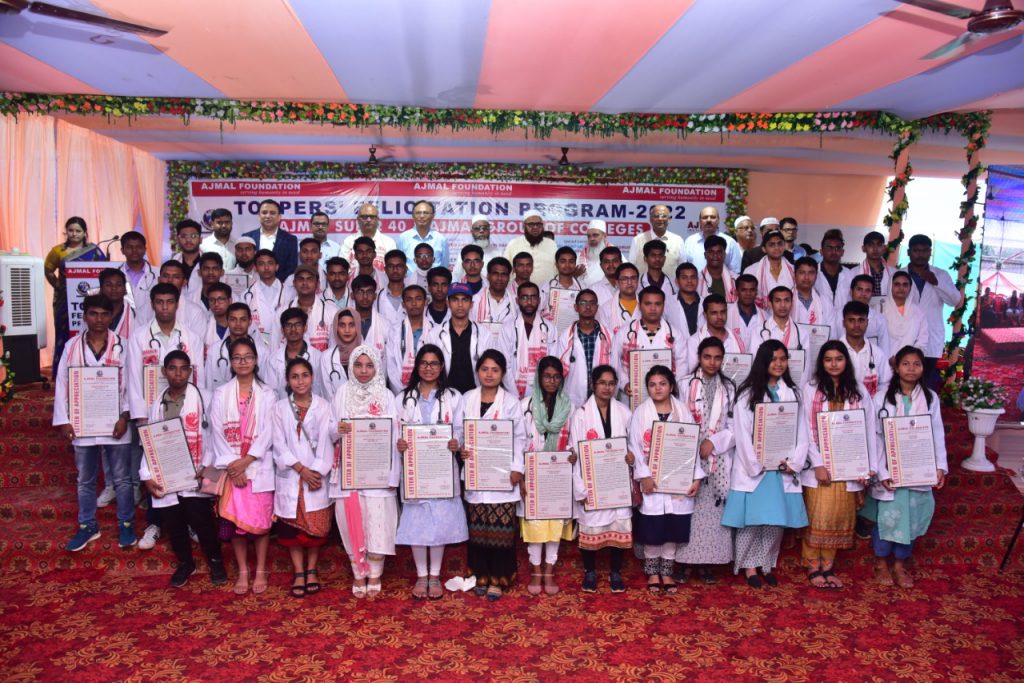 As the success and brilliance of the Ajmal alumni are creating positive ripples across the state and beyond, the Ajmal Foundation management headed by M Badruddin Ajmal and Mr. Sirajuddin Ajmal are constantly engaged in sustaining and improving the efforts to further enhance the entire education eco- system. The very latest addition to this effort is the Ajmal IAS Academy and other coaching programmes launched recently to equip and empower the rural educated youths to excel at par with their urban counterparts.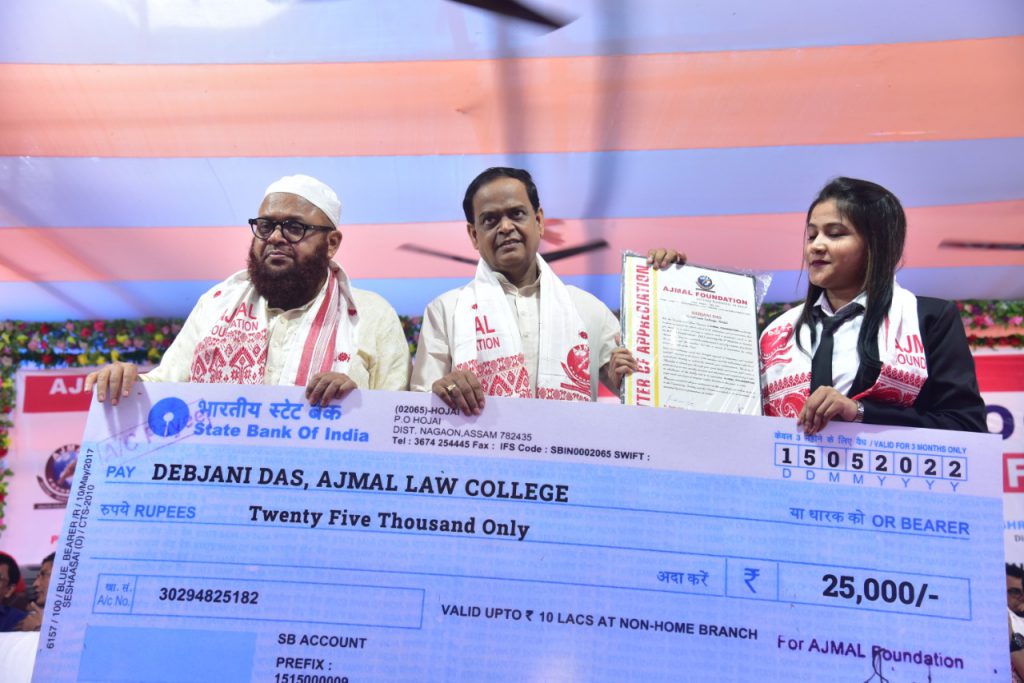 In addition to the felicitation of the brilliant students four distinguished citizens were also honoured in the mega event for their sterling performance in their respective fields and for outstanding contribution to society. Of them three are from the medical profession and one from the domain of media and information. Dr.Chaidul Islam, an eminent surgeon & Chief Medical Director HAMM Hospital, Dr. Alhilal Choudhury, also a reputed surgeon &Deputy Superintendent of HAMM Hospital and Dr. Aditya Langthasa, an eminent physician & Seniour Medical Officer of HAMM Hospital were honoured with the " Pride of Humanity Award" , instituted by the Ajmal family to recognise and appreciate the professional excellence and distinction on the one hand and their remarkable contribution to society on the other.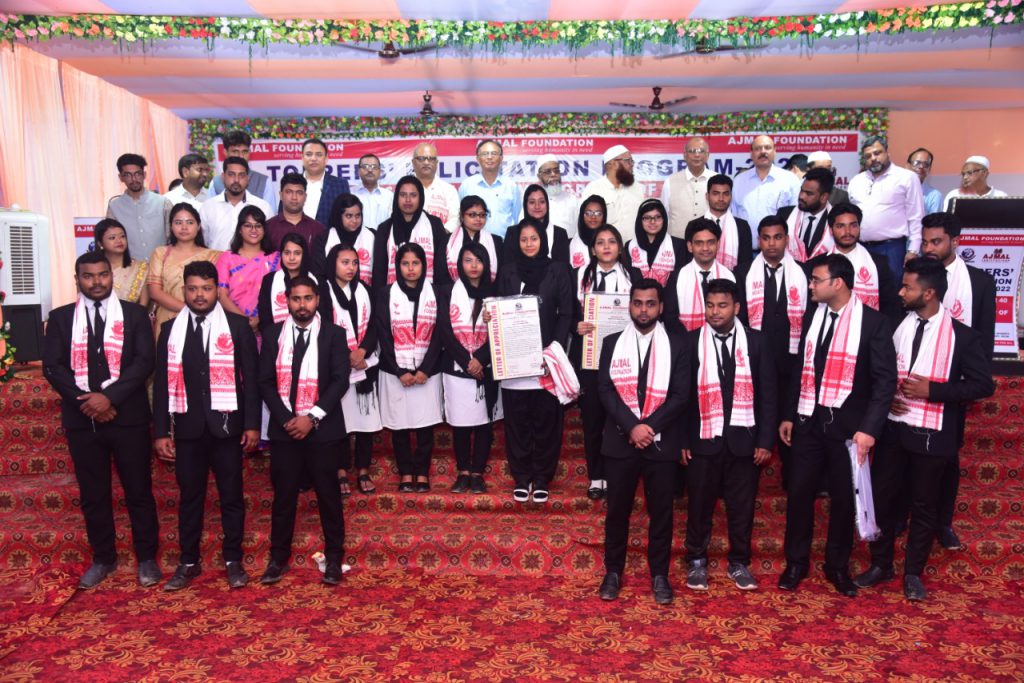 The award carries a citation and a cash award also. It may be mentioned that these three distinguished doctors have been at the helm of HAMM Hospital's extensive health services and they are chiefly credited with revolutionising healthcare in our part of the world, serving the people for more than three decades with single-minded devotion. The other distinguished person to be honoured with a citation and cash award, Mr. Maruf Alom, an Indian Information Service officer, a native and worthy son of Hojai who by his hard work, resolve and talent has risen to fame and position at a relatively young age. Mr Maruf is now the Head of the Regional News Unit of All India Radio, Guwahati.

The grand Felicitation Ceremony is a mega event organised every year to honour , appreciate and motivate the brilliant students and persons with outstanding contributions in their area of work