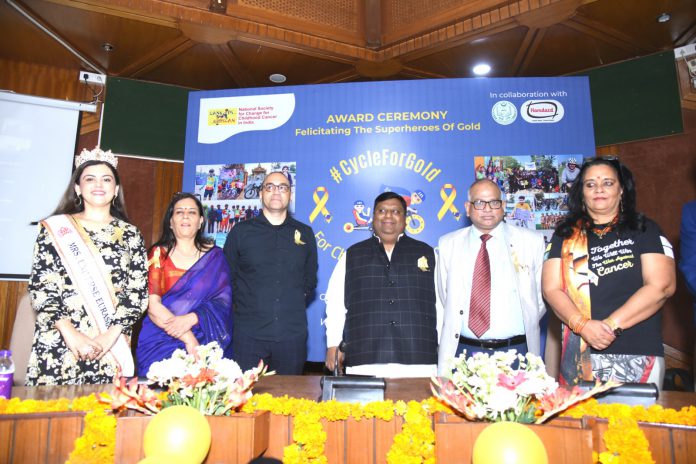 Hamdard National Foundation (HECA) in association with CanKids KidsCan, The National Society for Childhood Cancer in India and Jamia Hamdard organized the Cycle For Gold award ceremony to help Children with Cancer on 8th April, 2023 at Hamdard Convention Centre, Jamia Hamdard, New Delhi.
This ceremony recognized the achievements and heroic personalities of Cycle For Gold which started on World Cancer Day (February 04) and culminated on March 14, 2022.
Conceptualized and started in 2021 with the trifold goals of (1) Spreading Awareness that Children with Cancer can Survive and Thrive, (2) Advocating the Right to Health for a Child with Cancer and (3) Raising Funds For their Holistic Treatment, the second edition of Cycle For Gold saw close to 850 cyclists from over 75 cities, 3 countries collectively cycling over 1,84,000 Kms and raising over INR 1.2 Crore for holistic care of children fighting cancer.
Along with this year's partners, Jamia Hamdard and Hamdard National Foundation (HECA), Outdoors 91, Haldirams and Aroma Magic, CanKids KidsCan has organised the Super heroes of Gold Award ceremony to recognize our Super Heroes,  the winners of various categories with prizes ranging from trophies and medals to exclusive cycles for the top cyclists like Rupesh Kumar Bali, Arshad Mukaddam, Jai Madhav; cycling teams WCCG – Ashok Pillar, Western Cycling Network, Cyclegarh and fundraisers Parent and survivor Group, Deepak Gupta, Umeed@Brown. There will also be experiences shared by participants such as childhood cancer survivors who cycled from Delhi to Agra (cyclists who cycled over 5000 km), Adhrit Singh, a 7 year old who cycled over 150 km as well as some top triathletes like Deepak Gupta.  The ceremony will also showcase special performances and plays by Childhood Cancer Survivors to highlight and enlist support for the battle against childhood cancer.
Welcome speech delivered by Prof. Reshma Nasreen, DSW, Jamia Hamdard:
Cycle For Gold is a unique proposition which combines, sport and fitness along with community and corporate engagement for spreading social awareness, enlisting grassroots support as well as generating critical funds for the holistic treatment of children with cancer. It showcases CanKids commitment to awareness and advocacy both of which are critical components of our focus towards early detection and diagnosis, dissemination of information of how to detect, where to get diagnosed, referral to the right childhood cancer center. With our network and partnerships with 125 centers across 53 Cities and 22 States of India. we now reach 84 percent of children making it to a cancer center anywhere in India. This has increased the need for funding our efforts and Cycle For Gold also helps raise funds for treatment", explained Poonam Bagai, Founder Chairman, Cankids Kidscan, and herself a colon cancer survivor.
She also thanked to Mr. Hammad Ahmed, Chancellor, Jamia Hamdard and Mr. Sajid Ahmed, CEO and Secretary, Hamdard National Foundation (HECA) for his kind support for organizing this award ceremony.
Shri Imran Hussain, Cabinet Minister of Food & Civil Supplies and Election, Govt. NCT of Delhi was the Chief Guest* on the occasion and said "Cankids Kidscan is doing remarkable work towards childhood cancer cause and our govt. is totally supports their efforts and commitment. It is very important to save our future generation from cancer to build a better India.
Jamia Hamdard is a great institution who believes in contributing to the society, they have a rich culture and I wish them all the best Mr. Hussain further added.
Prof. (Dr.) M. Afshar Alam, Vice Chancellor, Jamia Hamdard* said "Jamia Hamdard is committed to vision of our founder Janab Hakeem Abdul Hameed Sahab towards the sharing of pain, Hamdardi towards marginalised, downtrodden and under privileged section of society. We firmly believe in strengthening the society through responsible education. I am sure that our association with Cankids will keep the spirit alive and thriving for children with cancer.
Dr. Puja Dewan, Mrs. Universe Eurasia & Mrs. India 2022-23 also graced the occasion as the Guest of Honour.* She appreciated the noble work done by Cankids, Jamia Hamdard and Hamdard National foundation (HECA) towards the society.
A large number of Cancer survivors and their families along with prominent dignitaries Mr. Sajid Ahmed, CEO and Secretary, Hamdard National Foundation (HECA), Mr. S.S Akhtar, Registrar, Jamia Hamdard, Prof. Zeenat Iqbal, Mr. Shaukat Mufti, Md. Tauhid Alam graced the occasion.
Inputs from Md. Tauhid Alam, PRO at JAMIA HAMDARD (Deemed to be University).