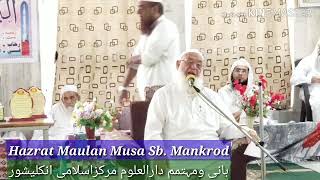 By: Khursheed Alam Dawood Qasmi
Email: qasmikhursheed@yahoo.co.in
The founder and rector of Darul Uloom Markaze Islami, Ankleshwar, Maulana Moosa Makrod was almost 80 years old. He was very active in performing his day-to-day duty at the time. In spite of old age, he seemed very fit and energetic. He never complained of any sickness. However, suddenly, a message was circulated on the WhatsApp on 31st July 2020 informing that he has been sick since two days and his health condition is deteriorating. Following the illness of a few days, he passed away on 5th August 2020 at 04:00 in the morning. The news of his death spread like jungle fire. For his dear and near ones as well as the graduates of Markaze Islami, this news was very shocking and heartbreaking. May Allah grant him Jannah!
Maulana Makrod was a humble, polite, sociable, good conduct, pious, simple and kind-hearted. There is a Hadith of our beloved prophet Muhammad (SAWS): "The believer is naively noble." (Sunan Tirmidhi: 1964) It means that a believer is a simple and kind-hearted, therefore, he can be deceived due to his gentlemanly belief in other people. This Hadith was very much applicable to Sheikh Makrod in my opinion.
The Almighty Allah has bestowed him with the great love and affection for Islamic scholars and pious people. He loved them very much. He used to invite the scholars and pious people in Markaze Islami. Whenever any scholar visited any institution of the vicinity, he tried his level best to bring them in Markaz. His habit of presenting himself among those scholars was as a faithful student before a kind teacher. It doesn't matter either they are aged or young. He would arrange the food to host such guests from his home.
Due to Maulana Makrod's love for the scholars, Maulana Moinuddin Gondavi (May Allah grant him Jannah!), former Sheikhul Hadith of Madrasah Imdadia, Muradabad, UP, decided to stay at Markaze Islami for a long period of time, when he had to settle down in Gujarat for his treatment. Maulana Makrod took care of him as long as he stayed at Markaz, until he breathed his last and was buried in the campus of Markaz. Maulana Gondavi felt very much comfortable during his stay at Markaz. Maulana Makrod had special love for Maulana Gondavi. I remember there was a gathering of Nikaah for Maulana Makrod's late son: Maulana Ismail Makrod (1974-2018) (May Allah grant him Jannah!) in the Masjid of Ravedra, a village in Bharuch district. Maulana Moinuddin addressed the gathering before Nikaah. He mentioned a certain story and the tears started rolling on his cheeks. Maulana Moosa Makrod stood at once, took out the handkerchief from his pocket and started wiping his tears.
Maulana Makrod was very punctual of Salah. Be it rain, summer or winter season, in spite of his old age, he used to perform Salaah in Markaz's Masjid. Occasionally, he used to awake the students of Markaz for Fajr Salaah. Early in the morning, he used to reach the office on the time as well. He used to complete the day-to-day affairs on the time. He was accustomed to reach the office in the morning and remained until the morning session was over for the lunch. Then he left for the home to have lunch. At Zuhr Salaah time, again he was present in the Madrasah for Salaah. Following Salaah, he sat in the office again to settle the works. Whatever was the burden of the duty, but he never expressed the tiredness. Always he was happy and active to perform his duty.
When the afternoon session was over, he used to go to the Masjid following Adhan. He performed Asr Salaah in Markaz's Masjid. Following Salaah, commonly, he used to sit with the final year students in the Masjid and had discussion with them. He used to guide and train those students.
Maulana Makrod and his son Maulana Ismail Makrod used to treat me like a member of their family. I will always remember their kindness. Whenever there was a programme in Markaz, they used to give me chance to let me prove my mettle. They encouraged me for whatever good work I did. Whenever there was a function in the campus of Markaz, frequently they give me chance to run it. Once I got chance to run the annual function which was presided by Sheikh Tariqat Maulana Qamruz Zaman Allahabadi (May Allah protect him!).
Whenever there was a programme in an institution, Maulana Makrod mostly used to send me to participate. After coming back from the programme, he used to call me in the office to know the programme's details. In this way, I had chance to visit several institutions in Gujarat. Whenever any new book or a magazine came in the office, he used to give me to read and write the letter of thanks to the sender.
Following my arrival in Zambia with his suggestion, I was in touch with him continuously. He and his beloved son Maulana Ismail Makrod were very delighted after knowing the educational and social works in Zambia. Maulana Ismail Makrod insisted me several times to visit Ankleshwar. When I planned to visit India in November 2011, he asked me visit Ankleshwar. I had no any option, but to follow his suggestion. When I phoned Maulana Moosa Makrod, he also invited me to come to Ankleshwar. I reached Ankleshwar. My family and I stayed at their bungalow as they had arranged our stay there. We were welcomed and hosted by them with open arms. They insisted me to stay at least a week. They treated me as a family member. I stayed two-three days and came back, due to the lake of time.
The kindness, sympathy, humanity, morality and sincerity I found in him, are hardly found in this age. Anyway, now Maulana Makrod and his son Maulana Ismail Makrod have left for heavenly abode. I am sure that the thousands of the students who learned at Darul Uloom Markaze Islami will remember them. They will make Duaa for them, In Shaa Allah.
The Almighty Allah had decided the same time for Maulana Moosa Makrod so he passed away at the appointed time without late. The Almighty Allah says: "For every people there is an appointed time. So, when their appointed time will come, they cannot be late for a moment, nor will they get ahead." (Aaraaf: 34) He spent a number of years serving at Markaze Islami. He founded this institution as a small Madrasa and latter it became like a fruit bearing tree. Thousands of students benefited from this institution and a lot are still benefiting. It is the duty of the graduates of Markaz to make Duaa for him!
Maulana Makrod's Birth:
Maulana Makrod was born on 22nd November 1939 at his native place called: "Diva" in Bharuch district of Gujarat. His father's name was Maulana Ismail Makrod, who was working in Durban city of South Africa. He passed away and was buried in Durban. May Allah grant him Jannah!
Educational Journey:
Maulana Makrod received his basic education at his hometown Diva. For the further education, he got admission in Jamia Husainia Rander, Surat in 1952. He completed his Fazilat course 1959 from Jamia. He learnt Sahihul Bukhari from Maulana Ahmad who was a student of Sheikhul Islam Mualana Husain Ahmad Madani. May Allah grant them Jannah!
Following graduation from Jamia, Maulana Makrod left for Darul Uloom, Deoband to benefit from the elder scholars of Darul Uloom. He remained almost two years in Deoband. He used to participate particularly in the lectures of Allahmah Ibrahim Baliawi, Allamah Fakhruddin Muradabadi, Qari Muhammad Tayyib (May Allah grant them Jannah!) etc. While being in Deoband, he used to take part in the special gathering of elder scholars of Darul Uloom to benefit from them.
Oath of Allegiance and Khilafah
The first and foremost, Maulana Makrod took the oath of allegiance to Maulana Maseehullah Khan of Jalalabad, UP. Following his death, Maulana Makrod again took the oath of allegiance to Maulana Moinuddin Gondavi (Ex-Sheikhul Hadeeth: Madrasah Imdadia, Muradabad, UP). After his death, Maulana Makrod joined Maulana Qamruz Zaman Allahabadi (Hafizahullah!). He was blessed with Khilafah from Maulana Allahabadi and Maulana Muneer (Hafizahullah!).
His Survivor:
Allah the Almighty has blessed Maulana Makrod with three sons and four daughters. His son Maulana Ismail Makrod, deputy rector of Darul Uloom Markaze Islami and director of MIERC, Ankleshwar passed away on 17th November 2018 in a car accident. He was very much hopeful about Maulana Ismail that he would shoulder the responsibility to take Markaz ahead. But Allah Ta'ala had decided something else. As long as Maulana Ismail was alive, he assisted him in most of the activities. Maulana Moosa Makrod was much grieved after his death. Whenever I talked to him after the death of Maulana Ismail Makrod, he used to talk about him.
Following the death of Maulana Ismail Makrod, he was survived by his wife, two sons and four daughters. One of his sons is Mr. Iqbal Moosa Makrod who was resident in Leister, UK. But after his younger brother's death, he came back to his hometown and started serving in Darul Uloom Markaze Islami to assist his elderly father and he is still serving. May Allah accept his services and grant him the best reward!
Maulana Makrod's another son is Mr. Zubair Moosa Makrod who is settled in New York, USA with his family. One of his daughters is Bilqis Yusuf Topia, a house wife and a resident of Gloucester, England with her family members. The second daughter is Nafisah Saeed Hejazi who is a resident in New York, USA with her family members. The third daughter is Hajirah Javed Jogiat who is resident in UK with her family members. His last born daughter is Khadiajah Saeed Patel. She is resident in New York, USA. May Allah keep them happy and well!
Maulana Moosa Makrod's Services in Educational Field
Career and Practical Life
After coming back from Deoband, Maulana Makrod taught seven years in the Maktab of Diva. Then he established a Maktab namely: Maktab Noorul Islam in 1975, in Ankleshwar Musafir Khana. Then he established Darul Uloom Markaze Islami in Ankleshwar in 1984. Then he also established a school in Goya Bazar of Ankleshwar namely Markaz Islami School. Then he established Markaze Islami Education and Research Center in the campus of Darul Uloom Markaze Islami in 2003 to equip newly graduate Ulama from different Madaaris with English language and computer science.
Establishment of Darul Uloom Markaze Islami:
Maulana Moosa Makrod offered his services in several fields. I am trying to present his services in the field of education briefly. His great and memorable service is establishment of Darul Uloom Makraze Islami. He ran this institution beautifully from the first day it was founded as its rector until he breathed his last. Briefly, I am going to shed light that when, how and why this institution was established? Then the services of this institution will be also presented to let the readers know the background of establishment of this institution.
Darul Uloom Markaze Islami, Ankleshwar is a well-known institution in Gujarat. Maulana Moosa Makrod used to tell about the foundation of this Darul Uloom that he left his village's Maktab and started a stationary shop in Ankleshwar. Then he was suggested by his teacher, Maulana Saeed Ahmad, Rector: Jamia Husainia, Rander to start a Maktab in Ankleshwar and teach the children basic of Islamiyyat along with running his shop. Following the suggestion, he started a Maktab: Noorul Islam in Ankleshwar Musafir Khana in 1975 and started teaching along with running his shop.
After few years, due to the growing number of the pupils, Musafir Khana was not enough to accommodate all the pupils. Then with suggestion of some his friends, he decided to arrange a piece of land and found an institution. With the help of Allah, he was successful in arranging the land for Madrasah nearby the GGCL (Gujarat Gas Company Limited) in Ankleshwar. In 1405=1984, the foundation stone was laid by two great personalities of the time, Maulana Ahmad Raza Ajmeri, (Ex-Sheikhul Hadith: Darul Uloom Ashrafiyyah, Rander, Surat) and Maulana Moinuddin Gondavi (Ex-Sheikhul Hadith: Madrasah Imdadia, Muradabad) and the institution was named: Darul Uloom Markaze Islami.
After the foundation, Sheikh Ahmad Raza Ajmeri took care of Markaz as its patron. Following his death, Maulana Moinuddin was made the patron. After his death, Sheikhe Tariqat Maulana Qamruzzaman Allahabadi was made the patron of Markaz. From the foundation day, the institution is progressing by leaps and bounds. May Allah arrange the better substitute for Markaz and may it continue progressing.
Markaze Islami provides the education from the basic classes of Urdu to the final year of Alimiyyah Course. With a bit changing in the known syllabus of Darse Nizami, the English language and the computer science have been included up to the 4th standard as this is the crying need of the time. Up to now, almost 500 students have completed their Aalimiyyah course form this institution and they are serving within and outside the country. May Allah accept their services!
The memorization of the holy Qura'an is called Hifz. If a person has memorized the whole Qura'an from cover to cover, he is called Hifzul Qura'an. There is a Hifz Department in Markaz as well. There are 11 Hifz classes running under 11 expert teachers of Hifz. There are about 260 pupils in Hifz Classes currently. Almost 536 pupils have completed Hifz course up to now from Markaz.
It is essential to recite the holy Qura'an with correct pronunciation of the Arabic alphabets caring the rules of Tajweed. If a person fails to recite the Holy Qrua'an with Tajweed, he is sinner. Maulana Moosa Makrod was very careful about it, so he established a department for Tajweed and Qira'at. The department has produced 120 students who completed Hafs, 94 students who completed Sab'ah and 42 students who completed Thalathah and 9 students who completed Ashrah Kabeer and received the certificates of Qaari. These students are serving within the country and abroad as the teachers, Imams etc.
Realizing the interest of the graduating students in Islamic Jurisprudence, "Department of Specialization in Islamic Jurisprudence" (Iftaa) was introduced in 2010. Following the admission in the department, the students get expertise and proficiency in Fiqh. Up to now, 29 students have completed the course and were granted the certificates of Mufti. The statistics mentioned here are according to the annual report of 1440 AH.
For the perfection of the writing and speaking skills of the enrolled students, there are three Anjumans (Students' unions) working under the supervision of the teachers. Under those unions, weekly programmes are held regularly. Under "Anjuman Tarbiyatut Talbah", the pupils practice to develop their oratory and writing skills in Urdu language. For practice to develop their Arabic speaking and writing skills, they participate in the weekly progrmme held under "Al-Nadi Al-Adabi". Under "Anjuman Tahseen Al-Qura'an Al-Kareem" the pupils practice how to recite the holy Qura'an beautifully applying the rules of Tajweed, they get trained for Khutbah of Jumah and to lead Salah etc.
Maulana Moosa Makrod established this institution with few pupils and the teachers in 1984. The Almighty Allah accepted this institution and currently about 550 pupils are getting free education and they are trained for good moral and character. After graduation, they play a constructive role in guiding the public to follow the straight path as the responsible citizens. To educate and train the students, there are 44 teachers who are working day and night. There are also 15 other auxiliary staff providing additional duties as cook, launderer, cleaner etc. All these are happening with Allah assistance, the good arrangement by the rector and the generous public donations. May Allah accept their services and grant them abundant reward! May Allah protect this institution from all types of evils!
Establishment of Markaze Islami School:
None can deny the need of Islamic school in this current age; rather the thinkers, writers and scholars are writing and speaking on the need of the establishment of Islamic schools. They ask the Muslim community, the organizations and the trusts to found Islamic school if they have resources to bear the expenses. Al-Hamdulillah, Maulana Moosa Makrod realized this need of the community decades ago and established an Islamic school namely: Markaze Islami Gujarati School, under the management of Darul Uloom Markaze Islami in Goya Bazar of Ankleshwar. The pupils are receiving modern education in Islamic environment. The school is recognized up to the 10th standard from the Gujarat government. Almost 432 pupils are learning under 15 qualified teachers. Following completion of the school, the pupils go to the different colleges and universities for higher modern education, Al-Hamdulillah.
Establishment of Markaze Islami Education & Research Center (MIERC)
The significance and need of English language in the modern age to understand the newly invented things or for preaching the true messages of Islam are not hidden for any sensible person. That was the reason that Maulana Moosa Makrod sent his son Maulana Ismail Makrod Delhi to learn English language in Markazul Ma'arif Education & Research Center. When he came back after learning English language, he tried to expand the chain of Markazul Ma'arif and requested his father to found an institution like that to educate newly graduated Ulama.
Maulana Moosa Makrod also realized the fact that thousands of Ulama are graduating each year from different Madaaris. One Markazul Ma'arif is not enough to meet the need; but establishing more institutions like that is crying need of the hour so that more Ulama after equipping with English language, can address the need of the people and can preach Islamic messages simply as English is easily understood. So, he got ready to establish an English Department. But before establishing, he thought proper to seek the opinions of the scholars, then finally to go ahead following their opinions. The scholars responded in affirmative and acknowledged the need of the English language. Then Maulana Moosa Makrod finalized to materialize this programme under the campus of Darul Uloom Markaze Islami.
Foundation of the Center
After getting positive replies, he started planning to found a center for the said purpose. According to the plan, he founded the institution namely: Markaze Islamic Education and Research Center, in 2003, under the management of Darul Uloom Markaze Islami within its campus. It was first time in the history that a two-year Diploma in English Language & Literature course was introduced in the campus of a Madrasa. Maulana Ismail Makrod was given the charge as director to run it. After the entrance exams, the newly graduated Ulama from different Madaris, who had interest in preaching the true messages of Islam as well as learning English language, were selected as the students of the first batch. Then the center started functioning practically.
The Services of the Graduates of the Center
A good number of Ulama graduated from different Madaaris try to get admission in this department being keen to learn the English language. The department is equipping the Ulama with English language and literature as well as computer science for last 17 years. In this period, the number of the students who have graduated from this institution is 270. Most of those Ulama are busy in teaching. Dozens of those Ulama are serving in other countries like: England, America, Canada, South Africa, Zambia, Zimbabwe, Botswana, Australia etc. May Allah accept their services and make it continuous charity for the both Maulana Moosa and Maulana Ismail Makrod! May Allah grant them Jannatul Firdaus! ⦿⦿⦿⦿