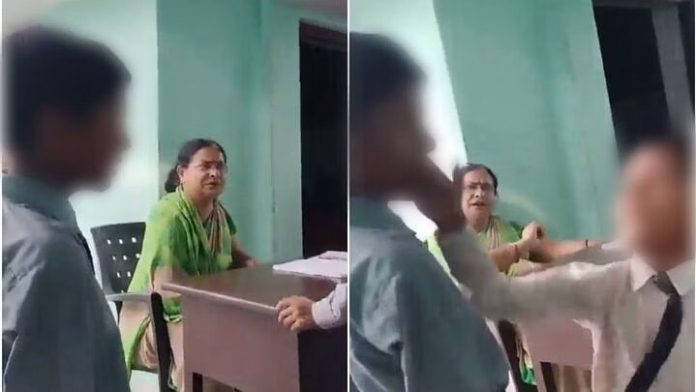 A video of Neha Public School in Uttar Pradesh's Muzaffarnagar district has been widely circulated on social media platforms on Saturday that shook the conscience of India. In a disturbing and troubling viral video, where a female teacher named Tripta Tyagi, seen seated, instructed children in her classroom to hit seven-year-old Muslim student one by one, referred to his Muslim faith Mohammedan children, because he got his multiplication tables wrong. Students thereafter can be seen queuing up one by one to slap their classmate, who is in a tears and visibly upset.
Then, as one child sits down after hitting the boy, Tyagi is heard saying in hindi to him: "Kya tum maar rahe ho? Zor se maaro na (Why are you hitting him so lightly? Hit him hard)." She then asks, "Chalo aur kiska number hai (Whose turn is it)?" as the boy cries, Tyagi says: "Abki baar kamar pe maaro… chalo… muh pe na maaro ab muh laal ho raha hai… kamar pe maaro saare (Start hitting him on the waist… His face is turning red, hit him on the waist instead).
She can be heard using the discriminatory and islamophobic words such as : "Maine toh declare kar diya, jitne bhi Mohammedan bachche hain, inke wahan chale jao (I have declared – all these Muslim children should go to anyone's area). A male voice in the background appeared to agree with the teacher.
The father of distressed Muslim student, Mohammad Irshad told local reporters that he won't send his child to the school nor is he planning to file a case. "I will not send my child to that school again and they will return the fee that I have submitted. A settlement has been reached that no complaint would be filed. The teacher has created animosity between the children," said the boy's father. Irshad, a farmer, said that the ill-treatment of his son was the result of "hate that is being spread against Muslims in the country", illustrated by the teacher's comments heard in the video.
However, an FIR has been registered against Tripta Tyagi, While the incident took place on August 24 morning, an FIR under Sections 323 and 504 of the Indian Penal Code was filed after a video of the violence went viral and created outrage.
A large number of opposition leaders have expressed outrage over the incident, and also blamed the Bharatiya Janata Party was creating an atmosphere of hate and communal violence that is leading to such incidents.
The main opposition party Congress leader Rahul Gandhi had tweeted in hindi on X (previously known as Twitter) condemned the incident saying a teacher could do no worse for the country as he accused the BJP of filling people's minds with poison.
"Sowing the poison of discrimination in the minds of innocent children, turning a holy place like school into a marketplace of hatred—nothing worse a teacher can do for the country.
"This is the same kerosene spread by the BJP which has set every corner of India on fire. Children are the future of India – we all have to teach them love not hatred," he said.
Congress president Mallikarjun Kharge slammed the BJP for its "divisive thinking" and said "such incidents tarnish our global image."
Child rights body NCPCR's chief Priyank Kanoongo appealed on social media to not share the video to protect the identity of the children involved in the incident. "In Uttar Pradesh's Muzaffarnagar, the incident of a teacher getting a child beaten up by other children in the class has been reported. Taking cognizance, instructions are being issued for action. Everyone is requested not to share the video of the child, give information about such incidents by email, do not become a part of the crime by revealing the identity of the children," the NCPCR chairperson wrote.
AIMIM chief Asaduddin Owaisi reacted strongly to the incident and questioned why the father of the Muslim student getting beaten up has no trust in the justice system. "Yogi Adityanath is responsible for what happened to the child. Perhaps, you will invite this criminal to Lucknow and reward him. No count of how many Muslim children are forced to bear such humiliation silently. It is common to call Muslim children 'Jihadi' or 'Pakistani' in schools," Owaisi wrote.
Congress leader Shashi Tharoor expressed shock over the video and wrote: "This is unbelievable. I cannot believe this is happening in our country & the people concerned are not in jail. All Indians must hang our heads in #Shame that this is what all our constitutional rights and freedoms can be reduced to."