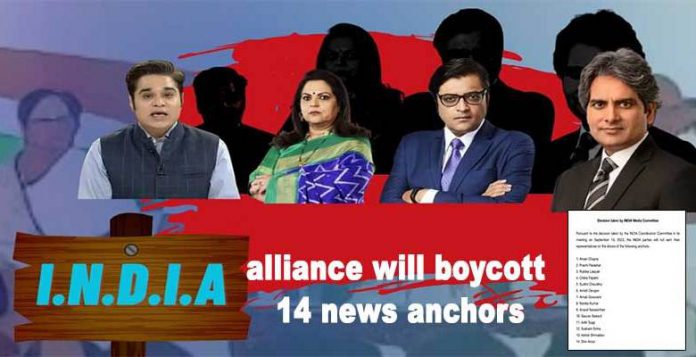 In its first coordination committee meeting, the opposition bloc INDIA alliance has released a list of fourteen news anchors of nine leading TV news channels whom the alliance will boycott and the leaders across alliance parties will not take part in debates and shows hosted by those anchors because of their "communal coverage" and deflection from issues of public interest.
The list was released by India's the main opposition bloc INDIA alliance following its first coordination committee meeting, are as follows: Aman Chopra, Amish Devgan and Anand Narasimhan of News18, Aditi Tyagi of Bharat Express, Ashok Shrivastav of DD News, Sudhir Chaudhary and Chitra Tripathi of Aaj Tak, Rubika Liyaquat of Bharat24, Gaurav Sawant and Shiv Aroor of India Today, Prachi Parashar of India TV, Navika Kumar and Sushant Sinha of Times Now Navbharat, and Arnab Goswami of Republic Bharat. As per reports, representatives of the alliance bloc will not appear on the shows of above mentioned anchors.
The first coordination committee meeting of the INDIA bloc was held at Sharad Pawar's residence on Wednesday where 12 leaders arrived at a consensus on the issue of caste census and others are likely to come on board.
"Pursuant to the decision taken by the INDIA Coordination Committee in its meeting on September 13, the INDIA parties will not send their representatives on the shows and events of following anchors," said a printed card posted by chief of Congress' media and publicity wing Pawan Khera on X (formerly known as Twitter).
The bloc has also decided to hold its first public meeting in Bhopal, the capital of poll bound Madhya pradesh state in the 1st week of October, on the theme of price rise, unemployment and BJP's rampant corruption.
Reacting to an unprecendented move by the INDIA alliance, BJP national media head Anil Baluni in an official statement said the alliance, by taking such a "highly deplorable" decision, had once again revealed its "highly repressive, dictatorial and negative mindset." He said the BJP opposed such "derogatory mentality which hinders freedom of expression".
"We have all seen that in a similar manner how the media was stifled and gagged during Emergency," Baluni said, adding that the move indicated that the alliance was "working under some external pressure to hurt Indian media's freedom of expression". He said there is democracy in the country and no one will be allowed to suppress or curtail the freedom and rights of the media.
Defending the decision, Congress media and publicity department Pawan Khera said "We have made this decision with a heavy heart. We are not opposed to any of these anchors. We don't hate any of these anchors. But, we love our country more. We love our Bharat," on INDIA alliance's decision to boycott a few TV anchors. Further he stated that some of the news channels had been conducting "hate-filled" debates and the parties of the INDIA alliance have decided not to "legitimise this hate-filled narrative which is corroding our society."