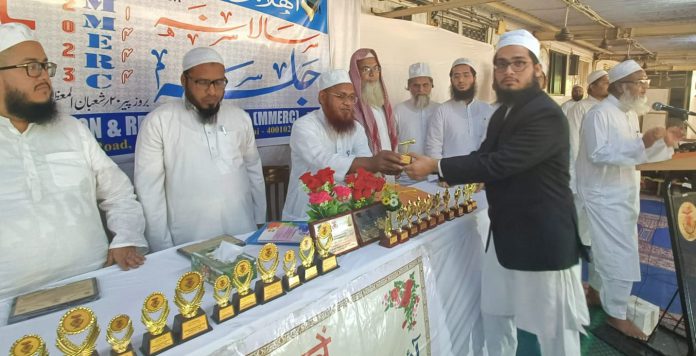 Mumbai: The Annual Function of Markazul Ma'arif Education and Research (MMERC) and Maktab Markazul Ma'arif was held on 13 March 2023 at MMERC premises at Patliputra Nagar, Oshiwara, Jogeshwari West in Mumbai. The program was presided over by Mufti Azizur Rahman Fatehpuri, the Grand Mufti of Maharashtra and attended by a crowd of scholars, educators, parents and students from within Mumbai and out of it. Mothers of Maktab students were highly large in number.
MMERC is a famous and unique institution of its kind in the world, which was established by Maulana Badruddin Ajmal Al-Qasmi in 1994 to equip Madrasa graduates with English language and literature and other selected subjects of contemporary knowledge as post Madrasa academic program.
The young children both boys and girls of Maktab Markazul Ma'arif presented beautiful recitation of the Glorious Qur'an, Naat-e Nabi (saws), speeches, poems and dialogues both in Urdu and English languages. The children who completed the six-year Diniyat Course in Maktab Markazul Ma'arif were given pass-out certificates and prizes were also awarded to the boys and girls who performed well in this academic year. In addition to these, Hafiz Muhammad Ammar and Hafiz Muhammad Abu Bakr Atique, who completed the Qur'an Memorization (Hifz) in the same Maktab, were also falicitaed with certificates of Hifzul Qur'an and eye-catching mementoes.
The Chief Guest of the program, Mufti Abdur Rahman Ajmal, former MLA of Assam and Sr. Manager Ajmal Group of Companies, in his address explained about the importance of makatib and said that makatib are the most effective means of protecting our new generation from moral and religious degradation. Narrating the alarming conditions in the United Kingdom, he said that there is an increasing number of Muslim youths in the UK who are on the verge of mental or intellectual apostasy due to lack of proper basic Islamic education. Therefore, the scholars there are trying to strengthen the maktab system even better. In India too if we do not seriously consider positive steps and upgrade our maktab system, then there is also a fear of even worse situations here like that of in the UK.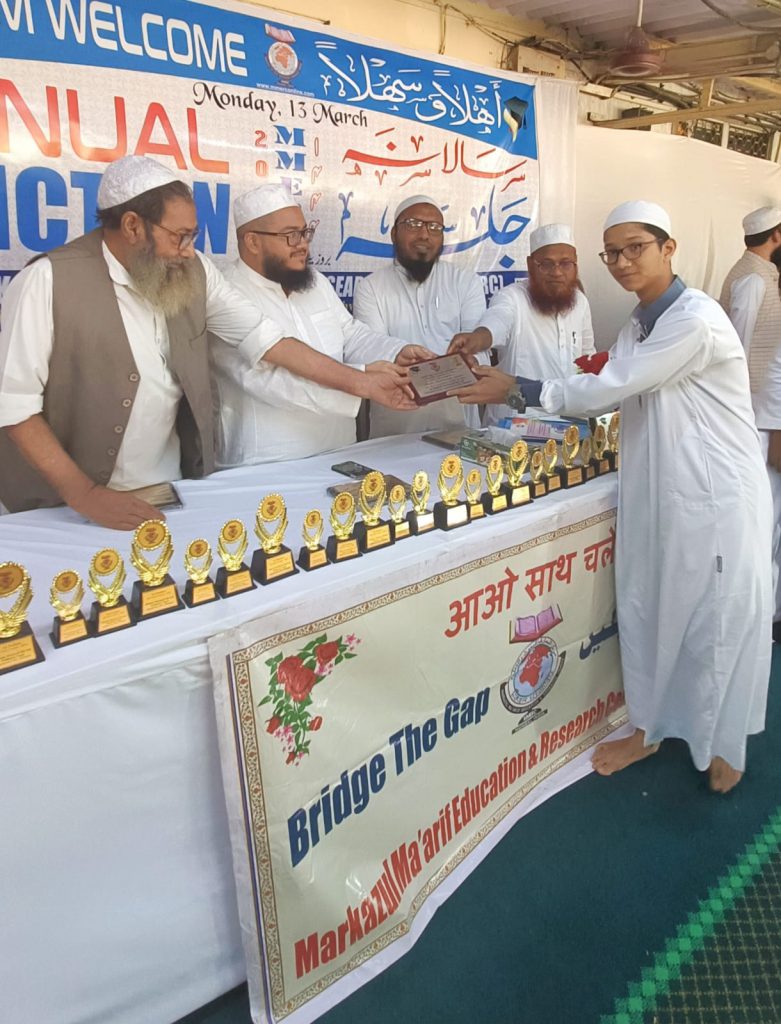 Maulana Mohammad Ibraheem Solapuri, Shaikhul Hadis of Darul Uloom Sunori and General Secretary of Jamiat Ulama-e Hind run Dini Talimi Board of Maharashtra in his speech said that wars have always been fought with two main sources in the history of mankind. One with physical weapons and muscles and the other with intellectual manipulation of the opponent minds. The second one has always been more lethel and extremely challenging for Muslims as an ummah. "Therefore, it is time for Muslims in India to compete intellectually through proper knowledge and wisdom, and for that makatib are like the last forts of Islam," he said.
Among other prominent guests Maulana Parvez Alam Qasmi, the Muhaddis of Jamia Islamia Jalalia, Hojai, Assam also spoke briefly in the programme and highlighted the marked contributions made by Maulana Badruddin Ajmal Al-Qasmi and Ajmal family in the fields of education, health care and social upliftment of down trodden people in the north eastern states of India.
Maulana Mohammad Burhanuddin Qasmi, the Director of MMERC and Editor of Eastern Crescent, welcomed all guests, thanked the students and their parents and briefly introduced MMERC and Markazul Ma'arif, Hojai – the NGO, starting from 1982. He mentioned various large educational and social development projects taken up under Ajmal CSR initiatives across India, especially in the northeast region.
The first year students of Diploma in English Language and Literature (DELL) under MMERC, Mumbai were awarded with various prizes for this academic year in the Annual Function. Maul. Hassan Khan, Maul. Nawaz Ashraf and Maul. Zaheerul Islam who secured the first, second and third positions in the academic year 2022-23 were appreciated with beautiful trophies, while the Best Speaker of the Year award was won by Maul. Khan Muhammad Muzakkir. Many other students were also awarded for their various extra or
co-curricular achievements.
Maulana Muhammad Atiqur Rahman Qasmi and Mufti Jaseemuddin Qasmi compared the program. Maulana Muhammad Shahid Qasmi, the in-charge of the Maktab, Maulana Muhammad Aslam Javed Qasmi, Maulana Muaz Mudassar Qasmi, Maulana Muhammad Wasim Akram Qasmi, Maulana Jameel Ahmad Qasmi, Qari Sabir Hasan and Maulana Muhammad Afzal and others contributed in making the program successful.
The program ended with the presidential words and prayers of Hazrat Mufti Azizur Rahman Fatehpuri, the Grand Mufti of Maharashtra.