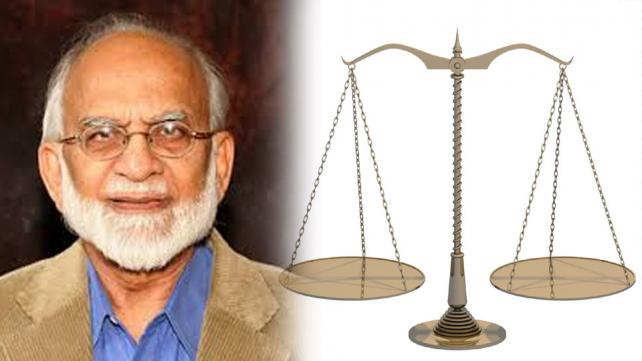 New Delhi, November 12, 2022: The President of Jamaat-e-Islami Hind (JIH), Syed Sadatullah Husaini has mourned the passing away of renowned economist Dr. Nejatullah Siddiqui
In a statement to the media, JIH President Syed Sadatullah Husaini said: "We are extremely sad on hearing the news of the demise of Dr. Nejatullah Siddiqui. His contribution to the field of Islamic economics was unparalleled. He pioneered the concept of Islamic banking and laid the foundations of what is now a thriving multi-billion-dollar industry. Dr. Nejatullah was a very versatile personality dedicated to learning and development. Despite living abroad, he contributed intellectually to many forums and institutions in India. His demise is a great loss to the Muslim world and the Islamic Movement. His passing away leaves a great vacuum in the field of Islamic economics and finance. We offer our heartfelt condolences to the bereaved family members. May Allah forgive him, grant him the highest position in Paradise and bestow patience upon his family members."
Dr. Mohammad Nejatullah Siddiqi was an Indian economist and the winner of the King Faisal International Prize for Islamic Studies. Born in India in 1931, he was educated at Aligarh Muslim University as well as Rampur and Azamgarh. He served as Associate Professor of economics and Professor of Islamic studies at the Aligarh Muslim University and as Professor of economics at the King Abdul Aziz University, Jeddah, Saudi Arabia, in its Center for Research in Islamic Economics. He later became a Fellow at the Center for Near Eastern Studies at the University of California, Los Angeles, and after that a visiting scholar at the Islamic Research & Training Institute, Islamic Development Bank, Jeddah. He was a prolific writer in Urdu and English with 63 works in 177 publications and 1301 library holdings to his credit. Several of his works have been translated into Arabic, Persian, Turkish, Indonesian, Malaysian, and Thai languages. He was also the recipient of the Shah Waliullah Award in New Delhi for contributions to Islamic Economics.
Some of his notable books are Recent Theories of Profit: A Critical Examination, Economic Enterprise in Islam, Muslim Economic Thinking,
Banking Without Interest, Partnership and profit-sharing in Islamic law, Insurance in an Islamic Economy, Teaching Economics from in Islamic Perspective, Role of the State in Islamic Economy, Dialogue in Islamic Economics, and Islam's View on Property.