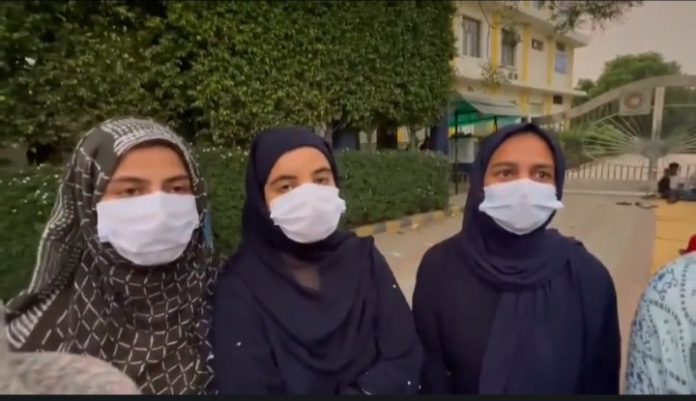 A disturbing and shocking video went viral on social video, Kashmiri muslim students of Desh Bhagat University (DBU) in Punjab were reportedly beaten by university staff, police and local goons allegedly hired by the staff after students, raised concerns over the university's admission practices. Scores of Kashmiri students pursuing nursing degrees at Desh Bhagat University have found themselves embroiled in a contentious admission debacle.
Nursing students had been protesting for the past one month against the university for admitting more students in the course than the number allowed by the Nursing Council of India. They feared that some of them might be given degrees issued by colleges not approved by the council, thereby jeopardising their career.
According to the Kashmir News Service (KNS) The students complaint university for admitting more than the prescribed 100 seats allocated by the Indian Nursing Council (INC) for nursing courses. When students raised questions against new extra admissions, the university staff ignored it off, claiming it's not a serious issue, just a concern and responsibilities of management of the university.
A horrified, female Student told KNS over telephone, that the Staff members including hired Local goons dragged us, beat us like animals. Disturbingly, no FIR has been registered by the police, and no arrests have been made in connection with the assault. She said.
When KNS contacted, SSP Fathegrath Sahib in Punjab District, Ms. Ravjot Garewal, IPS, she assured that the police is taking measures to ensure the safety of the students, although no written complaint had been received yet.
In a statement, JKNC State Spokesperson Imran Nabi Dar said the physical assault on Kashmiri students is a grim reminder of how they continue to face the brunt of targeted assaults even by uniformed men. "University administration is duty-bound to address the concerns of their students. They should not have allowed the Punjab police to intervene in this administrative issue who thrashed the innocent students. They need to act and stop such incidents from taking place. Also the university administration is duty bound to address the concerns raised by students," the spokesperson said.
"Girl students were thrashed brutally for no fault of theirs. This is unacceptable and should be condemned by all," he said, demanding a thorough and fast track investigation by the Punjab government.
Jammu and Kashmir Students Association (JKSA) has written to Union Minister for Health and Medical Education Mansukh Mandaviya and Punjab Chief Minister Bhagwant Mann over transfer of Kashmiri students enrolled in various paramedical courses from DBU Punjab to Sardar Lal Singh College without their consent.
"DBU has transferred approximately 70 Kashmiri students enrolled in various paramedical courses to Sardar Lal Singh College without their consent or will. This unilateral move by the university has been ongoing since last year when around 500 students from Jammu and Kashmir, pursuing various paramedical courses at DBU found themselves caught in a situation beyond their control," National Convenor  JKSA, Nasir Khuehami said in a statement.
"It has come to light that DBU, Punjab, admitted 140 students, far exceeding the approved intake capacity, which ranges from 40 to 60 students," he said.