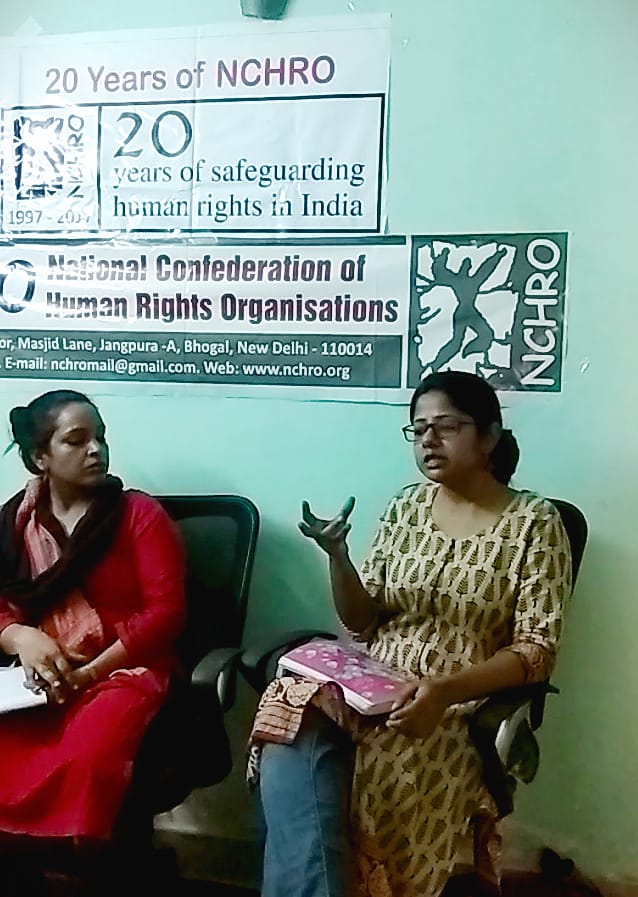 New Delhi
Saturday, May 26, 2018Law Students,
Advocates, Journalists, and Human Rights Activists gathered at the NCHRO Office in New Delhi for an Open Forum on "Targeted Extrajudicial Killings in Uttar Pradesh".  In support of social justice and human rights, the open forum discussed the situation in Uttar Pradesh based on academic, non -government, and human rights perspective. Concerned audience listened intently as Adv.Mangla Verma, Legal counsel of the 'Citizen against Hate' led the open forum.
Excerpt:-
In the short period of just over a year that the Yogi government has been in power, it has notched up 50 killings in almost 1,500 "encounters". These acknowledged police killings are widely believed to be planned and staged,  Lacking any kind transparency, accountability, and vetting, these so-called "encounters" end up as de facto hit lists.  No systematic investigations and prosecutions of these murders have taken place. Rule of law is the fundamental principle of governance of any civilised liberal democracy. Yet, the Uttar Pradesh government looks somewhat determined to disregard the first principles of the criminal justice system. 
Most of the incidents have taken place in districts close to the national capital such as Meerut, Shamli, Muzaffarnagar, Baghpat, Saharanpur, Bulandshahr, Ghaziabad and Noida.  Most of the dead were Dalits, Muslims or members of Backward Classes.  
Undeterred by allegations of "fake encounters",  the killings continue with full impunity and immunity to the killers.The civil society has been saying for the last many months that there has been a complete breakdown of law and order in Uttar Pradesh, but no one cared to intervene. Another chilling trend is in the use of fake encounters by the forces to murder those inconvenient to the party in power. 
Adv.Mangla Verma included watch group 'Citizen against Hate'  thoroughly studied these 'enco