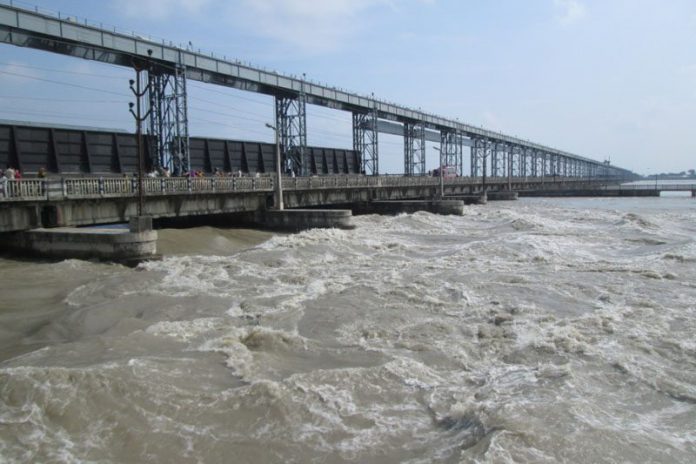 Relentless rain led to rising water levels in Saptakoshi river which resulted in the opening all 56 sluices of Koshi barrage. The water level in Saptakoshi river has crossed this year's highest mark due to the continued torrential rainfall in the eastern hilly districts of Nepal, indicating an imminent danger to nearby districts.
The Koshi Barrage is a sluice across the Koshi river that carries vehicular, bicycle, and pedestrian traffic between Saptari district and Sunsari district of Nepal.
The decision to activate the sluices was taken by a recorded water flow of 462,000 cusecs.
The swift rise in the river's water level has triggered concerns among residents residing in Udayapur, Saptari, and Sunsari districts.
With the rising water level of Koshi, a red light has been lit as a sign of danger at the Koshi Barrage, which is under India's control.
DSP Raj Kumar Rai of the District Police Office, Sunsari said that the decision to open all the 56 barrage gates has been taken after the water level crossed the danger level.
The water flow in the river had reached 442,000 cusec on Sunday night. The water flow was measured at 439, 000 cusec on Monday morning, DSP Rai said.
Humkala Pandey, the Chief District Officer, highlighted that the current flood in the Saptakoshi marks the most severe since 1989 when a water flow of 472 thousand cusecs was recorded.
The people of the riverside settlements have strongly been advised by the administrative authorities to stay on high alert and excercise heightened caution in the wake of flood like situations.