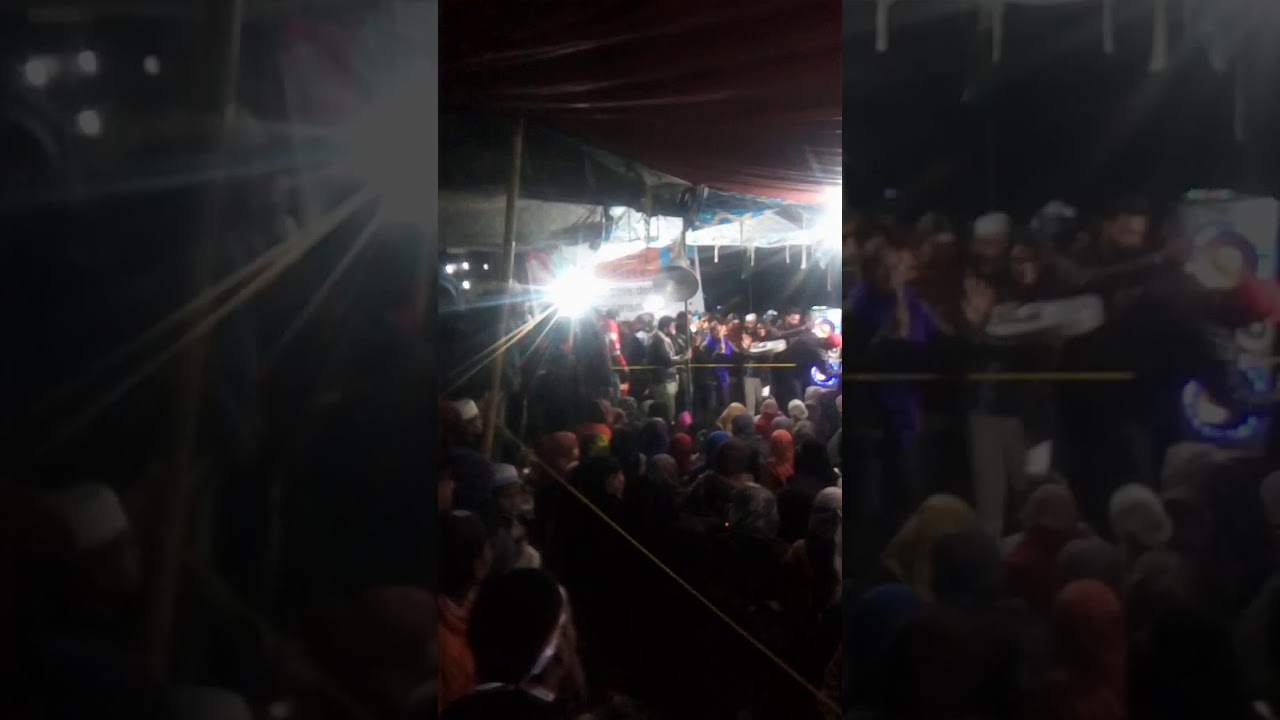 Khureji khas an area of Delhi where another protest another sitting like Shaheen Bagh has been started by the women of this area against CAA. But the main thing which is noticeable here is that the crowd is not like Shaheen Bagh, which is the biggest reason that today early morning around 3 am Delhi police raeched to the protest site and tried to forcefully remove and clean the protest area. We were told by some of eye witnesses that there were more than 200 protesters gathered to show their resistance against central govt of India But late night Delhi police came with huge police force and barged into the camp, which was used for sitting of female protesters, they broke the camp, vandalized those things which were in use of protest.
Another eye witness has claimed that the cops badly behaved with the female protesters. Khalid saifi an eye witness have done a live video through Facebook and later he shared a post over the recent incident of Khuraji Khas, he wrote "I was called by DCP Amit Sharma at 2:00 am when I went to office in Jagat Puri PS. Room was full of many ACPs, SHOs and DCP Amit Sharma in total there were 12-14 officers. As soon as I took my seat in front of DCP he asked me When are you going to stop this Protest. I told him Sir as I said earlier I am not an organiser or incharge of this protest. He kept on insisting me to call the protest off. He indirectly threatened me to frame cases against me. When I refused firmly to give a call to defuse the protest he asked me that I should leave the protest with my family and make announcement of the same. I got agree on this and left his office at 2:30 am and reached Protest site and discussed the same with management team there and they suggested me to go home and rest. I reached home by 2:45am and received a call from protest site at 2:55 am that Police has disconnected the street lights and lights at protest site and entered the protest site in huge numbers and asking the Peaceful Protestors to leave. There were around 50 women few children and around 70 men were there. I reached there immediately and saw lots of people gathered outside and were not allowed inside. I reached to ACP and ask him why are they doing this crackdown at 3:00 am when there are huge number of ladies and children present. He said they are not doing anything whereas I could see Police walas were still removing make shift plastic tents. Then I saw DCP Amit Sharma and I confronted him with my camera on he tried to snatch my phone but couldn't and all officers started running away from me after seeing camera on. Few thousand people from the vicinity gathered there and started shouting slogans against Delhi Police. Seeing this huge mobilisation Police left the venue after damaging most part of makeshifts tents and cutting off the electrical cables. It was very very scary and had not locals come on right time this would have been worst than what happened in Jamia and AMU."
The user has written it would have been worst than what happened in Jamia and AMU, so today is the 15th of January and last 15th ofd December everyone of this country had witnessed that how the cops treated the students of both noticeable Universities just because they were protesting against the Anti Constitution Amended Act over Citizenship where you to give a test in which you have to prove your citizenship and the scale ofd testing the perameter of citizenship or the base to get Indian Citizenship is your ''Religion''. For the first time of Indian History since India has been an Independent country that one would be given Citizenship by its religion.
It has been 30 days, a month when the whole terror have created from The JAMIA and AMU university, the unforgettable images have sticked into lakhs of people's mind that this is how the world's third largest democratic country should have behaved with it's decent or this is how a government should have behaved with it's student which the country calls it's future or this is how the cops should have vandalised the library, attacked over the innocents students. The unforgettable terror which the central govt has gifted to its people would not bet accepted by the people of this democracy. From that day to today, everyday many protest were leading by students or different political parties, lakhs of people participating in rallies against CAA, NRC, NPR and the Bollywood is also not left behind, Swara Bhaskar, Zeeshan Ayub, Prakash Raj, Subhash Kashyap, Shabana azmi, Javed Akhtar and so many other name which is not yet written here are showing their resistance against the fascist law which is forcefully emplimented by the central govt.
Gyan Prakash a history professor at Princeton University said over ongoing protest "What is remarkable about these protests is their organic nature. Muslim students took the lead. Having watched the government and Hindutva organisations push their divisive agenda since 2014, the CAA broke the dam of fear and intimidation. The courageous initiatives at Aligarh and Jamia struck a chord beyond the Muslim community and spread at electric speed. Students and youth, the civil society, and even sections of Bollywood have joined the protest. Some have found the assertion of Muslim identity in the protests problematic. But this objection is misguided; how can the Muslims not assert their identity when it is precisely that identity which is under attack? How could they not miss the meaning of the Supreme Court Ayodhya decision? "