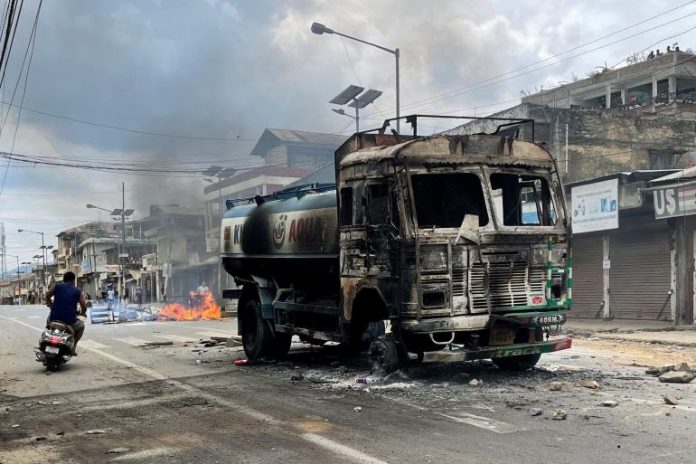 In a significant development, the Manipur government in the northeast Indian state have issued "shoot-at-sight" orders as a last resort to quell violence and bring the situation under control amid spiraling violence in the state between tribals and the majority Meitei community which has displaced over 9,000 people from their villages.
In view of the deteriorating law and order situation, the Indian Army called in to control violence in Manipur. Flag marches are being conducted in violence hit areas to keep the situation under control. A curfew was imposed in non-tribal dominated Imphal West, Kakching, Thoubal, Jiribam and Bishnupur districts and tribal-dominated Churachandpur, Kangpokpi and Tengnoupal districts. Mobile internet services were suspended across the state for five days amid incidents of fighting among young men and volunteers of different communities, the state government said in a statement.
Pleading people to maintain peace and harmony in a social media broadcast, N Biren Singh, the Chief Minister of Manipur said, "Precious lives have been lost in the clashes, besides damage of properties, which is very unfortunate."
Further Singh insisted that the violence was the result of "misunderstanding" in the society.
"The state government is taking all steps to maintain the law and order situation and additional para-military forces have been requisitioned to protect the lives and properties of the people," he said.
"Central and state forces have been directed to take strong action against individuals and groups who are indulging in violence," he added.
India's top female boxer, who hails from the state MC Mary Kom on Thursday urged the Centre to help control the violence that broke out in Manipur.
"My state Manipur is burning, kindly help," the veteran boxer tweeted in the early hours, sharing photos of the violence, and tagging Prime Minister Narendra Modi, home minister Amit Shah and defence minister Rajnath Singh.
The violence erupted after a students' union, the All Tribal Students' Union Manipur (ATSUM), organised protests in the Churachandpur district against a demand by the majority, non-tribal Meitei community for the status of a Scheduled Tribe (ST).
The majority Meitei community's demand for a special status would give them benefits including the right to farm on forest land, low-cost bank loans, and health and educational facilities, as well as a specified quota of government jobs.
Tribal people say the Meitei community is comparatively well-off and that granting them more privileges would be unfair.
However, the details of the deaths were not immediately available.