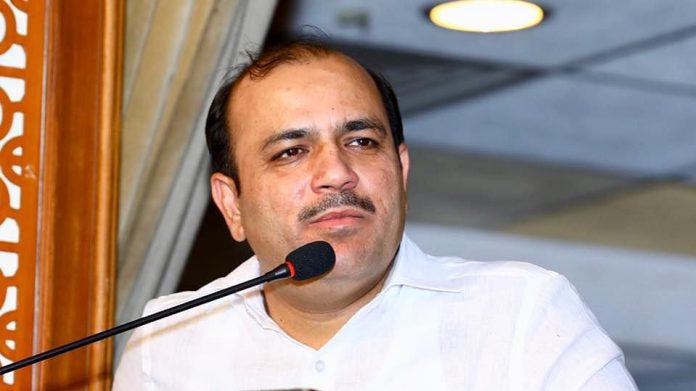 BJP MP Ramesh Bidhuri's anti-muslim slurs against Muslim MP Danish Ali in Parliament during a debate in parliament about India's moon mission is disgusting and reprehensible but not shocking. It is not uncommon in today's India and Bidhuri's comments reflect the image of majoritarian democracy.
Ramesh Bidhuri's threatening and islamophobic remarks can be heard calling Muslim MP Danish Ali a "Bharwa (pimp), "Katwa" (circumcised), "Mullah"  "Atankwadi" (Terrorist) & "Mullah Ugrawadi" (Muslim terrorist) on record in lower house of parliament (Lok Sabha) while former cabinet minister and senior BJP leader Ravi Shankar Prasad & Harsh Vardhan sitting next to him are shamelessly laughing. "I will see this mulla outside," said Bidhuri in an apparent threat to him.
BSP MP Danish Ali, an MP from Amroha in Uttar Pradesh has approached Lok Sabha Speaker Om Birla for stern action against BJP member Ramesh Bidhuri over his Islamophobic and racial remarks made against me.
In his letter to the speaker, Ali wrote: "I write to you with deep anguish regarding the speech given in the Lok Sabha by an MP of the BJP, Mr Ramesh Bidhuri, during the discussion on Chandrayan success… During the course of his speech, he directed the most foul, abusive invectives against me, which are part of the records of the Lok Sabha. Among the words he directed against me were 'Bhadwa' (pimp),'Katwa' (circumcised one),'Mullah ugravadi' (Muslim terrorist) 'atankvadi' ( terrorist) etc… This is most unfortunate and the fact that it has happened in a new Parliament building under your leadership as Speaker is truly heartbreaking for me as a minority member of this great nation and an elected Member of Parliament as well."
His clarification comes after a video, showing Union ministers Vardhan and Ravi Shankar Prasad 'laughing' during  was shared widely on social media.
In a post on X, previously known as Twitter, Vardhan said: "It is a notorious and fabricated story filled with negativity and is being used by some vested political elements on social media to tarnish my image. In thirty years of public life, I have worked closely with lakhs of Muslim brothers and sisters in my constituency as well as with colleagues from various walks of life."
"Born and brought up in Phatak Teliyan in the historic gullys of Chandni Chowk, I have spent my childhood and grown up playing with my Muslim friends. I can state with utmost confidence and conviction that all Muslim brothers and sisters who have ever been in contact with me will vouch for my sentiments and behavior," he added.
The Congress has demanded that Ramesh Bidhuri must be suspended from Lok Sabha for his remarks. As an expression of solidarity, Congress leader Rahul Gandhi visited Danish Ali's residence in Delhi to extend his support to him.
Talking to X, AIMIM chief Asaduddin Owaisi said that Muslims in India were being subjected to the same kind of treatment as were Jews in the Hitler's Germany. He posted a video of Lok Sabha proceedings on his X, formerly Twitter showing BJP MP hurling abuses like 'bhadwe' and 'terrorist' against BSP member Kunwar Danish Ali.
"There is nothing shocking in this video. BJP is in an abyss and everyday it is stooping down to new lows. I have confidence that no action will be taken. Chances are that he could be made BJP's Delhi State president," Owaisi added
Opposition parties joined the issue, with Trinamool Congress MP Mahua Moitra criticising the BJP in a post, with a video clipping of Bidhuri's speech attached. "Keeper of Maryada @ombirlakota Vishwaguru @narendramodi & BJP Prez @JPNadda… any action please?" she posted.
"Abusing Muslims, OBCs an integral part of BJP culture – most now see nothing wrong with it. @narendramodi has reduced Indian Muslims to living in such a state of fear in their own land that they grin & bear everything. Sorry but I'm calling this out. Ma Kali holds my spine," Moitra said in another post.
National Conference leader Omar Abdullah while speaking to ANI said that "This shows what they (the BJP) think about Muslims… They should be ashamed." RJD MP Manoj Jha said he was "saddened, but not surprised". "This is the truth of PM's 'Vasudhaiva Kutumbakam'. We need to think that if such words were used for an MP in Parliament, then to what kind of language against Muslims, Dalits legitimacy is been given?" Jha told ANI.