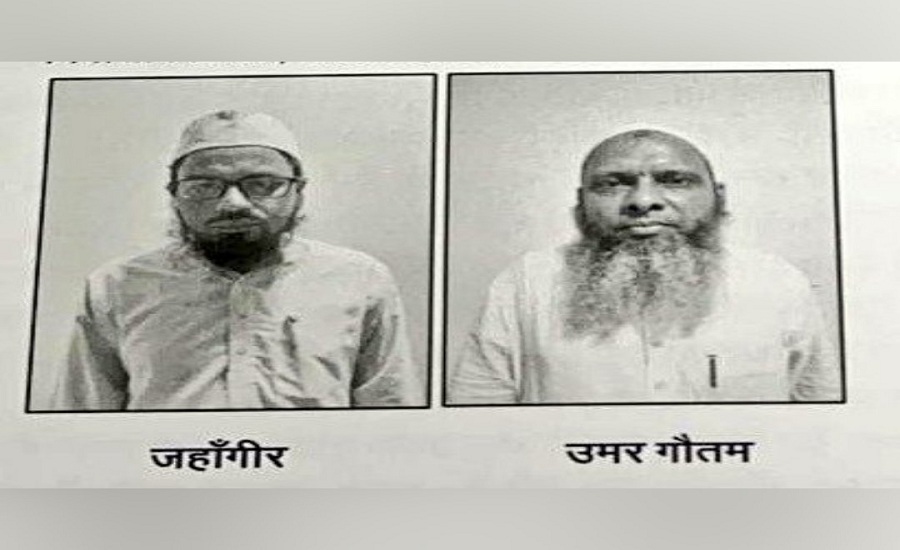 By: Khursheed Alam Dawood Qasmi
The Indian Constitution is very secular and accommodative. It gives basic freedom to every citizen to wear, eat, live, practice, preach and express his/her view what one considers right. The article 25 of the Constitution guarantees an individual to embrace a religion of his/her choice, to practice and to propagate it without any fear. The article 25 reads: "Freedom of conscience and free profession, practice and propagate of religion."
Mr. Rizwan and Mr. Kashif in Dasna Devi Temple
Two people: Mr. Vipul Vijayvargiya (a converted Muslim by the name of Mohammad Rizwan) and Kashi Gupta (actually Kashif, brother-in-law of Mr. Vipul) reached Mr. Yati Narsinghanand, the priest of Dasna Devi Temple. They wanted to have dialogue with him to remove his misunderstandings about Muslims, Islam and Prophet Mohammed (PBUH) as he is famous for his poisonous speech against them. In April, he hurled insults at Islam and the Prophet (SAWS) addressing a press conference in the Press Club of India which led the police to file an FIR against him. Just few days back, he talked to bomb the seminary and university like Darul Uloom Deoband, AMU and JMI. Mr. Narsinghanand informed the police station about their arrival and claimed that they came with a plan to "assassinate him." The police reached on the spot and the both accused were arrested and later released. During the investigation, the police came to know Mr. Samiuddin who assisted Mr. Vipul (Mohammad Rizwan) in embracing Islam. During the investigation, Mr. Samiuddin introduced IDC (Islamic Dawah Center) of Mr. Mohammad Umar Gautam as an organization assisting the converted people for legal documentation.
A Notice to Mr. Gautam and His Cooperation
On 17th June 2021, Mr. Muhammad Umar Gautam received a notice from the Masuri Police Station in Ghaziabad to appear at the station. He reached the police station on 18th June to cooperate with the investigation. He was investigated by the members of the ATS (Anti-Terror Squad of UP). During the investigation his mobile phone was seized. They let him come back home and asked him to appear next day, Saturday 19th June with some personal documents like passport, bank accounts etc. He followed the instruction of the officers and reached the police station with his son and associate Mufti Jahangir Qasmi. His son continued waiting for him outside; but he did not come back. In the late evening, on inquiry, he was informed that the ATS has taken his father. On 20th June, Mr. Gautam and Mufti Jahangir Qasmi were declared arrested by the ATS.
It is alleged that Mr. Gautam was into mass forceful conversion of non-Muslims specially deaf and mute students, women and children from the weaker sections of the society. He has forcibly converted about 1,000 people to Islam luring them with money, marriage and job. Mr. Qasmi is alleged to issue them conversion and marriage certificates illegally. The cases were registered involving Mr. Gautam, Mr. Jahangir and the IDC under the several IPC like cheating, criminal conspiracy, promoting enmity between different groups on grounds of religion, committing acts against national integration, insulting religious beliefs and the Uttar Pradesh Prohibition of Unlawful Conversion of Religion Ordinance 2020. They were taken on remand. Currently they are detained in Lucknow jail. Hearing has not yet started in the court. No sooner had the news of the arrest of Mr. Gautam and Mr. Qasmi disclosed, then the sold media houses kept having debate on "forceful religious conversion racket" on the prime time showing for more than a week. There is no truth behind the narratives played out on the TV screens, in my view. It will be proved that these sold media houses were playing out on their screens the "myth" of forceful conversion racket to defame a particular community.
Status of Forceful Conversion in Islam
Following the allegation of forceful conversion, it is necessary to reveal the status of forceful conversion in Islam. Islam never encouraged its followers to convert someone forcefully. The Qura'an speaks: "There is no compulsion in Faith. The correct way has become distinct from the erroneous." (Al-Baqarah: 256) At another place the Qura'an says: "Had your Lord willed, all those on earth would have believed altogether. Would you, then, compel people, so that they become believers?" (Yunus: 99) It means that Allah stopped the Prophet (SAWS) from compelling and forcing anyone to convert. Only inviting towards the way of the Supreme Lord with wisdom and beautiful preaching is encouraged. The Qura'a says: "Invite (people) to the way of your Lord with wisdom and good counsel. And argue with them in the best of manners. Surely, your Lord knows best the one who deviates from His way, and He knows best the ones who are on the right path." (Al-Nahl: 125) These are few examples cited here from the Qura'an to prove that Islam doesn't allow forceful conversion, except that someone converts willingly. Now, here is an interrogation, can they force someone to convert? Let's know who are they and can it be believed that they did so.
Mr. Muhammad Umar Gautam and Mufti Jahangir Qasmi
Mufti Jahangir Qasmi, an associate of Mr. Muhammad Umar Gautam, is an Alim (Islamic Scholar); but more than that a certified Mufti and Qazi. Bearing in mind the above presented Islamic view, it's not expected that a Mufti can force someone to convert or he can issue the conversion or marriage certificate illegally or forcefully to make the people married or Muslim. The truth will prevail, I hope.
Mr. Muhammad Umar Gautam is originally from Fatehpur district of UP. He is a converted Muslim. Before comverting, his name was Shayam Pratap Singh Gautam. He was born in 1964 in a Rajput family. His father's name is Mr. Dhanraj Singh Gautam. Mr. Gautam has five siblings. He is fourth born. He started his basic education at his ancestral place. Then he moved to Allahabad for his intermediate. For his BSc. Agriculture, he got admission in Govind Ballabh Pant University, Nainital in Uttarakhand. He was a boarder. During the final year of the BSc., he met an accident and had fracture in his leg. In this critical condition, he was helped by a Muslim colleague, Mr. Nasir Khan from Bijnor, UP. Then Mr. Gautam was a practicing Hindu. Following the advice of his mother, he used to go to the temple for worship on each Tuesday. As he had a fracture in his leg, it was Mr. Khan who used to take him to the hospital and the temple.
Mr. Gautam questioned Mr. Khan the reason behind his services. Mr. Khan replied that it was his duty as Muslim to help his neighbor in the time of need. Mr. Gautam was much impressed with his reply and exemplary character. Then he included Islamic literatures in his self study. Following his study and research, he decided to embrace Islam. Therefore, in 1984, during his first year of MSc., he embraced Islam. Then he had to face boycott. Even he had to stop his studies. He bore all the difficulties; but he hugged Islam as his studies enlightened him. Following a period of time, he got admission in the central University: Jamia Millia Islamia, New Delhi for MA in Islamic studies. Latter he also taught as a guest lecture at the same department. He also worked as the director of Markazul Ma'arif Education and Research Center, Delhi, an institution to teach English language and computer science to the newly graduate Ulama from Madaris.
Mr. Gautam continued focusing on his self-studies of Islam and he got recognition among the learned people as a scholar and a motivational speaker. He speaks freely anywhere without hiding his background. He has travelled widely several countries and has given lectures. He shares with the audience his journey form Hinduism to Islam. He talks freely about the difficulties he faces. He never hesitates to speak about the beauty of Islam what he found during his research. Now, though he is not a "Certified Maulana"; but he has adequate knowledge of Islam and is considered an Islamic scholar.
Foundation of IDC
As being a new Muslim, Mr. Gautam faced several difficulties. One of them was getting legal documentation. For guiding and assisting the converted Muslims, he founded IDC (Islamic Dawah Center) in 2010 in Batla House, Okhla in India's capital city Delhi. According to the dozens of converted Muslims' statements, the center has guided them to get legal documentation (certificate of Islam by a register Qazi of the government of India and to change the name by following the constitutional rule). These activities take place by the respective government's offices. The IDC plays a role in guiding them to follow the procedure step by step for the documentation. It also assists the poor and needy who don't have any support.
Search by the ED Department
The ED (The Enforcement Directorate) Department conducted searches at six locations in Delhi and Uttar Pradesh against Mr. Gautam, Mufti Jahangir Qasmi and others on 3rd July 2021 in connection with the same alleged mass conversion case. The searches were conducted at the IDC office, Mr. Gautam and Mufti Jhangir's residences in Batla House and three other locations in Uttar Pradesh. It continued almost six hours. According to a report published in The Hindu newspaper, the ED claimed: "Several incriminating documents have been seized during the searches. They reveal large-scale conversions carried out by accused Umar Gautam and his organisations all over India."
Family Members of Mr. Umar Gautam
Following the aforesaid allegations, in the tough and critical time, are the family members of Mr. Gautam scared? Are they apologetic? No, they aren't. They are on the same page in denying the allegation leveled against him. They call him innocent. Mr. Gautam's wife Raziya, who was Rajeshwari before willingly converting to Islam, fully supports her husband and denies all allegations. She claims that her husband hasn't committed any illegal thing.
Raziya says that she and Mr. Gautam were engaged before he decided to convert to Islam. Then he converted to Islam 1984. The family from both the sides got him married hoping that Mr. Umar would change his view about Islam and adopt Hinduism. When the date for her "Gauhna" approached, Raziya's family decided to break off her marriage as he remained a Muslim. At this point, she insisted to be with Mr. Gautam and she stated that his religion didn't matter to her. After almost five years, she moved to Delhi to join Mr Gautah, where he had shifted. She remained with him as a wife; whereas she was a Hindu. She was never forced by Mr. Gautam to convert. The character of her husband caused her to embrace Islam with her own choice and change her name from Rajeshwari to Raziya.
Mr. Gautam's daughter, an Assistant Professor, praises her father and mentions her services for the sake of humanity. She claims that her father is very open-minded. He can't forcibly convert anyone. She admits that he and his organization do assist the converted people to get legal documentation. She has denies all allegations and says that all these are to tarnish his image in the society as he has good name and fame within and abroad as a motivational speaker. He has no any connection with ISI as it is reported by some media houses. Due to his honesty and social works, IDC receives donation from local Muslim community including foreign countries like UK, USA etc. She denies the claim that he has lured the women, poor, deaf and mute people with money and marriage offer to convert. She claims that it is not only the poor or illiterate who comes to the IDC; but the people who come after conversion to get legal documentation, are from well-family background and (some of them) are highly qualified. Her denial and claims can be found in her interviews available online.
It is also worth mentioning that after the arrest of Mr. Gautam and Mufti Jahangir, many converted Muslims have come on the record and have admitted in their interviews that first they had converted. When they needed documentations for Hajj or Umrah trips etc., at that time they came to know about Mr. Gautam and the IDC and they were guided how to get the documents. Millatimes Youtube channel has interviewed dozens of converted Muslims. They have confessed that first they embraced Islam. When they need documentation, some of their friends told them about Mr. Gautam and the IDC for assistance to get legal documentation.
Conclusion
Mufti Jahangir Qasmi is a Mufti who has full knowledge of Islam. Mr. Mohammad Umar Gautam has adequate knowledge of Islamic studies. He is well-known motivational speaker. They know very well that if they force or influence someone to embrace Islam, such Islam has no any place in the sight of the Creator. Then why will they force or lure someone with money and job to embrace Islam? The simple answer is that they have not forced anyone. Sooner or latter, the truth will prevail and they will be acquitted, If Allah wills.