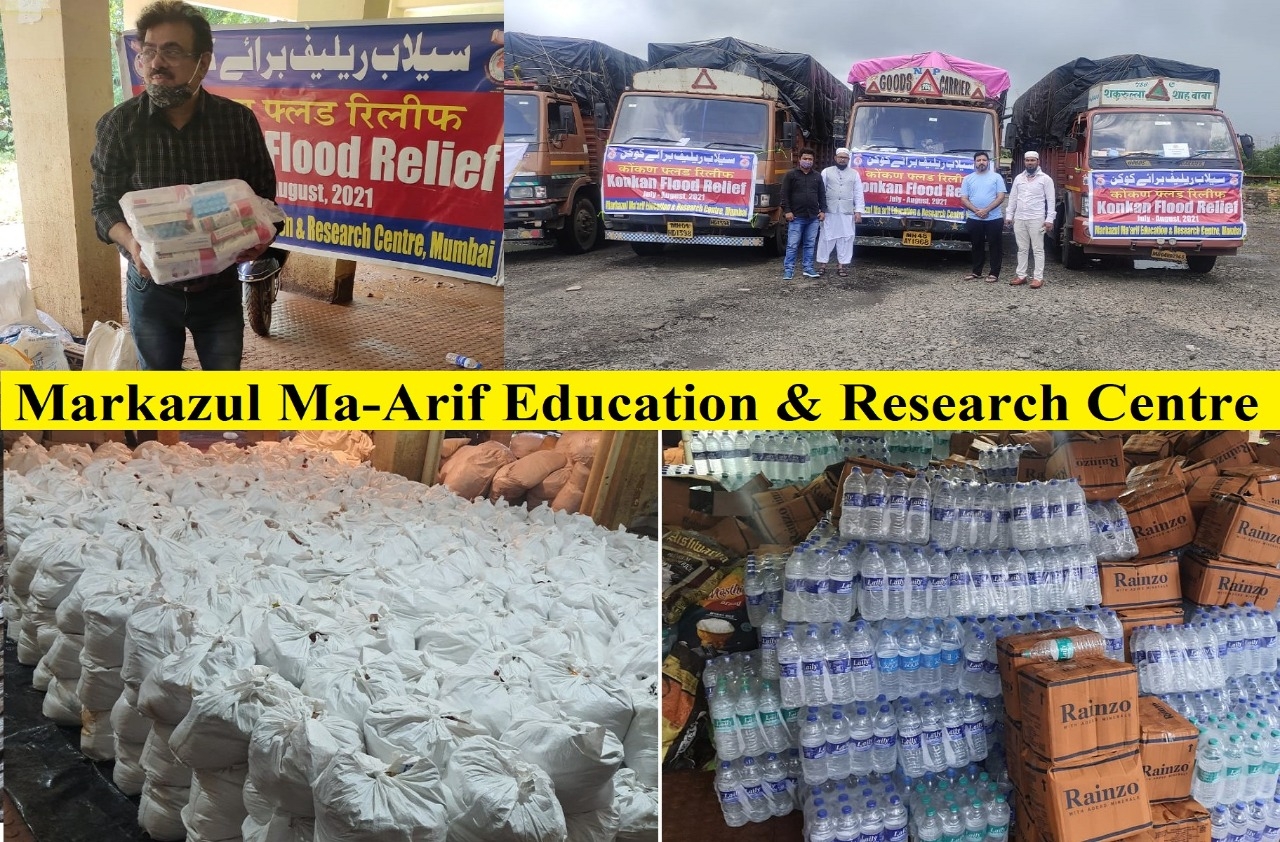 M. Burhanuddin Qasmi
Konkan Flood 2021
Extremely heavy downpour in the Western Ghats, also known as Sahyadri ranges, and discharge of water from Koyna and Kolkewadi dams flooded shallow rivers of coastal Konkan region leading to devastation in Raigad and Ratnagiri districts on 22 July 2021. The flooding began just in the late evening following the first day of Eid Al- Adha for Muslims in India. Questions are being raised as to why there were no plans in place to shift people from vulnerable areas if there was a warning for heavy rainfall and the possibility of discharge of water from the dams. Some officials said they had begun shifting the people; however, "many were not willing to go to temporary shelters".
Though the Konkan region experiences heavy rains every year, the deluge this year has been extremely heavy and there was red alert warning in place. According to a report by Faisal Malik in the Hindustan Times, dated 23 July 2021, the high tide and discharge of water from dams made the situation worse.
"Catchment areas of Koyna and Kolkewadi dam received very heavy rainfall, following which, water from both the dams was released. The incessant rainfall and high tide flooded the entire Chiplun city, said Dr BN Patil district collector, Ratnagiri", quoted HT.
This author has been to Chiplun City under Ratnagiri district on 27 and 28 July, after 5 days of the devastating flood, with an emergency relief team from Markazul Ma'arif Education and Research Centre (MMERC), Mumbai. The ground realities make the question – is the disaster in Konkan manmade or natural – even stronger? A straight answer may be difficult to find, however, the local civic bodies, early warning system (EWS) and the National Disaster Response Force (NDRF) authorities could certainly managed the crises much better.
Mumbai NGOs Rushed with Assistance
By 27 July proper road connectivity through NH 66, electricity, water connections and cooking gas supply began to be partially restored in the city of Chiplun. It was massive damage and a full-scale disaster following the flood in Konkan and Pune Division of Maharashtra which took at least 213 reported human lives. The poor and the lower middleclass people with business and infrastructure up to 11 ft. height from the ground, even in the plain city areas, were the most severely affected ones. Their business and houses are either fully or partly damaged and they need outside supports to regain their normal lives.
It is soothing to witness that all charities, especially Muslims Non-Governmental Organizations (NGOs) and volunteers from Mumbai, Thane and nearby less affected areas of Maharashtra rushed to rescue people in the worst affected areas of Konkan which soon followed by trucks full of relief goods and till continued. I have visited different relief distribution centres in and around Azad Nagar in Chiplun like the one at Chiplun Markaz where volunteers from Tablighi Jamat and Jamiat Ulama-e Hind have been taking care of the relief distribution task, one at Millat Nagar where volunteers from Jamiat Ahle Hadith have been looking after the goods sent to them from outside and the relief office temporarily set up by Jamat-e Islami Hind where its volunteers have been mainly providing cooked food to the needy victims besides other activities. These local volunteers have been putting up enormous hard-work, risking their health for others, instead of being victims themselves; they deserve appreciations.
However, a few points, the NGOs may note to ensure better utilization of relief goods and more benefits to the victims.
The suggestions are as under:
1. NGOs coordination from upper level will maximise benefits, reduce repetition of work and help in resource management.
2. Situation is not quite chaotic, priorities be listed and then execution be carried out with calmness and required planning.
3. Work distribution on NGOs' strength basis will cause smooth and long term benefits to the affected areas. Like certain organization may take ration kits distribution as priority task along with other activities and some other organization may focus on health care assistance as top priority task etc.
4. Collecting or sending too many less required goods without proper consultation of the responsible people from the affected areas is not advisable at all. Like dispatching consignments of used clothes or loads of detergent items for relief may incur unnecessary transportation charges besides loading and unloading labour by the already tired volunteers.
5. A rehabilitation plan should be in place following proper survey.
6. In addition to Konkan, Mumbai NGOs may also put some focus on parts of Western Maharashtra under the Pune Division where districts like Sangli and Satara are also not less affected, though not well reported.
Civic Bodies and Govt. Need to Speed-up
The Government of Maharashtra is yet to make a final assessment of the total financial damage caused by the flood in Konkan and Western Maharashtra when more than a week time is already passed following the debacle. Relief packages from both Prime Minister and Chief Minister's relief funds are yet to come out on paper before rolling on grounds. The corporation in Chiplun was also expected, by the locals, to do better in the post-flood period while doing the cleaning task of streets and public places. People have begun cleaning their houses, huge garbage including waste groceries, in addition to muddy furniture, are waiting for proper pick-ups. Keeping harmful flood-left-over on populous places for a longer time may cause post-calamity health issues.
The author is Director of Markazul Ma'arif Education and Research Centre (MMERC), Mumbai and Editor of Eastern Crescent.