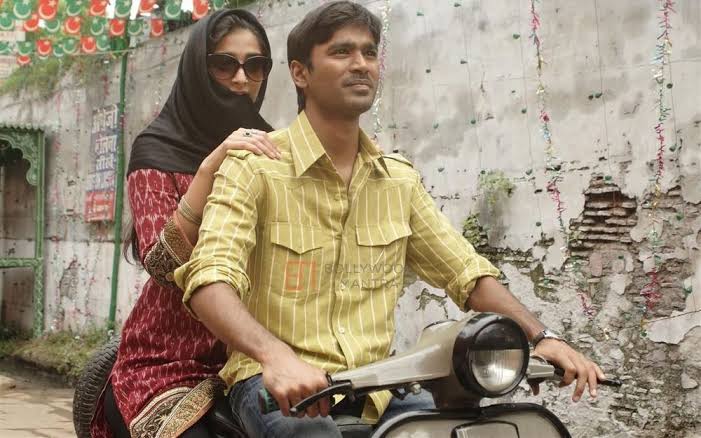 Tarique Anwar Champarni
In 2013, a film Raanjhanaa was released. The film was purportedly projected as a love story but there was great politics involved in it. Movies are normally considered the mirror of our society but these are also used for propaganda. Raanjhanaa clearly shows that it was made keeping in view the 2014 Lok Sabha elections. If its different characters and scenes are watched carefully, it becomes crystal clear that it was more than a love story as the theme of the movie centered on Prime Minister Narendra Modi.
Starting from Assi Ghat in Banaras, the film starts as the story of Kundan (Dhanush), a Tamil speaking Brahmin boy. Kanshi Naresh had brought Kundan's great-grandfather from Tamil Nadu to preside worship at a Kashi temple. The migration of a Tamil family from South India to Varanasi in North India reflects the spirit of Indianness. When Narendra Modi visited Banaras before the Lok Sabha elections, he made the statement, "I have not come myself but mother Ganga has called". The film depicts Varanasi as the centre which connects the whole India emotionally and spiritually in its culture. Narendra Modi also came to Varansi from Gujarat to prove the same spirit of India while contesting the election from that constituency.
The film also talked about the incident of Bhatta Parsaul. In May 2011, there was a shootout between farmers and the Police at Bhatta Parsaul in Uttar Pradesh. After this incident, a mass movement was organized under the leadership of Congress MP Rahul Gandhi. But the film has very cleverly expunged the name of Rahul Gandhi from the only movement of his political life and has given the credit of the Bhatta Parsaul movement to the students of JNU. It was sheer politics to replace the character of Rahul Gandhi from the movement and accord the same to a female student leader of JNU. It brought two intended results. One, replacing the character of Rahul by the JNU student leader did not attract the attention of critics because JNU has always been vocal on farmers' issues. Secondly, attempts were made to discredit Rahul Gandhi's struggles for the cause of the farmers. It goes without saying Rahul Gandhi was the face of the Congress against Modi in the 2014 Lok Sabha elections.
The film portrays Banaras Hindu University, Aligarh Muslim University and Jawaharlal Nehru University. An attempt has been made to create BHU's image as a secular university encompassing the spiritual and loving spirit. That is why the character of Inzamam Kalbe Haider, a Muslim Professor (Guruji) is shown. On the other hand, Aligarh Muslim University has been depicted as a university having only burqa or hijab clad female students as well as a campus which has restricted its wall for girls. This is clear that all efforts have been made to show BHU as a liberal and progressive institution whereas AMU has been shown as a conservative and orthodox institution where only bearded Muslim boys and burqa clad Muslim girls study.
In the name of love, the film also depicts the Muslims as communal; firstly rejecting a Hindu boy Kundan's proposal by Guruji's daughter Zoya (Sonam Kapoor) and then killing Akram Zaidi(Abhay Deol) after coming to know he was a Sikh and not a Muslim at the time of nikah. The 2014 Lok Sabha election was also fought by the BJP by presenting it as a cultural battle between Hindus and Muslims.
People have their own opinion about the continuous attacks on JNU. So many journalists and intellectuals have expressed their views in their own way. I think this attack has not happened suddenly. People have already been mentally prepared for this. First an attempt was made to create a negative image of JNU. The Lok Sabha elections were to be held in 2014 and the BJP was working hard to come back to power. When public opinion was fomented against JNU, the government led attacks on JNU started. Public opinion against JNU started in 2013. If we start understanding the film Raanjhanaa, then it will be easy to understand the attack on JNU. As per my knowledge, it was the first movie filmed on the internal politics of JNU.
The film attempts to describe JNU as a politically obsessed institution. The debate which ensues after Kundan is caught climbing the hostel wall while chasing Zoya and claims himself to be a thief is very surprising. The way, students justified theft by associating theft with poverty and state failure, a wrong perception about JNU has been created in the society. In the midst of this debate, when there is a talk of handing over Kundan to the police on the charges of theft, a student argues that if he is handed over to the police, it would mean that the JNU students believed in the existing system of the state, so he should not be handed over to the police. By this logic, there was an attempt to make the general public believe that JNU people are always against the government. Today JNU has been fully projected as a hub of anti-national activities while the second debate is about misuse of taxpayer's money or the government fund by the students.
The film also portrays JNU as a threat to the Indian culture. The film is openly portraying cigarettes, alcohol and opium within the university campus. With this, JNU has not been established as an ideal in the eyes of the common people rather its very negative image has been created. The way students' union president Jasjeet (Abhay Deol) hugs and embraces in his arms a new student Zoya while holding a bottle of liquor in the middle of the road raised many eye brows especially amongst the people of our rural India. Zoya and Jasjeet sleeping together by tightening each-other during the election campaigning is also portrayed as normal JNU culture. JNU has been portrayed as a cave in terms of sexually obsessed, immoral relationships and interreligious affairs. Ramdev Ahuja, a BJP MLA from Ramgarh in Rajasthan who made the most infamous condom statement is not an aberration as this film has already created the same perception of JNU amongst the common people.
Anna Hazare's anti-corruption movement was going on in Delhi when the film got released. Suddenly, a faction broke away and formed a new party under the leadership of Arvind Kejriwal. In this film too, the students of JNU formed a political party. That is why many people see this film while connecting it with Kejriwal but it is not so. I have many arguments against this. First, Kejriwal fought his first election in December 2013 while the film was released in June 2013. Secondly, there is no character in the entire film that is filmed around Kejriwal's education or his struggles. Third, there was not a single woman from the leading faces of Kejriwal's party while Zoya was leading the party after Jasjeet's death. Fourth, the nomination filing is not shown anywhere in the entire movie, as well as the polling day. Yes, it has been shown so much that the party of the students of JNU has finally given its support to an existing party. If keeping this supporting point in mind, the role of JNU students in the 2013 Delhi Assembly elections and 2014 Lok Sabha elections is looked at, JNU students campaigned in support of Kejriwal in Delhi Assembly election as well as in 2013 Delhi Assembly Election. Perhaps this was the reason that this film had already portrayed JNU as a den of liquor, opium, cigarettes, sex and inter-religious affairs. So that the students of JNU could not get some success while campaigning in election due to the predetermined perception about JNU in the minds of common people. JNU is still a victim of attacks due to this perception that started in the year 2013.
The most important character of this film is Kundan. Kundan belongs to an ordinary family like Narendra Modi. He, like Modi ji, leaves home one day and did not return again. Meanwhile, he starts crawling on the hostel's wall and he claims to be a thief in his defense. The story of jewel theft is also associated with Modi's life. Kundan sells tea in the JNU campus and Modi ji also allegedly sold tea at a station in Gujarat. Kundan's luck in selling tea takes a bright turn after the Bhatta Parsaul incident. Narendra Modi, who sells tea in real life, contests from the same Benares Lok Sabha constituency as the Kundan story starts from Assi Ghat in Benares and Modi becomes the Prime Minister of this country.
But one thing which haunts me the most in this entire film is the work of Swara Bhaskar. When the entire film itself was revolving around JNU and Prime Minister Modi, working of Swara in that film is a matter of great concern for me. Many people would associate it with professionalism. But this argument is not justified in defending Swara. She has been a student of JNU and associates herself with left and progressive ideology. Nevertheless, she is acting in such a film that has defamed Swara's Alma Mater and has also opened the floodgate of so many infamies. This mistake may not even happen inadvertently because the script is already read. Swara Bhaskar's mother Ila Bhaskar is in the list of India's top professors of cinematography. Even if it is considered an inadvertent error, still it puts a question mark on the fellowship of Ila Bhaskar.
The writer is a former TISS and JMI student and currently research scholar at Mahatma Gandhi Central University.