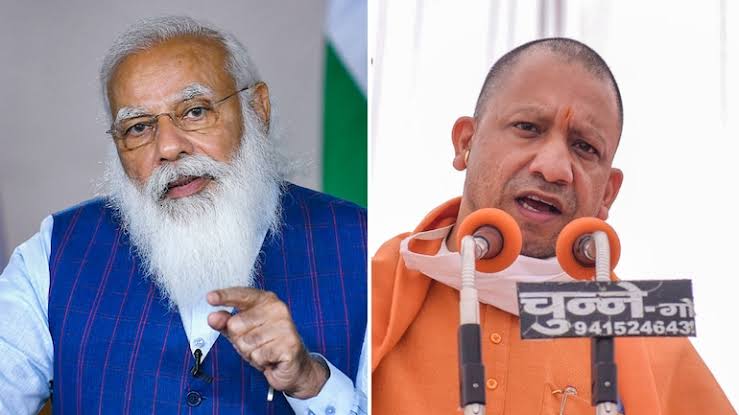 Before you read this quite long write-up, let me state that I am not an expert political commentator. Unlike some celebrity journalists in Delhi who were talking about Yogi's invincibility and Modi's weakness, I am not going to write fiction for you.
Also, I strongly believe that there is no lesser evil between Modi and Yogi, just like there was no better alternative between Modi or Advani. And Atal Bihari Vajpayee was not a statesman. Anybody who writes that is either a fool or an insidious Sanghi. Our fight is against the social forces which enable these men to ruthlessly rule over our lives without any formidable resistance. This write-up is based on some research about the tussle between Yogi Adityanath and the top BJP leadership which consists of only Modi and Shah. Also, I would like to suggest that we must stop viewing the Sangh Parivar as a monolith with complete congruence in thoughts across organisations. I would like to share insights about some stark differences between Modi and Yogi's core supporters based on my coverage of right wing groups. I am still learning and trying to navigate through the central thought process of fascism in India. Some of my assumptions may be wrong. Please point out if you find any factual inaccuracies.]
Adityanath was born last week. While Modi, Nadda and Shah did not wish him, many religious leaders across UP celebrated his birthday as "Hindu Swabhiman Diwas." Many mahants and VHP leaders are showing very strong support for Yogi right now.
One cannot see these events without relating them with the strong political developments happening in Uttar Pradesh right now. Sources say that some big political change is underway in UP. Arvind Sharma, one of Modi's favourite IAS babus, can be made the deputy CM (that's unlikely for now). Swatantra Dev Singh can be replaced as the party chief in UP. Keshav Maurya will be given some big responsibility. Social media, local TV news channels and even newspapers in UP are filled with such speculations. Why are things being delayed? What are top RSS leaders trying to convince Yogi about in their internal meetings? All these changes could not be made because of Yogi's reported defiance. Those who know Modi's politics, they know very well that he hates defiance and is very good at diffusing revolts, be it a popular mass movement or by a leader in his own party. From CAA to the farmers' protest, we have learnt that he never steps back. This is how populist strongmen like Modi work. So is Adityanath as strong now as an enthusiastic commentator would want you to think? Is Modi too weak to be heckled and insulted by his juniors?
Actually, both are weak right now. Firstly, It is still foolish to think that Adityanath is even 1% as strong as Modi. Secondly, the present situation is completely circumstantial. The second wave and Bengal results have changed a lot of things. His reported defiance to Modi is only because he has the opportunity to arm twist the central leadership right now. Being removed from the CM's position would be a fatal blow to his future prospects. Not adding Modi's photo on the cover of UP BJP's clean rivers advertisement on Twitter is not a small misadventure for a CM whose every tweet starts with "Under PM Modi's strong leadership." There's a line that he can't cross. He can't bite more than he can chew.
But proving all the "Advani moment" enthusiasts wrong, Yogi tweeted many pictures of Modi, praising him and supporting the perception that he has conceded defeat. Interestingly, Yogi had not tweeted a single tweet or picture praising Modi in the week before. And now Tweeting those bhakt like photos while watching Modi's unbearable national address, Yogi has publicly acknowledged who's the boss. Any remaining doubt was cleared after Yogi met Modi and Shah.
Meanwhile, Modi's silence is strategic and cunning. He is smart in ignoring the simmering tensions in Lucknow. We must remember that Modi always emerges stronger every time he's cornered. He is waiting for the right moment to strangle the revolt. Perhaps, he has already done that. Despite everything, I don't think Yogi can be removed or he can fight Modi, at least at this point. However, he'll surely be controlled. Modi knows winning UP is important for winning 2024. A split or civil war within the BJP may not be suicidal but it will shake the party. Modi is only calculating the risks. He wants to know how big a liability Yogi is. There are many reasons why Modi would want to have a stronger control over Uttar Pradesh than ever. Let me state a few here:
1. Dissatisfaction amongst non-Thakur Upper-castes
There is some anger amongst the Upper-castes (specifically Brahmins) against Adityanath who is seen to be too close to the Thakurs. I am not saying that a large number of Brahmins are going to vote against the BJP. Of course, resentment amongst Brahmins can't outgrow Hindutva. However, this resentment will surely be felt, if it's properly encashed by the opposition, especially Congress. Any dent into the Brahmin vote by Congress will only affect BJP even more adversely. Nothing is impossible in the politics of UP. One may recall how a large number of Brahmins even once voted for the BSP. After the Vikas Dubey encounter, many more killings happened and after even some more killings in other places, this resentment became more apparent. When a don turned politician, Vijay Mishra, was arrested after Dubey's encounter. You may recall how Brahmin groups threatened the government against any misadventure. The national Highway was choked with vehicles in support of the brahmin leader. My friends with better knowledge of the upper caste dynamics and rivalries in that area, told me how Mishra established dominance of Brahmins over Rajput mafia in that region and how a misadventure would have made it a caste issue between Thakurs and Brahmins.
Let's keep aside the culture of people siding with criminals because of their identity, the bigger resentment is against the open secret that people strongly dislike the fact that Thakurs presently dominate the govt postings, especially in the UP police. We may recall that the BJP used to corner the Samajwadi Party by alleging that it only hired Yadavs in key positions. Now "Thakurwad" word is a commonly used term in the media. This will be fixed before the elections. More Brahmins will be roped in. We have to see INC UP's Brahmin face Jitin Prasad's entry in the BJP in this light. Modi's clever distance from Yogi maybe just a distraction to woo back those groups disenchanted with Yogi.
2. BJP always polarises UP on these lines:
Yadavs vs all other OBCs and jatavs vs non jatavs and Muslims vs Hindus.
OBCs clearly haven't got their due under Yogi. Leaders like Keshav Prasad Maurya have been sidelined and even insulted on many occasions although many even thought that he'll be made the CM. Yogi is not close to Dalits either. Hathras rape and murder made it apparent. It was the first time when opposition looked strong in UP. It sent a wave of shock and anger amongst the people of UP, particularly Dalits. Also, the tussle with Rajbhar leaders and growth of Nishad groups is a reflection that smaller Dalits are also in search of an independent leadership. While the Rajbhar leader attacked Yogi yesterday, he said nothing about the central leadership. Amit Shah met the leader of Nishad party and Apna Dal. We can see that some damage control is underway.
The disturbing visuals from Allahabad and Unnao are indefensible and they could not be covered up. But which social group was the worst affected during this crisis? It's the Bahujan community. COVID has completely broken the poor and dalits. The BJP can no longer ignore their disenchantment. Again, they may or may not go against the BJP but one thing is clear that they don't like Yogi. How effectively can BJP mobilize Dalits with Yogi's face on the poster is a question that Modi would like to be answered soon. BJP won the 2017 elections riding on Modi's wave and consolidating Hindu votes across caste lines.
Muslims vs Hindus
This is where Yogi appears to be delivering more than Modi although I personally don't share this view of extremist right wingers and even some liberal journalists, considering Modi's mighty accomplishments for Hindutva. As per reports in Amar Ujala, there are far more arrests under UAPA in UP than other states. Majority of those arrested under NSA in UP are accused of cow slaughter. Unfortunately, the recent demolition of a British era mosque, growing everyday hate attacks, police violence against minorities, custodial murders, and several encounters is projected as keeping "Muslims in check." The brutal crackdown on anti CAA protestors with over 23 deaths in police shootings was presented as an example to even Modi and Shah by many influential BJP supporters. Some wanted Yogi to be made the Home Minister for a day during the riots in New Delhi. When social media was flooded with fake news about Hindu persecution in Bengal, the whole right wing began to target Modi. They wrote that someone like Yogi should get control now.
It's clear that under Yogi, Muslims in UP will vote very aggressively against the BJP and any strong opposition will benefit a lot from that. If a larger social alliance emerges, it will make things difficult for the BJP. And that's why the communal rhetoric has increased manifolds. 'Secular' parties are foolish to assume that their silence will get them votes. This silence only enables the BJP.
Since the farmers' protests in West UP, BJP's stronghold in the area has reduced. Yogi's crackdown was halted by Modi and Shah because they know how foolish it is to attack a crying Jat leader- the core social group of BJP's support in West UP. At the same time, communal hate mongering and disturbances in that area by so called "fringe elements" is being deliberately spread. It's quite likely that the daily terror attacks on Muslims by Hindu fanatics in UP will escalate even more in the coming days.
3. Lessons from the past
While the old leaders of Magdarshak mandal were able to end careers of powerful leaders like Kalyan Singh and Uma Bharti, they could do nothing to Modi and after they lost the elections to UPA 1, Modi quietly kept growing and neutralizing opponents. I know that the context was different. Modi was far more popular in Gujarat (2002) than Adityanath is right now. Even during the Congress years he managed to corner secular forces, use the negative national media coverage post 2002 to his advantage and eventually outsmart his own seniors like Advani . Moreover, Modi enjoyed the support of Hindus across castes. Even for Modi, it took 3 terms after the 2002 violence to uproot Advani. Adityanath's high popularity is a work of the media. However, we cannot ignore that amongst the most extreme Hindutva followers Adityanath is an icon, who in their minds is supposedly tougher than Modi. Adityanath is restless to become Modi's unchallenged successor. Thanks to Modi's powerful media ecosystem, Yogi has managed to establish himself as a formidable brute force of Hindutva. He is a big hero for what you call "Kattar Hindus" across India. All far right wing and traditional Hindutva opinion leaders like Narsinghanand and Ajeet Bharti are openly attacking Modi for disturbing Yogi. Unlike the RSS, many in the VHP, Bajrang Dal, Yuva Vahini and Hindu Mahasabha quite openly advocate Yogi over Modi without any veil. Militant groups and leaders are making appeals to support Yogi in case Amit Shah or "secular" Modi try any misadventure.
Who's the real Hindu Hriday Samrat?
At this time, the answer is obviously Modi. He has done what no one else could. Building the Ram Mandir, shutting up the opposition, scrapping article 370, and silently letting the mobs show Muslims their real place. Hatred against Muslims was never so mainstream. Hindutva has never been as strong as it is today. RSS has never had so much control over India as it enjoys today. Let us not forget that Modi is the guy who gets the money from industrialists. He made the BJP filthy rich.
Modi's changed avatar and clinical control over his tongue even makes it easy for centrist or moderate Sanghis to endorse him freely. Instead of "Goli maaro" or "Thok do" he says "Kapron se Pehchan lo". His listeners know what is to be done next after identifying them. Yogi cannot change or even fake it like Modi. International media coverage of COVID in UP gave a very tough time to Modi. Domestic media tried cleaning this mess but everyone knows the reality now.
However, people who think that by removing Modi's photo from that clean rivers poster can cancel Modi are stupid. Modi is the tallest Hindu icon since Gandhi. Apart from crores of supporters across castes, Modi has the support of the richest men in India. He has the support of the largest media houses. Meanwhile, Yogi's biggest strength is his militant Hindutva outlook. While extreme militant Hindutva gets BJP votes but that support has to transcend caste lines. Poor economics, paralyzed administration, and lack of popular support outside a particular core caste base is Yogi's weakness. In UP, keeping aside the Thakurs and the far right, Adityanath doesn't enjoy massive wide support amongst the common public like Modi does. His own MLAs are openly revolting. As per reports, over 60% MLAs want a change in leadership.
Keeping all these factors in mind, while it won't be easy or practical to remove Yogi but if the defiance crosses a line, Modi will act very tough. Personally, I don't think Adityanath is a very tough match for Modi. It is very naive to write that. I hope that the opposition also realises its responsibility amidst this chaos. Quiet of the secular parties at a time when the attacks on minorities will escalate should be questioned. This silence will only enable the BJP. Lastly, we don't need either Modi or Yogi in power. Both are equally majoritarian and dangerous for what remains of the Indian democracy.
Alishan Jafri is a freelance journalist based in Delhi. You can find him on Twitter at @AsfreeasJafri.
Disclaimer: The views and opinions in this article belong to the author and do not necessarily reflect the editorial policy of Millat Times.