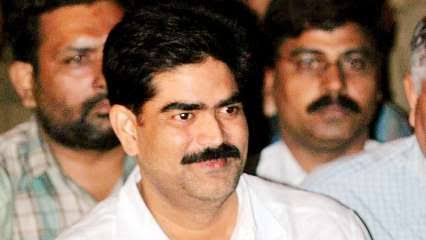 Tarique Anwar Champarni
The people of Bihar witnessed a major political shifting in the nineties. The hold of the Congress had weakened and the influence of the Janata Dal had increased. Meanwhile, Saran MP Lalu Prasad Yadav, who started politics from Patna University Students Union, came to power in Bihar with the slogans of social justice. The Siwan Lok Sabha constituency of Saran commissionery was considered as a Congress' den. Before Shahabuddin, Muslim candidates won five times from Siwan constituency. Mohammad Yusuf Ansari won four times and once former Bihar Chief Minister Dr. Abdul Ghafoor had been elected MP on Congress ticket. In such a situation, Lalu Prasad Yadav, who was the sloganeer of politics of social justice, looking for a Muslim face in the Saran region who could penetrate this den of Congress. Then Lalu Yadav's eyes fell on the young MLA Shahabuddin who was elected MLA from Jiradei assembly constituency in 1990 as an independent candidate. Lalu Yadav fielded him as a Janata Dal candidate in the next 1995 assembly elections and won. In the 1996 Lok Sabha elections, he successfully contested on Janata Dal ticket from Siwan Lok Sabha constituency. After this, Shahabuddin never got defeat and consecutively elected in 1998, 1999, 2004 from Siwan Lok Sabha.
As an MP, his image has been that of a Vikas Purush. There has been an important contribution in providing basic government facilities like education, health, transport, roads, sports in the area. The people of Siwan remember the development work done by him. Even today the district hospital, degree college, indoor stadium, engineering college etc. are the signs of his development works. His work as an MP was commendable, that is why he was awarded the 'Sansad Ratna' during the tenure of the then Prime Minister Atal Vihari Vajpayee.
The image of Shahabuddin had become like a fearless and outspoken among the Muslims of Bihar. In the name of development and muscle power, his Robinhood face was presented to the people by the media. After the fodder scam, Janata Dal split into two groups and Lalu Yadav formed Rashtriya Janata Dal. At that time Shahabuddin came out as a trouble-shooter and played an important role in saving the Rabri government. Due to his proximity to the Lalu-Rabri family, his acceptance increased in the entire Bihar. Gradually he become the center of Muslim politics of Bihar. One of the great achievements of Shahabuddin was that he managed all the Muslim leaders of Bihar and took the leadership of the Muslims in his own hands by adding small leadership. Therefore, it was easy to bargain with the then government on the issues of Muslims. However, it would be dishonest to say that Lalu Yadav has used Shahabuddin. Rather both were in need of each other. Nothing is one sided or unconditional in politics. Shahabuddin needed protection of power for his political expansion and Lalu Yadav needed Muslim votes. Perhaps Shahabuddin understood this thing better, so he spent his whole life with Lalu Yadav.
Along with the Sansad Ratna, Shahabuddin image was also of a Bahubali. In fact, in the 1990s, the Naxalite movement was spreading very fast in Bihar. The class struggle between the landless and the feudatories or zamindars had intensified. The Naxalite movement was holding its foot spreading in Jehanabad, Begusarai, Bhojpur and Siwan districts. There was a lot of fear among the landlords due to Naxalite movement. At that time Shahabuddin was elected as an independent MLA from places like Jiradei constituency of Siwan district. The landlords and the upper castes saw a ray of hope in his eyes and supported him. From here a new face of Shahabuddin appeared. Although it is not visible whether there has ever been an encounter between Shahabuddin and the Naxalites, but a perception has emerged in the public mind. There were dozens of charges against him for murder, robbery, ransom, possession of illegal weapons, etc. However, Shahabuddin and his family members always denied all these allegations.
There were almost fourty charges against Shahabuddin. It is difficult to discuss all the allegations at once. But his name come out countrywide when Comrade Chandrashekhar alias Chandu, a two-time JNUSU president, was murdered in broad daylight in Siwan. Shahabuddin was made responsible for his murder. There are so many famous stories about Comrade Chandu and Shahabuddin. I am not blaming Shahabuddin for Chandu's murder and I am not acquitting him of this charge. But I form three hypothesis regarding his murder. One, Shahabuddin had a political fear of Chandrashekhar. Second, the established backward leadership of Bihar did not like the rise of such a successful backward leader like Chandrashekhar, which resulted in his assassination. Third, local leadership of Siwan's CPI(ML) could not digest Chandrashekhar's influence.
Senior journalist Anand ST Das wrote an article for the well-known magazine Tehelka on the basis of conversations with Chandrashekhar's mother Kaushalya Devi about eleven years after the assassination. If any of you have a Tehelka collection, then you must read the June 2, 2007 edition. Chandrashekhar's mother said in a very loud way "When there were constant threats and warnings to my son from the Shahabuddin's gang, several party workers had been in touch with Shahabuddin. The party never cared for his security. The CPI(ML) leader who lodged the FIR after Chandrashekhar's murder later turned hostile and joined Shahabuddin's gang", She said "Sometimes, I see the party's hand in my son's murder".
The above said line is very thought provoking and very serious allegation against the party. However, after the publication of that article, the party wrote a note in its defense. Dipankar Bhattacharya, the party's national general secretary, brushed off his feet by simply saying "I am completely ignorant of this behavior of the party workers". Rather Chandrashekhar himself came from a backward caste (Kushwaha) and his entire political discourse was around the farmers, laborers and the exploited. Like other leaders of the Left, he was not limited to sitting in the library and discussing, but he had the uneasiness to be the voice of the common people. Since his fame was not limited to one region or street only but was famous all over the country. Therefore, he could become a big threat to the backward leadership that had been established in Bihar. Perhaps the backward leadership of that time time foresaw that danger.
I think Chandrashekhar was not the threat to only Shahabuddin in Siwan. He was also a real threat to the local leadership of Siwan CPI(ML). He had become a national level leader and after completing his studies from JNU, his interference in Siwan's politics had increased. The Yadavs were strong in Siwan's regional unit of CPI(ML). The influence of Dalits was also satisfactory. At that time Amarnath Yadav also used to contest the Lok Sabha elections against Shahabuddin. There was a sense of insecurity in the regional unit with Chandrasekhar's arrival, which is evident from the interview of Kaushalya Devi, Chandrasekhar's mother, punished in Tehelka Magazine. Justice would have been done to Chandrashekhar only if the above three hypotheses were considered or tested. The media, and the Communist Party itself, concluded by only blaming Shahabuddin.
By the way, Shahabuddin's political life continued only for fifteen years. While he had to spend about fifteen years in jail. While he was in jail, Lalu Yadav's party RJD nominated his wife Heena Shahab as a candidate from Siwan for three consecutive times but she lost all the times. Despite being in Lalu Yadav's party, his political fight in Siwan was always with the leaders of the Yadav caste. There has been a rivalry with the leader of the Communist Party of India, Amarnath Yadav and Omparkash Yadav, the former MP of the BJP. The split in the Yadav votes due to the Yadav candidate and the disintegration of the upper caste votes after Shahabuddin's imprisonment was the main reason for her defeat. Today Shahabuddin is no more, but his political legacy is being managed by his wife Heena Shahab.
Tarique Anwar Champarni is a trained social worker and alumni of TISS and JMI and currently a Research Scholar in Mahatma Gandhi Central University. He writes on political and social Issues.