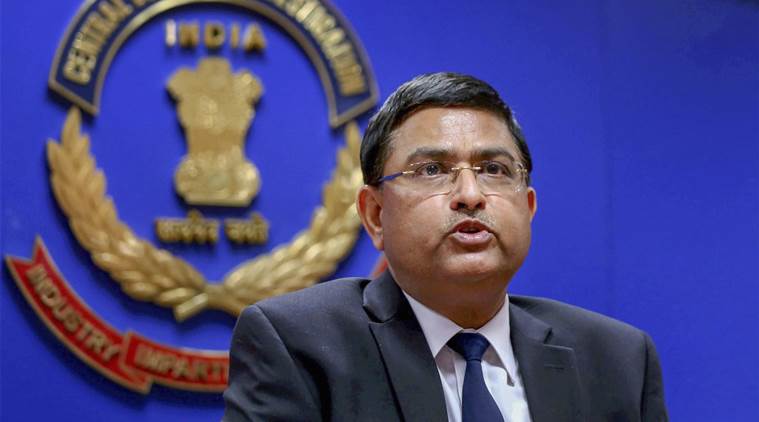 Millat News Network : Apart from holding top positions, Rakesh Asthana has been associated with probes into some of the most high-profile cases.
With the country's premier investigation agency witnessing an unprecedented battle between Director Alok Verma and Special Director Rakesh Asthana, The Sunday Express charts the journey of the two officers — one who climbed the ranks unnoticed, the other flamboyant and high-profile — until their paths crossed at the CBI.
In 2002, when IPS Officer Rakesh Asthana was repatriated from the CBI to his parent cadre in Gujarat, he came with a reputation: this was the officer who had "dared" to book then Bihar Chief Minister Lalu Yadav in the fodder scam.
Around the time this case went on trial, Gujarat witnessed the Godhra train carnage that was followed by the 2002 riots. As the demand to hand over the Godhra case to the CBI got louder, Narendra Modi, who had won his first election three days before the carnage, brought in Asthana, a 1984-batch IPS officer as the Deputy Inspector General of Police of the Criminal Investigation Department (Crime and Railways), which was already investigating the carnage case. So, where a CBI probe would have caused discomfiture, the government brought in a "CBI-returned" officer.| Alok Verma: A long road from Pusa Road to top job at CBI
Asthana, the 1961-born officer from Ranchi, led the probe into the train burning as a "pre-planned conspiracy", which was first attributed to the ISI, then to SIMI and later alleged to be part of a "narco-terrorism" plan. None of these theories sustained. In 2011, a trial court acquitted 63 of the 94 accused, among them Maulana Umarji, who was named as the "mastermind" in the chargesheet.
Known to be a flamboyant officer, Asthana has never been on the sidelines. His career in the police began in 1984 with his posting as Sub-Divisional Police Officer of Petlad town in Anand district, home to Amul. He went on to become Superintendent of Police of Jamnagar, Deputy Commissioner of Police in Ahmedabad in 1990, and later, SP of Patan before he was deputed as CBI SP in 1995 to Dhanbad.
Apart from holding top positions, he has been associated with probes into some of the most high-profile cases, including the fodder scam, the Godhra train burning, the rape case against Asaram Bapu's son Narayan Sai and the sedition case against Hardik Patel.
The fodder scam stands out as a big achievement in Asthana's career since it was based on his findings that Lalu Yadav was convicted. This endeared him to the BJP and Nitish Kumar.
CBI power shift: As it happened
Asthana and Verma (Illustration: Suvajit Dey)
Within the CBI, he is regarded as an officer who knows his work and understands the agency. "The only thing he doesn't understand is how the Delhi bureaucracy works. He failed to a build a network in the Capital and has depended on fellow Gujarat-cadre bureaucrats in times of crises such as the current one," says an officer close to Asthana.
In Vadodara, where the CBI team landed earlier this month to investigate his daughter's wedding of November 25, 2016, businessmen remember him as a "very friendly officer". Asthana spent about eight years in Vadodara, first as IGP and then as police commissioner between May 2008 and June 2011.
Sources say his daughter's engagement to the son of Bihar's first woman IPS officer, Manjari Jaruhar, happened in Surat, where he was commissioner between 2011 and 2016, but he chose Vadodara for the wedding, even after his transfer in 2016 to the CBI in Delhi — his second stint with the agency — because "he had a huge social circle in this city," says a colleague.
In Vadodara, he would be guest at various events, including the garba hosted under the 'Maa Aarkee' banner by the Sandesara brothers Nitin and Chetan. In October 2017, the CBI alleged that Gujarat-based Sterling Biotech, owned by the Sandesaras, had taken loans of over Rs 5,383 crore, which turned into NPAs.
| Plea against Rakesh Asthana went to three SC benches before being dismissed
CBI 'credibility dented', ex-officers question CVC, say govt delayed action Outside Asthana's residence in new delhi
Given the influence Asthana enjoyed, many in the hospitality industry are said to have come forward to offer complimentary services for his daughter's wedding. A Vadodara hotelier told The Sunday Express, "When he said he wanted to host his daughter's wedding here, we told him we won't take a penny… But he insisted he would pay."
The renovation of the Police Bhavan in Vadodara was taken up during his time and the Sandesara group is said to have part-funded it. Police officers, however, say the participation of corporates in such projects was "not unsual". In 1998, the Gujarat government had passed a resolution allowing police to form trusts with corporate donors to execute projects, says a top police officer.
In 2011, Asthana moved from Vadodara to Surat as its police chief. In both cities, he launched CCTV-enabled policing projects, which were funded by Traffic Education Trusts, the donors of which are leading businessmen from the two cities.
Surat police commissioner Satish Sharma, who has served as Vadodara CP, says "both the CCTV projects were (started) during Asthana's tenure. Surat's surveillance system is among the finest in the country". Asthana also started a network of intelligence gatherers in Surat called 'Hawk Eye', where hawkers and common people fed information to the police.
The third man: Sharma's son and his web of firms in Asthana's complaint
His colleagues know him as an officer who practised a policing that had him at the centre. "For instance, cases that were not high profile would not interest him," says an officer.
Another colleague says, "He would decide what posting he wanted, and chart his way accordingly. Most times it worked."
One of the "high profile" cases he handled, while in Vadodara, was the arrest of four SIMI operatives for their alleged involvement in the July 26, 2008, serial bomb blast in Ahmedabad that killed 56 people. Simultaneous arrests were then made in other states, including Madhya Pradesh, Maharashtra and Karnataka.
Under his tenure, Surat was ranked among the "safest" cities in the country, for which Asthana got an award from FICCI.
In 2014, months before he was to be empanelled to the CBI, a hagiographic three-minute video clip on Asthana featured him as "Jaanbaaz (dashing)". Made by Surat-based filmmaker Mehul Surti, the video praises Asthana for "the splendid work" in Surat city.
Asthana had told this paper that the video was meant to be shown at an organisation for differently-abled children, "to motivate them".