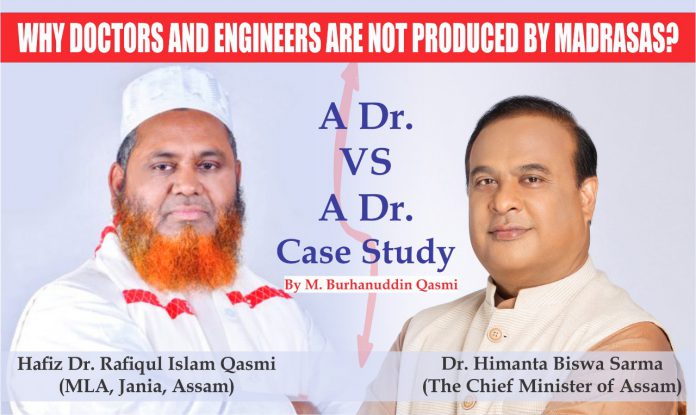 Rebuttal of a madrasa graduate, resident of Assam to State CM over the latter's recent remark about madrasas
AN OPEN LETTER
To
DR. HIMANTA BISWA SARMA
Chief Minister of Assam
From
M. Burhanuddin Qasmi
[An Author, English Poet, Journalist, Educationist, Madrasah Graduate and a Native of Assam]
Date: 03 June, 2022
Subject: Madrasah Graduates vis-à-vis Doctors and Engineers
Dear Sir,
This is with reference to the subject cited above that this author has noted your recent observations in reference to Madrasah Graduates vis-à-vis Doctors and Engineers through various media outlets from Assam and out of it. Kindly, allow me to draw your attention to THREE simple points only in the subject matter and invite your genuine introspection to bring home a conclusion by yourself and those who may read this "Open Letter".
1. WHAT IS A MADRASAH?
A Madrasah is a place where education is imparted. The Arabic terminology madrasah is an equivalent of the English word school, Hindi word vidyalaya, Sanskrit or Bengali term patshala. Madrasah plainly means a place of education, and education can be of science, arts, commerce, theology or of humanities.
Till 1835, in pre-independent and pre-British India, madrasah used to produce all — physicians, engineers, administrators, scientists and judges for India with other religious community based educational institutions. With the interruption of Thomas Babington Macaulay (Lord Macaulay), who was chiefly responsible for the introduction of Western education to India, the Indian education system was divided primarily into private and public sectors. Christian Missionary Schools, Hindu Mission Schools, Gurukul Vidyalayas and present-day Muslim Madrasas are part of that private sector education system with the community based changes in the syllabi and teaching methodologies. Later, some of those educational institutions from all religious groups were either fully adopted or partly aided by respective state or central governments at various levels in different times and under multiple projects, and the process is till date continued across India. Since 1950 the State Madrassa Education Board Assam (SMEBA) has been one of the oldest and most successful Govt. aided madrasah boards in the post-independent India, which has been working like the Board of Secondary Education, Assam (SEBA), imparting education from KG to PG levels in the arts stream till your overturn-adventurism to shut down madrasas in December 2020.
You, Dr. Sarma, recently stated at a press meet in Delhi, "Madrasah, the word itself, should cease to exist."
Are you against education, Mr. Chief Minister!
"Madrasah, the word itself" does not subscribe to any particular type of education. It is utterly a narrow and post independent India biased understanding of anti-Muslim groups and Islamophobics that madrasah provides education only about theology or more precisely about Islamic theology. A bright and upwards person, a former education minister and the Chief Minister of a state is not at all expected to be that naive about the common terms of education!
2. WHY DOCTORS AND ENGINEERS ARE NOT PRODUCED BY MADRASAS?
This question itself lacks merits in academic denomination. The one who is aware about the education system and our teaching methodology in India knows well that we have three major streams of education in higher studies following the schooling. They are (i) arts stream, (ii) commerce stream and (iii) science stream from the 11th standard onwards. Medical doctors or engineers of any sorts in academic terms are desired from the science stream only. The former two — arts and commerce — do not produce modern physicians or engineers. Madrasas, since post 1857 India, have been following the arts stream of education only. Therefore, a desire to bring MBBS doctors and IIT engineers from madrasas is similar to a dream that a student from the arts or commerce stream of a college or university will be a neurosurgeon or a space scientist! This is a misplaced, unwise and uncalled for baby-wish and nothing more than an amateurish argument, which goes against common sense too.
It is also notable that to become a successful medical doctor or an engineer out of the science stream of Indian education system; itself is not so general, nor very common. For instance, in India, there is one doctor for every 1,457 people. With a literacy rate of 74.04% nationwide, we have only 12.07% total postgraduates in the country which includes all — science, arts, commerce and management, engineering and technology streams. In research only 0.81% gets enrolled as of 2020 from all academic streams. These, known to all, statistics are bare testaments as how common and how general it is to become a medical doctor or an IIT engineer from within our existing education structures with hundreds of universities and thousands of states and central governments run colleges.
On the other hand, does this Nation only need allopathic doctors and IIT engineers to function and progress — Mr. Chief Minister?
Aren't our teachers the real nation builders? Aren't the lawyers and the judges in India's courts, accountants and CAs in the workforce, police and armed forces on the streets and the borders, management and administrative executives at every nock and corners of this country, worth of nothing in India? Out of total 685 successful candidates recommended by the UPSC in 2021 for appointments and announced this 30 May 2022, how many are from Assam? Three only, that's 0.43% and all ranked below 500! Very disappointing, very uncommon and of course very poor performance too!
Dr. Sarma, you may please revisit your argument in reference to producing medical doctors and engineers from madrasas which principally nourish teachers and the nation builders through humanities as stream of education. Your argument does not stand scholarly paradigm and portrays a messy picturesque of your academic statue.
3. A DOCTOR VS. A DOCTOR
Dear Dr. Himanta Biswa Sarma, since you have categorically stated during an interview with the 'News Live' channel recently that madrasah graduates are not competent enough to cope with the scientific temperament of the modern world, thus to bring the subject matter at home, let's make a comparative case study. This will also help us to check the actual competency level by putting one on one — a Dr. Vs a Dr. We are not going very far to make this case study. The pillars of my comparison are, you — Dr. Sarma and one of your assembly mates — Dr. Rafiqul Islam Qasmi.
You, Dr. Himanta Biswa Sarma, the incumbent Chief Minister of Assam, have obtained a Bachelor of Arts (BA) and Master of Arts (MA) degrees. Thereafter, you obtained a Bachelor of Laws (LLB) and practiced law at the Gauhati High Court till 2001. In 2006, you completed your Doctorate of Philosophy (PhD) from Gauhati University, thus became a Dr. but before that you were elected to the public office in 2001.
Hafiz Maulana Dr. Rafiqul Islam Qasmi, a 3-term and incumbent Member of Legislatives Assembly (MLA) of Assam from Jania LAC of Barpeta district. He has done his Hifz (memorization of the glorious Qur'an) at the early childhood from a madrasah and learnt by heart the whole of 114 chapters or 6349 verses of the Qur'an thus became a Hafiz. He then obtained the Fazilat degree (equivalent to a Bachelor) from world famed Darul Uloom Deoband — the madrasah, and became an Alim (or Maulana). He also earned a Diploma in English Language and Literature from Mumbai. He then obtained his Bachelor of Arts (BA) and Master of Arts (MA). He was a Gold Medalist in MA in the Gauhati University. He earned his Doctorate of Philosophy (PhD) in 2016 thus became a Dr. like you from the same alma mater, from where you earned your Doctorate — the Gauhati University. And unlike you, he also imparted education as a lecturer there before fully joined politics.
Dr. Rafiqul Islam is 11 years younger than you. He is at 42 now and you are 53 years old. Dr. Islam joined public office as an MLA in 2011 and you joined it 10 years before in 2001. This author is a direct teacher of Dr. Islam thus can humbly make this assertion that Dr. Rafiqul Islam is miles ahead in communication and language skills, comparing with competency scale of many at your present assembly house in Dispur, including yourself – Dr. Sarma. He is equally well-versed in Arabic, English, Urdu, Hindi, Assamese and Bengali languages. He is an eloquent speaker within your assembly arena and out in the media with required public speaking skill and pleasing wisdom. He is a seasoned orator without hurting his audience and a scholar with merits. He is, of course, a doctor like you — doctor Sarma. Dr. Rafiqul Islam is not at all an exception. The author of this "Open Letter" has partly engineered some 40 plus doctors like that of Dr. Rafiqul Islam out of madrasah graduates.
Dear Dr. Sarma,
You and Dr. Islam both belong to the same land – the beautiful state of Assam, work as public representatives for the same legislative assembly, obtained equal Bachelor, PG and Doctorate degrees. You added an LLB, he added a Diploma in English Language and Literature. You served as a lawyer in the Gauhati High Court and he served as a lecturer in the Gauhati University. In addition to these, he is a Hafiz and an Alim, and can converse in more languages than you can do. Then by which academic scale you wish to measure the competency levels between yourself and Hafiz Dr. Rafiqul Islam Qasmi, the madrasah graduate!
Dr. Sarma,
Your whole argument against madrasah is a fallacy; your whole plot is factually incorrect and misleading for common public. Please do ask your own conscience and introspect your recent statements in reference to madrasah and 36% Muslim population of our state – Assam. We wish to see you as an upfront and dynamic leader who appeals to all the citizens of his state and stands tall during the intellectual assertion too. Your biased politics is simply disappointing and extremely harmful for the poor state of Assam and its education.
Last but not the least, Dr. Sarma, let's work together for the betterment of Assam and India as a Govt.-NPO joint venture and materialize your dream to produce doctors and engineers from existing madrasas, if you are really sincere to make a positive change in Assam's existing madrasah education system. You need to do only two tasks – (a) please appoint two specialized teachers, one each, for science and mathematics for all 700 plus state funded madrasas in Assam without shutting down a single of them and (b) establish required numbers of medical and engineering colleges in the state of Assam. Rest I and my team will volunteer for you as NPO partner in education and bring hundreds of madrasah students to appear for the NEET and JEE exams in just next four years time following the beginning of the project. Be assured, Dr. Sarma, we can do it as I have been in education for the last 25 years and this project will bring outstanding results without demanding too much cost and manpower. This may potentially make our Assam a leader in education, a trendsetter and a hub of education in India.
The word madrasah as educational institution of this Nation, Muslim as the 2nd most populous religious community and nearly 15% population of this country; and Islam as one of the major world religions with 1.8 billion human souls across the globe are assets of India and should not hunt you as a public representative and the Head of a state. Derogative remarks with these or similar words are nothing but Islamophobic symptoms – Dr. Sarma. Please shun this notion and add on to the Nation's educational infrastructures, raised in centuries, without erasing any of them, by your action or legislations. We are just a call away from you, let's build and not demolish the temple of learning which are built on sweats, hard work and standing on endowment land property and charity building infrastructures of our forefathers.
I am hopeful that this "Open Letter" would travel up to you and attract your sincere and positive introspection vis-à-vis the subject matter.