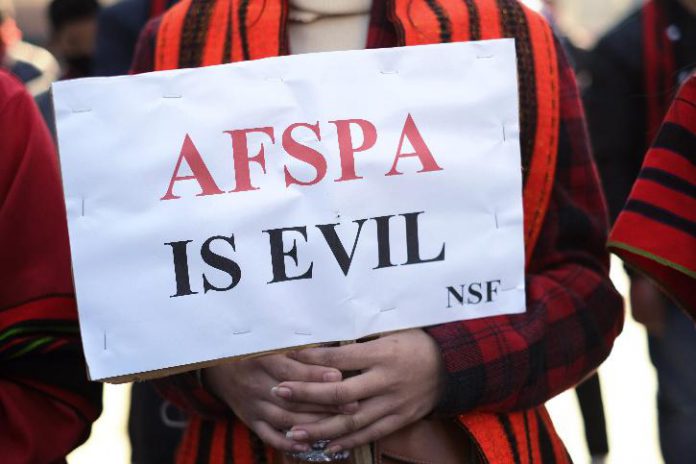 Justice B G Kolse Patil, President, Movement Against UAPA And Other Repressive Laws (MURL) said in a press statement issued here today, that The Armed Forces (Special Powers) Act, (AFSPA),  is the main reason for the uncontrolled military powers for detention, torture, destruction, killing and execution of Indian citizens in North-Eastern states. This Draconian Act was passed in 1958. It was initially implemented in Assam and Manipur and after amendment in 1972, it was also implemented in Meghalaya, Nagaland, Tripura and Arunachal Pradesh.
Section 3 of the AFSPA, empowers both the Central and the State Governments if they feel to notify a region/area as "Disturbed Areas". On account of such disturbance or situation prevailing in the whole of the State or any area thereof, the Governments, both Central/State can empower the Armed Forces to assist the civil administration, in controlling the situation. The whole State or some areas thereof may be notified under a Section 4 of AFSPA, which gives certain special powers to the Armed Forces to operate in 'disturbed areas'.
In the Month of December very unfortunate incident of human rights violation is from Nagaland, wherein 13 innocent persons were killed and some were seriously injured without any significant cause.
After this incident Court of Enquiry took initiate disciplinary proceedings against the army unit and army personnel, who are directly involved in the Oting incident and action will be taken immediately on the basis of fair enquiry. The identified persons who will face the enquiry will be placed under suspension with immediate effect.
In 2017, the Supreme Court had ordered an investigation into 1,528 cases of alleged extrajudicial killings between 2000 and 2012 by the security forces and police in neighbouring Manipur, another state under AFSPA.  It is a law that has great potential to be misused or abused for large-scale human rights violations.
This law has caused enormous sufferings to thousands of innocent people, as armed forces have grossly misused the provisions and killed, raped, and abducted civilians and destroyed their properties. Some states like Kashmir and Manipur witnessed more violence by the armed forces by using the provisions of this Act.
The people of the states under AFSPA and human rights groups across India have been demanding for long, an unconditional withdrawal of AFSPA in the best national interests.
MURL and various human rights organisations were continuously campaigning for repeal of all repressive laws, UAPA and AFSPA in particular. In fact, the present decision to withdraw AFSPA in some parts of the country indicate partial victory of such efforts.
Justice Kolse Patil said that for justice and peace to prevail in our border regions, we have to raise joint struggles till the repeal of this repressive law happens in totality.