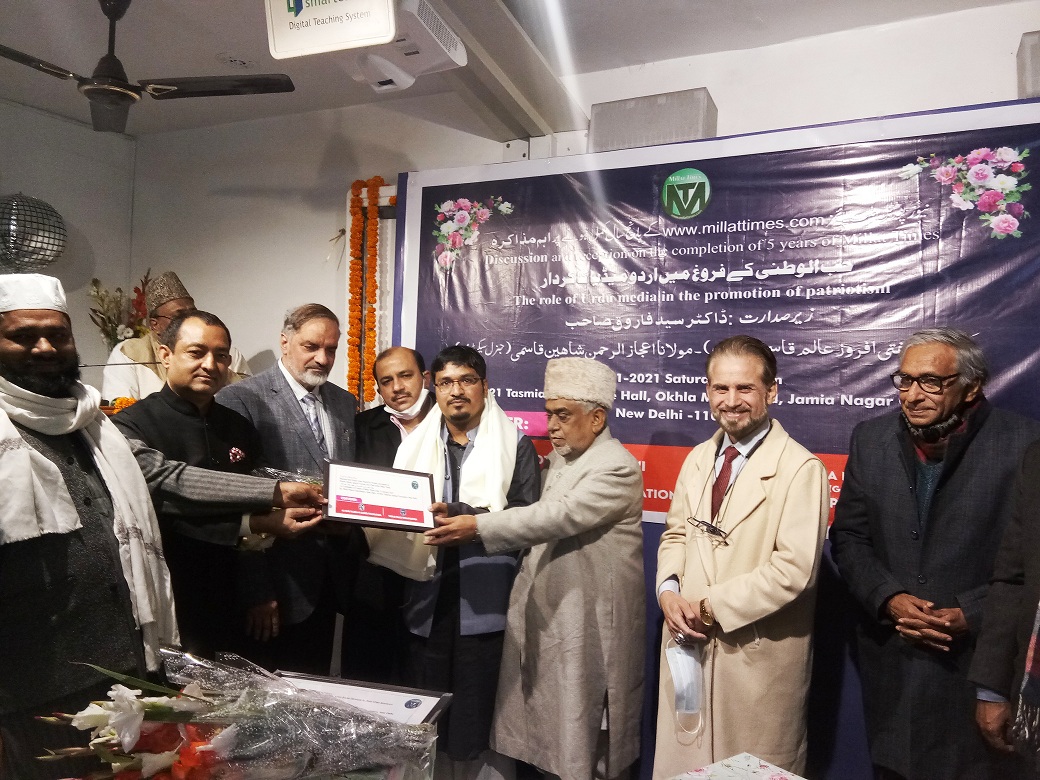 By Manzar Imam
From a meager beginning in the form of an Urdu website in January 2016, Millat Times (MT) successfully completes five years in January 2021. Within a short span of five years, the web news portal, now publishing news in three languages – English, Urdu and Hindi – has risen to prominence as a voice of the oppressed and the socially deprived and politically marginalised sections of people.
To acknowledge and appreciate MT's services to fair and fearless journalism, a rousing reception was given by Tasmia Educational and Social Welfare Society, jointly convened by Al-Hind Taleem-e-Jadeed Foundation and World Peace Organisation on Saturday, 2 January 2012 at Tasmia Conference Hall in Okhla, New Delhi. A discussion was also held concurrently about "The role of Urdu media in the promotion of patriotism."


Speaking on this occasion senior journalist and president of Press Club of India, Anand K Sahay, objected to the theme of the evening's discussion stating that there is no need to prove patriotism because a "person naturally loves the land where he is born." Underscoring the contribution of Urdu journalism, Sahay emphasised the need to "revisit our past." Wary of the conspicuously declining standard of journalism in India, he said, "We still have responsible journalists." He called Shams Tabrez Qasmi, founder and chief editor of Millat Times, an "innovator." I am very respectful of him, he said. Within a brief span of five years, you have created a "wave", something which takes years, he said, adding that it also brings "great responsibilities."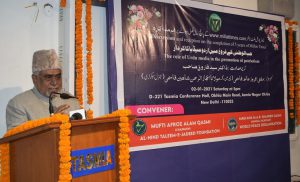 In his keynote address, Prof Akhtarul Wasey, President of Maulana Azad University, Jodhpur took strong exceptions to those who point fingers at madrasas and underestimate their value, stating that the "products of madrasas were not behind others in different fields including in journalism." Millat Times is a proof of that, he said. Wasey, who has also served as Commissioner for Linguistic Minorities in India, said, "Urdu journalists have always stood for nationalist causes" and they have "not spread communalism." He asserted that for a Muslim love of land begins with birth and continues to death and even after death.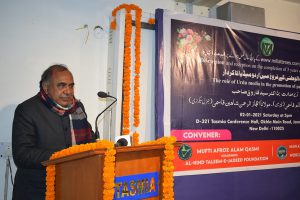 Senior journalist A. U. Asif remembered Urdu journalist Moulvi Muhammad Baqir (1780-1857) as the first martyr of freedom struggle who used to report events of 1857 mutiny from different streets of the country. He made a sweeping reference of a number of Urdu journalists like Zafar Ali Khan, Anwar Ali Mehdi, Salamat Ali, Maulana Muhammad Usman Faraqleet and others who had contributed greatly to nationalistic causes during pre and post-Independence times. He also mentioned the name of newspapers like Al-Jamiat, Pyam-e-Mashriq, Al-Insaf and even children's magazine Phool which instilled in children lessons of patriotism.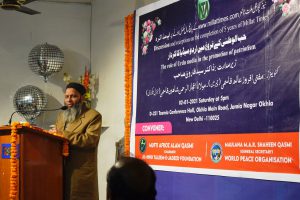 Mohammad Umar Gautam, Chairman of Islamic Da'wah Centre, New Delhi applauded Shams Tabrez for putting an all out effort to report important events with accuracy and sense of responsibility and to show a way to young media professionals about the power of truth.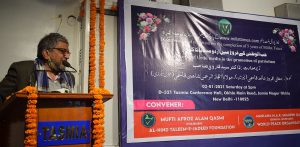 Navaid Hamid, President of All India Muslim Majlis-e-Mushawarat acknowledged the work of Millat Times stating that Urdu journalism for sometimes had become synonymous with translating journalism, adding that from translating to innovative to investigative journalism, Millat Times has achieved a remarkable success.
Nadeem Javed, former MLA and President of Minority Department of the Congress Party appreciated Shams Tabrez for leading a successful team. To bring home the point he referred to Gandhi's letter to Tagore about what leadership meant. He said that around a hundred MT stories had impacted the government, the administration and the society, which is an enormous achievement.
Shams Tabrez Qasmi shared the story of the five year journey of Millat Times, which, from a modest beginning, has now turned into a trilingual online news portal and YouTube channel with over one lakh daily readership. For his journalistic endeavours Shams was given Maulana Abul Kalam Azad Award on this occasion.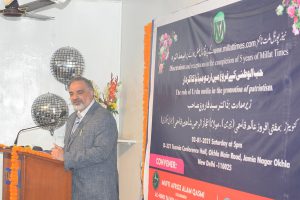 In his presidential address Dr S. Farooq of Himalaya Drugs, who hosted the participants and the entire team of Millat Times, read out some beautiful Urdu couplets to especially explain how things could look different for different stakeholders and observers. It all depends on perspectives, he said. Be it business or media, honesty and hard work earn huge divided, he added.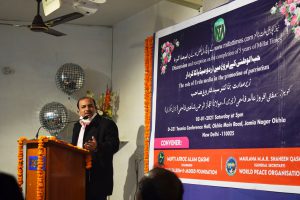 Kunwar Danish Ali, Member of Parliament, representing Amroha Constituency of Uttar Pradesh was given Maulana Hifzur Rahman Seoharwi Award for political services. The MP paid his homage to Maulana Hifzur Rahman Seoharwi (1900-1962) and Acharya Kripalani (1888-1982), political stalwarts and Parliamentarians who had represented Amroha.
Mirza Qamrul Hasan Beg, Chairman of Jamia Cooperative Bank called Millat Times an asset for the community which should be supported. While lauding the services of Millat Times, Syed Ahmad Safi Naqvi, secretary, Central Waqf Council, suggested that besides other issues, Millat Times should also pay attention to the issues of auqaf, which are great community assets.
Zakir Khan Mansuri, Chairperson of Delhi Minorities Commission said that Urdu's role in patriotism cannot be forgotten. He quoted Maulana Hasrat Mohani's famous slogan "Inquilab Zindabad", which was accepted by all across religious spectrum adding that the slogan had played a vital role in national freedom. Khan was also awarded for his social services.
Dr Mohit Sachdeva was honoured by Tasmia Academy with a Certificate of Appreciation for his excellent services as a corona warrior. Three students were awarded for their outstanding academic performances. Zuha Anjum, was felicitated for securing top position in the 10th class examination of Jamia Millia Islamia. Sadaf Shameem and Adeeba Ali were felicitated for qualifying NEET. All of them spoke about their parental support for their success.
Mufti Afroz Alam Qasmi, Chairman of Al-Hind Taleem-e-Jadeed Foundation coordinated the programme. Maulana Muhammad Ajazur Rahman Shaheen Qasmi, General Secretary of World Peace Organisation also briefly shared his thoughts.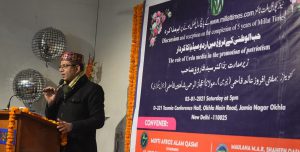 Atif Rasheed, the Officiating Chairperson of National Minorities Commission; Saleem Engineer, secretary of Jamaat-e-Islami Hind; Maulana Shees Taimi of Jamiat Ahle Hadith; senior journalist M Wadood Sajid; educationist and entrepreneur Kaleem-ul Hafeez; Adv. Saima Khan; Mufti Ejaz Arshad Qasmi; Maulana Abrar Makki; Qari Mahmudul Hasan and others also shared their views.
Shahnawaz Nazmi, Asrar Ahmad, Mohammad Masoom, Zamreen Farooq, Shabina Naaz, Chashma Farooqi and others, associated with Millat Times at different capacities were present.
(Manzar Imam is a senior journalist based in New Delhi)