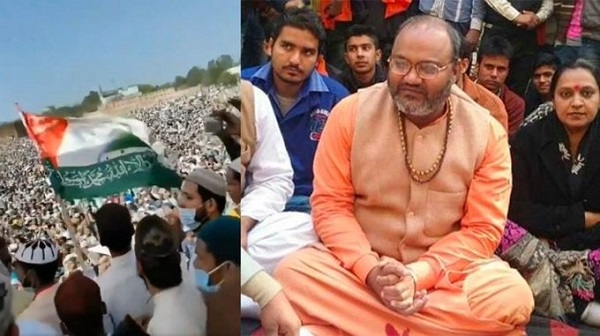 Two months later, when former BJP national spokesperson, Nupur Sharma made derogatory remarks against Prophet Muhammad, India still is under threat of communal disharmony. Alt News fact-checker and founder, Muhammad Zubair spent 23-days in prison for exposing Nupur Sharma's vile speech in a Prime Time debate on Times Now. Navika Kumar, an anchor who was hosting the program didn't even bother to object to their guest, Nupur Sharma. Consequently, a very tense environment was created not only in India but in more than a dozen of Islamic countries that demanded accountability from the Indian government.
Prime Time debates in India have become a platform to encourage hate mongers to speak ill about other religions. @TimesNow's Anchor @navikakumar is encouraging a rabid communal hatemonger & a BJP Spokesperson to speak rubbish which can incite riots.
Shame on you @vineetjaintimes pic.twitter.com/lrUlkHEJp5

— Mohammed Zubair (@zoo_bear) May 27, 2022
Several countries held protests against blasphemous comments. The Gulf countries even campaigned to boycott Indian products. Indian Muslims, hurt by the disrespect to their Prophet also took on the streets to mark their protest that turned out to be violent in some states. The police did lathi-charge and fired bullets to disperse the protesters, who in self-defence pelted stones at the police. Many shocking videos came out where police open-fired at the protesters.
Visual from Ranchi. A boy was stuck after clash, watch how @HemantSorenJMM's police are throwing stones and firing bullets on him. Today Muslims were protesting against impudent comments on Prophet Muhammad P.B.U.H by ex BJP spokesperson Nupur Sharma. pic.twitter.com/xfbGgccyVk

— Meer Faisal (@meerfaisal01) June 10, 2022
The clash between police and Muslim protesters resulted in the death of two Muslim youth in Ranchi, Jharkhand. Both of them were in their teenage. It was alleged that they died of gunshots fired by police. More than 15 Muslim men were injured severely and hundreds of others were arrested throughout the country for carrying out protests. Activist Javed Mohammad was arrested by Prayagraj police under National Security Act, alleging him to be the key conspirator of protests. His wife's house was also demolished. Videos also went viral from Uttar Pradesh where police brutally beaten Muslim men in custody.
सहारनपुर हिंसा : पुलिस ने पीट कर हाथ तोड़ा फिर कोर्ट ने किया बरी pic.twitter.com/zjKpxN6qJn

— NDTV Videos (@ndtvvideos) July 4, 2022
Mainstream Indian media and Hindutva extremists played a vital role in creating an anti-Muslim environment in the country. Slogans like "Sar Tan Se Juda" were widely shared on social media and Hindutva WhatsApp groups. It was to portray as if Muslims have started a war against Hindus and they are in danger- a usual phenomenon among common Hindus to incite violence against Muslims.
Days later, on June 28th 2022, Kanhaiyalal, a Hindu tailor was brutally murdered by two Muslim men in Udaipur, Rajasthan. The two accused namely Riyaz Mohammed and Mohammed Gaus pretended to be customers and attacked the tailor in his shop for supporting Nupur Sharma. They even shot a video of their inhuman act and uploaded it on social media. Police proactively arrested the murderers of victim Kanhaiyalal and the case was handed over to National Investigation Agency. The incident sparked outrage among Hindus. Once again Hindutva extremists got the opportunity to vilify Muslims and their faith.
AIMIM chief @asadowaisi condemned the killing of a Hindu man in #Udaipur of #Rajasthan. He again demands the arrest of #BJP sacked spokesperson #NupurSharama. #OwaisiInMadhyaPradesh pic.twitter.com/TJhgxuLS1A

— Ashish (@KP_Aashish) June 28, 2022
Almost all the Muslims and their leaders condemned the gruesome murder and demanded justice for Kanhaiyalal. It didn't help to calm down the angry Hindus and a surge of hate refreshed against already marginalized Muslims. Interestingly, the man who killed Kanhaiyalal was later claimed to be associated with BJP-Minority Morcha. His images with BJP leaders went viral on social media, however, there's no confirmation of these assertions. As of now, NIA has arrested eight people in this regard.
Next- The Karnataka Episode: Back To Back 3 Communal Killings
The three recent killings within 10-days in Karnataka speak a lot about communal turmoil in the state.
On July 19th, a 19-year-old labourer Masood was brutally attacked by Sudhir and his 8-member gang in Bellare village of Karnataka. Masood could not survive his injuries and perished after battling for 2-days in hospital. There was a minor scuffle between Masood and Sudhir that took a communal turn and led to the murder of a teenage boy. All of the arrested accused Sudhir, Sunil Kelanje, Abhilash Bellare, Jim Ranjith, Shivaprasad, Bhaskar, Ranjith, and Sadashiva are members of Right-Wing organisations, Bajrang Dal and Vishwa  Hindu Parishad. The accused deceived the victim to an isolated place and beaten him to death.
Masood's childhood friend Shanif, who on Sudhir's insistence took Masood to end hostility with Sudhir spoke to the media. According to The Wire, Shanif said that it all started when Masood bought a calf before Eid. He wanted to rear it. Since then Sudhir's attitude towards Masood changed. A few times, Masood told Shanif that Sudhir stares at him with enmity and keeps an eye on him whenever he takes the calf for grazing. Shanif suggested his friend ignore it. Sudhir and Masood had a fierce argument before this incident. They physically assaulted each other. A few hours later, Sudhir called Masood to settle the issue and hacked him to death.
In another incident, on July 26th in Bellare, a 32-year-old BJP Yuva Morcha leader, Praveen Nettaru was murdered in front of his broiler shop. Praveen was attacked with swords by two assaults who came on a bike. Police initially arrested Zakir and Shafiq and charged them with the Unlawful Activities Prevention Act (UAPA). Later, two suspects Saddam and Haris were also arrested. National Investigation Agency is dealing with the case. Praveen's cold-blooded murder is observed as an act of vengeance for Masood's murder.
#Update: The crowd gathered for funeral was furious over BJP MP and MLAs for not reaching to the spot even after 14+hours of Praveen's death. The MP @nalinkateel car was not allowed to enter the funeral.
2/n pic.twitter.com/Qt4qZbcDhL

— Mohammed Irshad (@Shaad_Bajpe) July 27, 2022
According to locals Praveen was on a good terms with Muslims. His murder is shocking. There is fury among BJP workers for lagging in providing security to Praveen. Many karyakartas signed their resignation as a mark of their protest to the government. Karnataka's state party President Nalin Kumar Kateel also encountered outrage from BJP workers. Chief Minister of State, Basavaraj Bommai met Praveen's family and announced a compensation of Rs 25 lakh from the CM relief fund.
Cctv footage of the brutal attack on #Fazil happened at Surathkal tonight. 4 unidentified persons came in Hyundai car and attacked him near a dress shop. He was then admitted to AJ Hospital but succumbed to injuries. pic.twitter.com/zSvZE43K60

— Mohammed Irshad (@Shaad_Bajpe) July 28, 2022
In the third incident, on July 28th,  Mohammad Fazil was brutally attacked by four people in front of his clothing shop in Surathkala, Karnataka. Except for Ajit Crasta, all other accused Suhas, Deekshith, Abhishek, Shrinivas, Mohan Singh, and Giridhar are members of Bajrangdal. According to Mangalore police, the accused killed Mohammad Fazil because they wanted to kill someone. Police also said that a total of 7 people were on target.
Why Talking About Karnataka Important?
With the controversy of disallowing Muslim girls in Hijab to attend classes in December 2021 to the High Court ordering a Hijab ban in educational institutions in March 2022, the South Indian state, Karnataka is fastened in the roots of religious politics and Islamophobia.
On February 20th, 2022 in the Shivamogga district of Karnataka, a Bajrang Dal activist Harsha was stabbed to death. 28-year-old Harsha Hindu was a cow vigilant. The police arrested Mohammad Kashif, Syed Nadeem, Ashifullah Khan, Rehan Khan, Nehal and Abdul Afnan. A total of 10 people were arrested under the Unlawful Activities Prevention Act (UAPA). The situation turned tense following the murder of Harsha. Incidents of arson, violence and stone pelting were recorded throughout the city and an 8-day curfew was imposed to control the situation. Initial investigation by Karnataka police indicated that Harsha was murdered to incite communal violence. The local police then handed over the case to National Investigation Agency (NIA).
At the beginning of July, Harsha's sister Ashwini made allegations against Home Minister Araga Jnanendra for avoiding her family and raising his voice when Ashwini tried to speak with him at the BJP office in Bengaluru. It must be noted that a video went viral in which suspects in Harsha's murder case were found speaking to their families. Karnataka Chief Minister, Basavaraj Bommai condemned Harsha's murder saying it was more than a murder. The state government provided Rs 25 lakh compensation to Harsha's family. Many BJP leaders didn't miss discrediting Muslims once again. Harsha's murder was linked with the Hijab ban controversy. Former BJP minister K S Eshwarappa even referred to Muslims as "Musalman goondas".
"We don't know who killed (Fazil & Masud), if our people #Hindus had done this, I'll congratulate them for this. We still need 9 #heads if our people had done this, if it's not our people, then our people still need courage." RishiKumar Swami #Tumkur.
4/n pic.twitter.com/w219ZYTiVK

— Syed Mueen (@Mueen_mgd) July 30, 2022
Unsurprisingly, after the murder of Praveen Nettaru, hate speech against Muslims became common in Karnataka. Hindutva religious leaders openly advocated for violence against Muslims. Kali Swami, a Hindutva sage congratulated Hindus if they have murdered Mohammad Fazil. According to the New Indian Express, Kali was earlier arrested for giving a call to demolish the mosque of Srirangapatna town in Mandya district.
Higher Education Minister, C. N. Ashwath Narayan threatened to go 5-steps ahead of UP. A former BJP Minister, K S Eshwarappa also gave a similar statement to give Muslims UP-like treatment.
Basavaraj Bommai, Chief Minister of Karnataka visited Praveen's family and granted them compensation of 2.5 million Rs. The same CM didn't meet the families of Masood and Mohammad Fazil who were also the prey of hatred. Discontent with the discrimination by Chief Minister, the Muslim Central Committee provided Rs 30 lakh compensation to Masood and Fazil each.
According to human rights activist BT Venkatesh, CM Bommai has violated Article 14 of the Constitution which stands for equality before the law. After facing criticism from all quarters CM Bommai announced that he will meet the families of Masood and Fazil in the coming days.
What depicts in these cases is that there is a sense of otherness for Muslims. People who took a constitutional oath no more feel the responsibility to treat Muslims equally. Not even for a show-off.
Sar Tan Se Juda (Beheading): Not A War Cry
According to Karnataka Communal Harmony Forum, Coastal Karnataka mainly Udupi and Dakshina Kannada districts, witnessed over 120 communal incidents in 2021. The data is the highest in four years. According to Suresh Bhat's data compilation, The 'Chronicle of Communal incidents in the Coastal Districts of Karnataka'- Out of 120 incidents, 33 were moral policing by Hindu vigilante groups and 4 by Muslim vigilante groups. The data also shows that cattle vigilantism decreased from 25 in 2020 to 11 in 2021. Suresh Bhat is a member of Karnataka Communal Harmony Forum and PUCL Mangaluru. His compilation is based on communal incidents reported by the media.
According to the Deccan Chronicle, Bhat says "Members of the Muslim community are being attacked alleging that they are involved in Love Jihad. Christians are targeted alleging they are involved in conversion. Saffron outfits want to make their point that there is a need for anti-conversion law through such incidents. This could be the reason for the increase (in such crimes)".
Furthermore, According to the Times of India, the home department recorded 63 communal incidents between January 1, 2019, and February 15, 2022, over 10 police divisions including Belagavi, Ballari, Dakshina Kannada, Gadag, Haveri, Kalaburagi, Shivamogga, Vijayapura, Tumakuru. Data shows that Shivamogga with the highest number at 19% and 12 cases, witnessed at least one communal incident every 18 days over the past 3 years. Dakshina Kannada and Bagalkot follows with 11 and 10 cases.
While 7 communal incidents, on an average of one per week, were already filed by the end of February 2022. 23 cases were registered in 2021, 21 in 2020, and 12 in 2019.
The Prophet Row is just a couple of months old thing, however, the following data speaks loudly and clearly that communal harmony was long back disrupted in Karnataka, especially in Coastal districts. No matter how loud the Hindutva extremists scream, in reality, in the name of blasphemy, there is no such war cry as "Sar Tan Se Juda" from the Muslim community, which is battling an existential crisis. Calling it a war cry is also unjust because Indian Muslims, never promoted violence in the name of Islam. They have always criticised it and this time again when Kanhaiyalal was murdered, Muslims of India denounced it without any hesitation. Nevertheless, there is a question. Why Indian Muslims should be always held accountable for the actions they don't have any participation in? Why shouldn't Hindus take responsibility when a Muslim man is lynched on the road and forced to chant "Jai Sri Ram"?
Two Incidents To Prove Irony Of Indian Muslims.
On 24th July 2022, Nishank Rathore a B.Tech student at Bhopal's Oriental College died of suicide. Police found his dead body, cut into two on the Bhopal-Narmadapuram railway track. Before his son's death, Nishank's father received a WhatsApp message on his phone, "Rathore Sahab, your son was brave. Beheading is the punishment for blasphemy against Prophet. Tell every Hindu coward, no insult to the prophet". With this message sent from Nishank's phone, his death became suspicious of whether it was a suicide or a murder. Later, it was revealed in the police's investigation that Nishank was in head-to-toe debt. He was in stress about repayment. Nishank committed suicide and pretended it was a murder. According to the Hindustan Times, an official said that Nishank might have sent that message to gain support from Hindu nationalists or the government by portraying himself as a martyr.
In a different story, an FIR was filed against Prince Qureshi in Kasganj, UP. A woman alleged that Qureshi raped her hiding his identity and introducing himself as Monu Gupta on Facebook. The victim woman backed out of her statement in Court. During the investigation, the woman testified that she was not raped. Aman Chouhan and Akash Solanki hired her to frame Qureshi in a false case of Love Jihad. Both of the accused were arrested and later granted bail. According to Quint, Chouhan was connected with the BJP youth wing.
If a 21-year-old Hindu youth can put blame on Muslims before his death and Hindutva extremists can put a woman's dignity at stake just for falsely charging a Muslim man for Love Jihad, then India is under serious threat of Islamophobia.