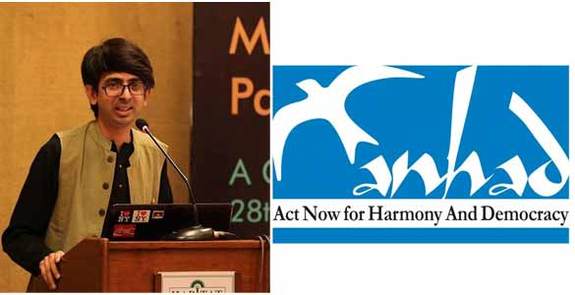 People know a lot about discrimination in judiciary, media, government, banks, universities, corporate houses and other sectors. But not many know about discrimination that happens in civil society on the issue of Muslims. My attempt today is to describe what happens to a young activist who attempts to speak as a Muslim.
I dare to speak the truth to power and I know that I must speak truth also to the people. I take the inspiration from Asma bint Abi Bakr, Mahatma Gandhi, Hasrat Mohani, Begum Anees Kidwai, Paulo Freire, Malcolm X, Anne Frank, Hannah Arendt, Albert Camus, Bernie Sanders and many others.
You would remember that recently eminent human rights and minority rights activist Shabnam Hashmi (Shabnam Aapa) had initiated India Inclusive Platform, and has organised Citizens' Conclaves (25-27 May 2018). Before the first Conclave, I had requested Shabnam Aapa to include one Muslim name in the panel titled 'State of Dalits and Minorities'. The panel, consisting of eminent speakers, had a Dalit representative, a Christian representative, and others who speak for Muslims; but there was no Muslim on it. I even suggested a few names but my request was refused.
I explained my belief, that three sections of people must be included in any struggle for justice. One, the oppressed; second, who is suffering with the oppressed; and third, who is fighting at the side of oppressed. The narrative of those who experience oppression are often not allowed to express because it touches the hearts and transform those who are apathetic. Unfortunately, the majoritarian ideologies enabled an atmosphere in India, where the primary narratives by the Muslims are not allowed. Those who speak for Muslims do little to include their voices and further ensure marginalisation and victimisation of the oppressed Muslims. The requirement by these human rights and minority rights activists that the Muslim identity must be omitted is also oppression. Erasing Muslims from the narrative reinforces a bigoted society's desire to erase their existence.
My solidarity visit to Aligarh Muslim University during the protests on the issue of attack on former Vice President of India Dr. Hamid Ansari, and a piece 'Bas ki dushwar hai Hindostan me Musalman hona' (It is being difficult to be Muslims in India) based on it published by The Citizen, became my other 'crimes'.
I was badly humiliated by a few 'eminent' activists during the Citizens' Conclave, and I realised that my conversation with Shabnam Aapa had been revealed by her to many people.
This was the beginning of a series of events aimed at my removal from ANHAD by former trustees and founders Shabnam Aapa and Harsh Mander ji. Because the real issue was difficult to name, they used a trustee, who had baselessly labelled me as an autocratic. This was the same person whom Shabnam Aapa had advised me to remove from the ANHAD trust in the past, because of her anti-Mahatma Gandhi, anti-Muslim, and communal leanings – but I had not done so, as I had belief that she will transform. Just after the Citizens' Conclave, this trustee resigned and with the consultation of my fellow board members – resignation was accepted.
Then, a call for a meeting was sent by Harsh Mander ji at his Aman Biradri office in guise of planning future activities of ANHAD. Although I felt this was strange and that something was afoot, I attended this meeting held at Aman Biradari office as a matter of courtesy and because of my belief in dialogue. Despite the fact that ex-trustees had no morality and authority of intervening in the organisation where they did not have any legal locus standi.
It was not a simple meeting – there was no discussion about future activities. It was evidently my trial held by those who claim to fight against majoritarian communal forces. I was framed as a fundamentalist, autocratic, a person who had dragged-down ANHAD's name, etc. by many eminent personalities present there all of whom I hesitate to name here.
In this meeting I was advised by an eminent historian that Muslims should fight only the Minority Communalism, and Hindu will fight Majority Communalism. I was mocked for organising Insaaf Yatra, from Delhi to Muzaffarnagar – Shamli to build pressure on local administration on three issues: one, was the opposition to the withdrawal of criminal cases related with Muzaffarnagar communal violence (2013); second, the release of innocent juveniles who were in the jail as adults for an alleged case of cow slaughtering; and third, was action on the fake encounters in Muzaffarnagar and Shamli.
The environment was sophisticated but highly hostile. After a long frame-charging phase, I was not being allowed to respond to the allegations and charges by Harsh Mander ji, which I only managed to do because of my insistence to speak and on condition that I was not giving any clarifications.
I told them that I come from a farmer-and-labour family, we are Muslims but my family and I have never associated with any religious organisations. Harsh Mander ji and a leader of women's wing of a left party who was present in the meeting baselessly associated me with religious organisations. This was despite the fact that I know that many present in the gathering had themselves have worked with religious organisations. Senior leadership of many religious organisations were present in the recent Conclave, as well as in the past Conclaves, Meetings and Campaigns organised by Shabnam Aapa and Harsh Mander ji. I did not confront them about the nature of their association because I see nothing wrong in it but I did speak up against their baseless charges.
I was even questioned and condemned for my use of a quote Hannah Arendt on one of ANHAD posters – "If one is attacked as a Jew, one must defend oneself as a Jew. Not as a German, not as an upholder of the Rights of Man, or whatever."
I told them that their problem is my Muslim identity. Because I am not a self-hating Muslim, and I am also not a community-bashing Muslim. I stand with all other oppressed individuals and communities, but you reduced me to Muslims issues only. You don't want to acknowledge and hear my voice in solidarity with other marginalised.
I explained how I had worked in ANHAD, and how it is now different and effective in empowering vulnerable voices at the grassroots. I come from the tradition of Haz'raat-e Gandhi, Mohani, Arendt and Freire, and I believe in enabling people in transforming their hearts and minds.
In the present crucial time, when Muslims in India have been reduced and become just facts, events, and phenomenon—not only by the right, but also by the left-liberals—it is important to reclaim human-ness without compromising Muslim identity, because no one is treating us as humans now, even many of those who stand and speak on our behalf. They should speak, but they must not stop the victims of hate politics to speak and share their pain. If oppressed will speak in their own way, those hating and hurting them will also question themselves for their dehumanised thinking and actions. It will hugely damage the RSS agenda of converting our Gandhi's India into Savarkar's Hindu Rashtra.
Humanising the dehumanised can save India, but it cannot be achieved by invisiblising and silencing the Muslims and other oppressed.
I was also charged for the resignation of another trustee in the past. But truth is that board had taken the decision because he was blackmailing the board members to cancel someone's lecture a-day before at ANHAD Oxford Baatcheet with whom he had personal tension, and because he had used misogynistic slurs for her and two-other highly respected feminists.
In this gathering of eminent intellectuals and activists, it was said that there is nothing personal and nobody will be attacking me on this aspect. But along with many other personal attacks, I was also called a split personality. There was a proposal-cum-diktat to shutdown ANHAD or else bring back Shabnam Aapa again in the board.
I told those present in the meeting that I will call ANHAD trustees' meeting soon, and we will decide these matters. I am not sharing the whole experience. Because remembering such horrific and humiliating trial is too painful. I realised that the purpose of this gathering was also an attempt for my nervous breakdown. At the end of trial, it was told that I am not accepting my fault. For me it was a different kind of majoritarian lynching by these fundamentalist liberals.
We had our ANHAD board of trustees meeting. And I asked for a month to reach out to resolve the issues. I tried but not succeeded because Shabnam Aapa and Harsh Mander ji were not ready for any reconciliation. I informed the board accordingly.
I went to Korea for 10 days to attend a UN programme, and just after my return there was a bereavement in our family and I went to my native place Amroha. Meanwhile, the other four board members called the board meeting on 1st August, which I couldn't attend as I was to return to Delhi late night on the same day. But I sensed that some wrong was happening. So, for countering the majoritarianism, I appointed two-trustees on vacant posts as I had the right to build my team.
But this was not to be the other board members reduced democratic functioning to 'rule by majority'. They passed 'resolutions' against me immorally and illegally. They appointed Shabnam Aapa and Harsh Mander ji in the Trust. According to the ANHAD Trust deed rules the Managing Trustee can appoint or remove trustee(s)—without or with consultation. And the Managing Trustee can be replaced only if s/he resigns or dies. But they illegally 'elected' Shabnam Aapa as Managing Trustee.
I received an offensive email from my fellow-trustee about ANHAD Gmail password. She said that it is breach of trust that I had not informed them of the password. I didn't respond because this was again baseless. Why should the trustees who are not involved in day-to-day administration of ANHAD or even attend programmes more than a few times in a year be given passwords to official email account?
On 2nd August 2018, when I reached ANHAD office, I found that all documents have been locked. Our senior most staff member Pratap Singh Negi ji who had to reach office at 9 am, kept giving me some excuse or the other for the delay until 11 am and thereafter switched off his phone. He did not arrive. ANHAD car was unusable because of deliberate tinkering. I was shocked beyond belief. This intense antagonistic situation was unexpected. I spent the day in ANHAD office making and signing certificates for interns who had worked at ANHAD. As they day passed my sense of hostility against me heightened.
I took my personal belonging and left ANHAD. That was the last I went there.
These developments are upsetting although not surprising. If certain 'issues' and public trusts were considered personal possessions then I could have been plainly told to 'give back' my position as a Managing Trustee of ANHAD to their 'rightful owners'. If the ex-trustees and present-trustees of ANHAD had said that I would have happily resigned from my present situation. But, unfortunately they have sought to paint me in allegations of being a fundamentalist and autocratic.
It is possible that their own rigidity and unreasonable exercise of power is not visible to them but I have been rewarded by this label because I asked for representation of Muslims on a panel of eminent voices that speak for Muslims. I am being faulted for representing communalism in my own way, from my own experience. The founders cannot see that they violated the Trust rules which they themselves had framed for their own convenience.
After doing all immoral and illegal activities they are frightened as they are assuming that I am going to the court, which I had never thought about. So as expected that had done another nasty thing. A fake news has been planted in the Urdu daily newspaper Inquilab about an 'RSS conspiracy' against Shabnam Aapa and Harsh Mandar ji of branding ANHAD a 'Muslim-parast' organisation. According to the report this 'damaging' conspiracy is being affected because I am 'ignorant' and 'witless'. You should know that Urdu daily newspaper Inquilab, is a publication of Dainik Jagran (which is inclined to RSS and BJP's agenda). This is the same paper that created the recent controversy about Congress being a 'Muslim-parast' party after the meeting of Congress President Rahul Gandhi with Muslim intellectuals. These two stories are so similarly confused and unlikely that it is nothing short of being disgraceful.
By now, I had to realise that more nasty slander will come my way. I know that even if today's world would not accept my testimony, future generations of Indians will definitely judge these actions as hate crimes.
I would like to tell you that as the Managing Trustee of ANHAD what I had inherited from my predecessors was struggle, not power. There was nothing left when I had taken the responsibility of ANHAD. It bears remembering that I took over as a Managing Trustee of ANHAD at time when India's sky only had black clouds, and there was silent darkness of self–censorship due to high point of intimidation, fear and violence against those who struggle in defence of secularism and democracy.
I had seen myself acting as organic manure enabling others to join the struggle in defence of a secular India and this has been my most valuable achievement. In this one-year journey, I spoke less and worked more from grassroots to UN level. I had not done mega-events in Delhi, deviating from ANHAD's approach because I found it was not helping anyone in the present situation.
I knew that many people were not happy with me. They were expecting something else because they have a homogenous frame of leadership style and they want everyone to fit-in. I challenged the machismo of big protest as spectacles from which Muslims themselves were structurally excluded. I attempted to heterogenise and humanise the protests for more deep engagement with those new non-activist people who want to join us but they fear.
During this time, ANHAD had reached to those nameless marginalised Muslims, Dalits, Women and OBCs who have never had been contacted. I have never wanted to become the voice of these people; I merely wished to help them raise their own voice.
I am resigning now from Managing Trustee position at ANHAD. And I would not like to associate with anyone who believes in anti-Muslim, Islamophobic, and majoritarian politics, be they are from the Left, Centre or Right.
I have nothing with me now; expect some good and bitter memories from ANHAD. I had only ANHAD Gmail, Facebook and other Social Media Accounts and Passwords, which I have given to ANHAD trustees Amrita Nandy Aapa.
I know that I will face the dire consequences of speaking the truth. But I am not alone. Many people before me have experienced the same, or even worse. They have been silenced and cornered. So, I stand in solidarity with all those who have faced similar hidden silencing in civil society.
I also know that many people will say that it is not the right time to say these things. But as a follower of Mahatma Gandhi, I believe in calling a spade a spade, and stand against majoritarianism. People must understand that they have no choice but to take the path of "rage, refuse and resist." Behaving like an Ostrich will not end the storm. In this fascist regime, our very survival is at the stake.
It is painful but good in the larger sense that things have turned this way with the 2019 general elections on our head. The fight against fascism and communalism should continue and will continue with more clarity now.
With grief,
Ovais Sultan Khan
6th Aug. 2018