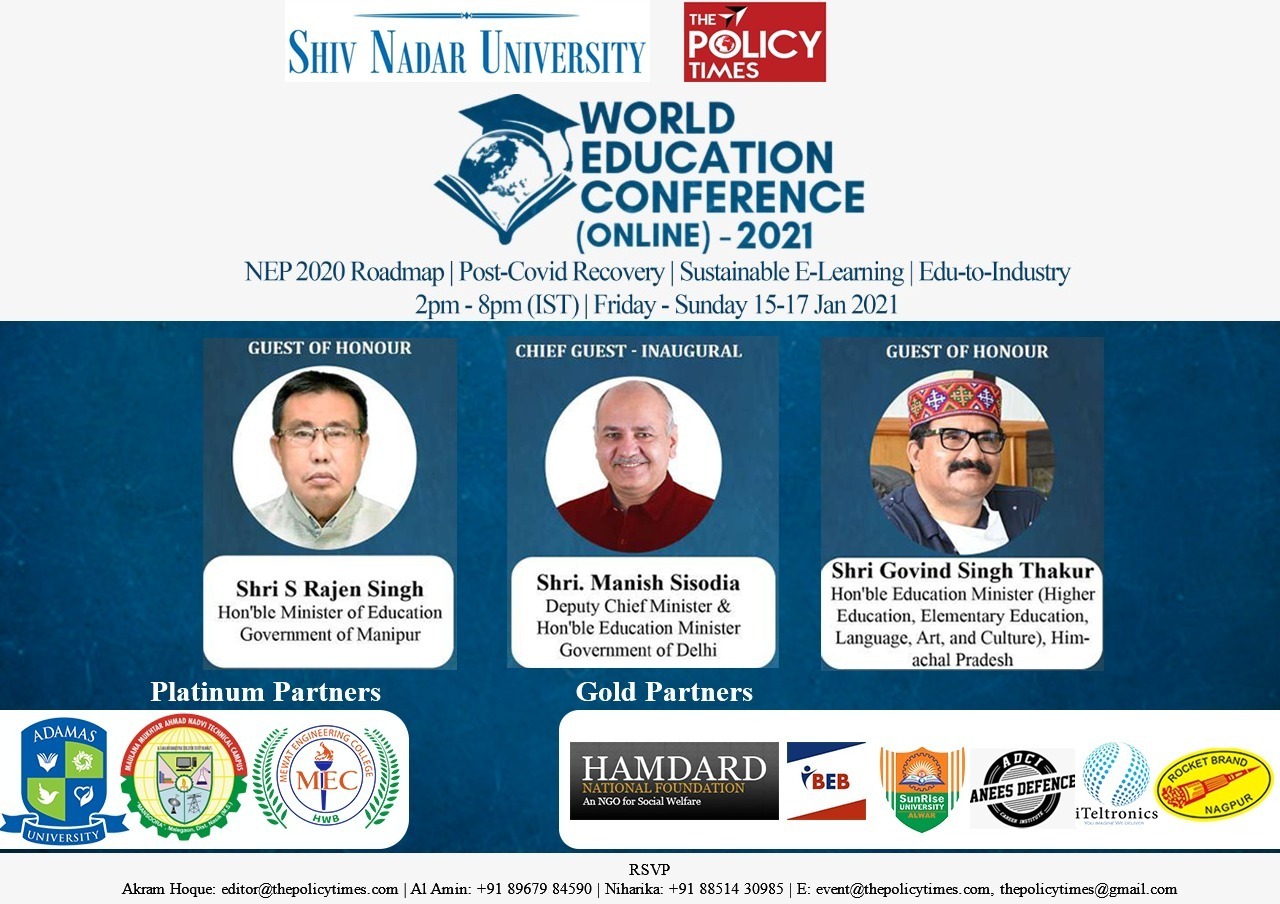 The World Education Conference (WEC2021 online) aims to discuss NEP2020 implementation roadmap, post-Covid recovery plans, affordable and including E-Learning and education-industry integration
Covid-19 has been an eye-opener and yardstick to see how dynamic, flexible, and modern your education system is. In India, over 32 crore students have been affected byCovid-19. About 13 crore students from classes 9-12 are severely affected. Dropout students have increased especially among the girls. India has adopted The National Education Policy (NEP 2020), which envisions the needs for young aspiring India. Following the NEP, this will set India to become a Global Knowledge Centre.
To deliberate on such issues, The Policy Times and Shiv Nadar University are jointly organizing a 3-Days virtual conference – the World Education Conference (WEC2021 online) between Friday, 15 January 2021and Sunday, 17 January 2021 from 2pm-8pm(IST) on Zoom. WEC2021 aims to bring the world's educators ona single platform and discuss a new direction to education in 2021. The Conference will feature discussionson the Post-Covid recovery roadmap of education losses occurred in 2020, NEP 2020 implementation roadmap, Sustainable E-learning, and most importantly, education-industry integration.
The Conference is supported by India's leading organizations including East India's best private university – Adamas University, Kolkata; Haryana's best engineering college – Mewat Engineering College; Best technical institute of Malegaon – Maulana Mukhtar Ahmad Nadvi Technical Campus (MMANTC), one of India's philanthropic business families – Hamdard National Foundation (HECA) and Business & Employment Bureau (BEB Delhi) supported by Hamdard National Foundation (HECA), Rajasthan's Sunrise University in Alwar ;education innovator, Smart Study Platform, Board Room Solutions providers – iTeltronics Pvt Ltd. & leading manufacturer, packager, marketer of incense sticks and perfumes in India – Rocket Agarbatty Company and Anees Classes which has been providing Education Service to thousands of students for over 29 years.
Hon'ble Shri. Manish Sisodia, Deputy Chief Minister & Hon'ble Education Minister of Delhi will be the Chief Guest of the Inaugural Session, Shri. S Rajen Singh, Hon'ble Minister of Education, Government of Manipur and Shri. Govind Singh Thakur, Hon'ble Education Minister of Himachal Pradesh arethe Guests of Honours.Educators from many countries will join and interact with the esteemed national and international speakers from policymakers, educators, ambassadors, education foundations, industrialists, etc.
Renowned educationists and education sympathizers would join and share their views. Some of them include –
Binod Kumar Chaudhary, Nepalese Billionaire, Businessman and Philanthropist & Chairman & President of The Chaudhary Group (CG)
Anil Sahasrabudhe, Chairman, AICTE
K.K. Aggarwal, Chairman, NBA
E. (Mr.) Hector Cueva, Ambassador, Ecuador to India
Prof V.K. Malhotra, Member Secretary, Indian Council of Social Science Research (ICSSR)
Hamid Ahmed, Chancellor, JamiaHamdard University, Secretary Hamdard National Foundation, CEO, Hamdard Laboratories, India
HanifQureshi IPS, IGP of Haryana Police, Secretary Dept of Renewable Energy, Govt. of Haryana
Mohammed Shayin IAS, MD, HPGCL &CEO, Haryana Waqf Board,
V K Agarwal, Chairperson, Sunrise University Alwar,
Suresh Kumar Soni, Hon'ble Chairman, Himachal Pradesh Board of School
Mahua Das, President of West Bengal Council of H.S Education
Renowned educationists of India – Prof (Dr.) Bhimaraya Metri, Director, Indian Institute of Management, Nagpur; Prof. (Dr) Rupamanjari Ghosh, Vice-Chancellor of Shiv Nadar University (Greater NOIDA) and Prof. Ujjawal K Chowdhury, Pro-Vice-Chancellor, Adamas University are the Co-Conveners of the mega Conference and Mr Akram Hoque, Founder Editor of The Policy Times is the Organising Secretary.
The conference will focus on creating 'a roadmap for sustainable engagement of students in digital education', and will highlight some of the common challenges faced, solutions provided, and lessons learned during the Covid-19 crisis in ensuring continuity of inclusive quality learning and wellbeing for all children, it will bring synergy between institutions providing education in rural and urban; rich and poor; Senior secondary and higher education; domestic and international and so on by focusing the outcomes of making the National Education Policy a reality, will help to create the roadmap for bridging the relation between academia and industry, A workable roadmap for sustainable education through local and global partnerships to transform Indian education from Good to Better. 
The World Education Conference Online will hold 4 sessions each day and will cover the following sessions,
– National Education Policy 2020- Future of Education & Implementation Roadmap
– World's Best Educational Systems – Global Best Practices & Accreditation 
– Building New India – Education –Industry Integration
– Digital Disruption in Education
-Grassroot Education Providers and Their Best Practices
– Framework for Safe Campus and Curriculum Rationalization
– Women in Education
– Making Asia Global Education Hub
– Regional Integration and Cross-Border Education
About Organisers
 THE POLICY TIMES
THE POLICY TIMES is a Delhi-based digital media cum strategic Think Tank promoting developmental journalism and policy advocacy closely working with central and state governments, embassy and high commissions, policymakers across India with special focus on education, entrepreneurship, industrialization, etc. We organized 200 events/ webinars promoting policy advocacy and development journalism.
 PRESS CONTACT
Samayeta Kanjilal| event@thepolicytimes.com | +918017310771
About Shiv Nadar University, National Capital Region (NCR):
Shiv Nadar University (www.snu.edu.in) is a student-centric, multidisciplinary and research-focused University offering a wide range of academic programs at the Undergraduate, Master's and Doctoral levels. The University was set up in 2011 by the Shiv Nadar Foundation, a philanthropic foundation established by Mr. Shiv Nadar, founder of HCL. The University is in the quest to become a globally acclaimed center for learning and innovation in the fields of Engineering, Natural Sciences, Humanities & Social Sciences, and Management. The core of the University consists of a select, world-class faculty with doctoral and postdoctoral experiences from ranked universities all over the world.
Shiv Nadar University has recently been selected as one of the ten private 'Institutions of Eminence' by the Government. In the NIRF (Government's National Institutional Ranking Framework), the University has been the youngest institution in the 'top 100' Overall list, and its score has been rising steadily. In NIRF-2020, it ranked 56 in the 'University' category. Shiv Nadar University has been accredited with Grade 'A' by NAAC (National Assessment and Accreditation Council), valid for a period of five years from 26 November 2019. It is also among a select group of green-field institutions in the country which were awarded the prestigious Atal Incubation Center grant by the NITI Aayog, Government of India, in the very first round in 2017.
PRESS CONTACT:
Ronit Baugh | ronit.baugh@snu.edu.in | +91 9810605644