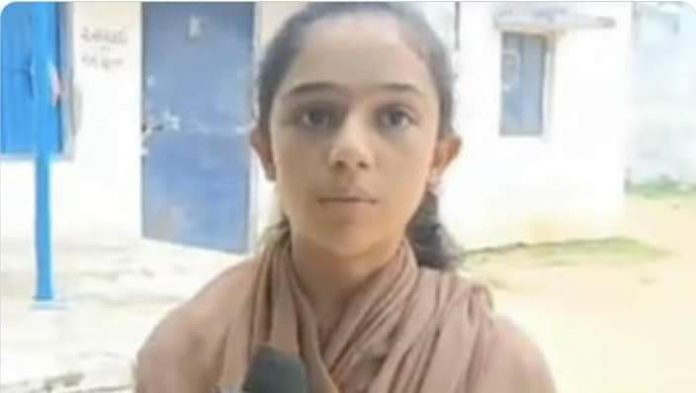 In what appears to be a case of alleged religious discrimination that took place at a school in Lunva village, Kheralu taluk, Mehsana district. In a shocking turn of events, despite the fact that Muslim girl named Arnaz Banu who topped her 10 class in a Gujarat school denied award on 15th August, Independence day celebration. However, the second ranker and those who scored lesser were named. The school was honoring its class-10 toppers of 2022.
The incident has sparked a wave of discontent among activists and citizens on various social media platforms. In a tweet, author Salil Tripathi said, "This is the state of Modi-fied India."
When Arnaz Banu reached at a function organised by her school in Gujarat to honour Class 10 and 12 students on 77th Independence Day, she expected to be the first to be called on stage. After all, with a score of 87 percent in Class 10, she was the topper. She was reportedly present at the event and broke down in tears due to the lack of recognition in front of his community.
Arnazbanu is reported to have returned home in tears. Her father, Sanwar Khan, a resident of Lunava village, expressed his distress over the incident. "She told us that the award which should have been hers was bestowed upon a student who secured the second position. I engaged with school authorities and teachers seeking an explanation, but their responses were vague at best. While they assure us that the reward will be given on January 26th, my question remains – why was it not granted on August 15th? As a farmer deeply rooted in this land, our family has lived here for generations without encountering any form of discrimination. But now my daughter has deliberately been overlooked for an award she deserved," Arnaz's father, Sanwar Khan, was quoted by the Vibes of India.
Sarvar khan, a concerned parent, took the matter into her own hands by contacting Trustee Bipin Patel to express her discontent over the incident. This move came after the incident reached the ears of the school's principal, Anil Patel. Despite attempts to bring the issue to the forefront, no official response was received from the trustee.
The incident has highlighted the importance of open and transparent evaluation processes and has reignited discussions about how the minority students are being treated in educational institutions in India.
Anil Patel, a teacher at the school, said, "The 15 August event was a minor celebration to acknowledge the achievements of our students. The rewards will be formally given on 26 January, encompassing those who exhibited exceptional talents. We remain committed to addressing any grievances and acknowledging the efforts of all our students."