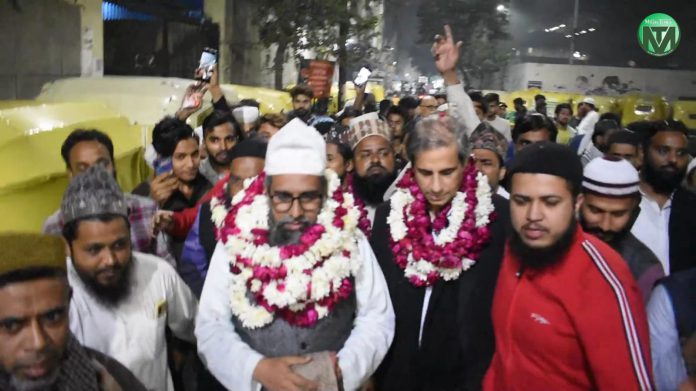 By Manzar Imam
New Delhi: A crowd of about 100 persons raise the slogan Dekho Dekho Kaun Aaya, with a resounding response, Sher Aaya Sher Aaya. The crowd waited till midnight of 24-25 November, 2021 at the site of Northeast Delhi's 2020 riots for return of four members of Tahreek Farogh-e-Islam (TFI), detained, arrested, charged with UAPA (The Unlawful Activities (Prevention) Act) and then released for lack of proof. Their release was facilitated with timely intervention and legal pursuit of a senior lawyer, Advocate Mehmood Pracha.
Talking to Millat Times, members of TFI stated that their arrest was nothing but part of a "propaganda to suppress dissent and divide people" by right-wing extremists. Maulana Qamar Ghani Usmani, founder president of TFI said that jail administration treated them well. We had gone to Tripura to find the truth and take legal action against the perpetrators. We went there after news of damage and arson of mosques surfaced, and especially, after we heard the disrespectful slogans against Prophet Muhammad (SAWS). This pained us as "an attack on the dignity of the Prophet was a direct attack on Islam." This was done at the behest of the administration else, there was no justification for allowing such a large crowd with just 80 police personnel after riots had erupted.
Ehsanul Haque Razvi, who heads the political affairs department of TFI, held the police accountable for hiding facts. After knowing well what had happened on 21 October, the police still allowed a huge rally of about 15,000 people. "We had gone to stand with the oppressed, not to side with any specific group or community," he said. About what he saw there, Asif Raza Khan said, "Some mosques were burned, windows and doors of others were broken," adding that even trees were not spared. We reached on November 2, were detained on 3 in the evening and, later arrested and jailed.
When asked about what led to their release after such a draconian law as the UAPA was slapped on them, Pracha said, "Faith and God that did the magic." I presented my arguments that there was "no ground for the UAPA" and not even for any offence under CrPC for which they could be arrested, jailed and punished. The judge was convinced and their bail secured. Pracha also lashed out at Muslim religious leaders for their hypocrisy and cowardice couched in the convenient language of expediency. He averred, "A new generation of bold and courageous religious leaders is required to stand up for justice and equality not only for Muslims but for all the oppressed classes" because cases of injustice and inequality are more in number against SCs and STs than against Muslims.
The TFI members were glad for getting bail of Prabhat Shudra who was arrested about 8 months ago allegedly for stealing a bicycle and languished in the jail. He came from an Assam-Tripura border region, was very poor and belonged to some Scheduled Caste. No one followed his case. He had gone into depression and would often fall and faint. "We felt sorry for him," said a member of the TFI. His bail was approved but there was no guarantor. Our bail was rejected on 18 but it probably happened so, because Allah wanted us to free a poor man. "We took his guarantee and got him released," said a satisfied Maulana Usmani. It was for this reason that when we were released and coming out of the jail, there were tears in the eyes of most jail inmates. "Please don't go. Some of them pleaded", said Mudassir Nadeem Divkar.
For Asif Raza Khan, the reason for their arrest was that they were demanding copies of FIRs of the riots' victims, but the police was constantly refusing the same. Khan was immediately seconded by Pracha who said, "Silence is antithetic to justice and people need to stand up and speak." There was a ring of truth in his voice especially after having secured the release of the four members of TFI within 19 days.