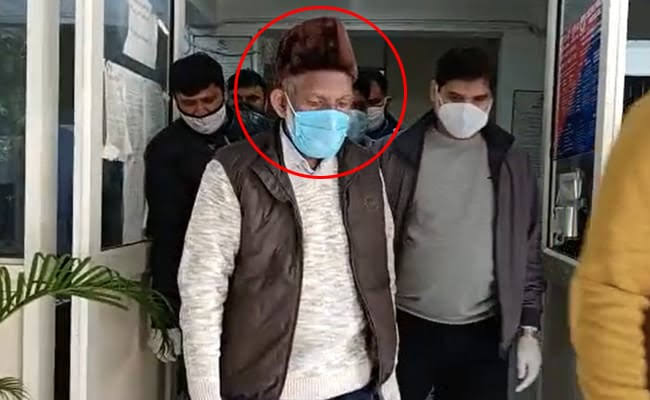 Abdullah Danish From Tihar Jail
Delhi Police on 5th December 2010 arrested 50-year-old Abdullah Danish, a member of banned Students' Islamic Movement of India, who had been on the run for the last 19 years in a case of sedition and UAPA, said Delhi Police. 
After my arrest on December 5th, 2020 and during my 10-day Police Custody (PC) that followed, the National Investigation Agency (NIA) investigators told me that Indian law enforcement agencies had changed and became professional now. We do not believe in typical ways of torture rather prefer to engage in dialogue with other ideologies. The terror laws have been refined and are no longer draconian, they added.
However, I was not fully aware of the two amendments in the Unlawful Activities Prevention Act (UAPA) making it a terror law and law that deals with communal rights. When I entered the Tihar Central Jail after the PC, I wanted to read UAPA and Jail Manual, but when I went to the jail library I didnt find them. The library of Central Jail number 4 has more than 80% books on fiction, 10% on Indian and Hindu Renaissance and 10% on modern Hindu religion. In Urdu language it houses only fiction, which the jail administration deem, are the "books on Islam". One Muslim inmate told me that when he asked for a copy of the Quran, jail Superintendent asked, where in the law is it written that you need reading Quran?
During a meeting with my lawyer, I came to know that new sections of amended UAPA related to terror have been invoked against me. I was arrested on 5th December 2020 and my charge sheet was filled on 18th March 2021 but still I could not get its copy. My son once came to jail with the same but the jail PRO declined to receive, even my summer clothes were also turned away.
"On May 27, 2021, Indian Express published the article of Payoshi Roy, the lawyer of Fr Stan Swamy, accused in Bhima Koregaon case. She writes, "Courts have been at their weakest and most differential to the executive in cases of terrorism and national security. In cases that supposedly threaten the national security, it has now even denied itself the power to adjudicate something as basic as bail application along time honoured principles".
Section 43(5) of UAPA act prohibits bail if reasonable grounds exist showing the accusation is prima facie true. While interpreting this section the Supreme Court in Zahoor Ali Shah Watali's case held that the court must not only presume that prosecution documents are true, it cannot even examine whether they are admissible in evidence; it must presume that they are. According to this section and the interpretation by Supreme Court, the cases where the only material, is an inadmissible confession to a police officer, the question of inadmissibility is irrelevant at the stage of bail, even if after many years of incarceration, it becomes the sole ground of acquittal", she added. The learned author of article questions; if the prosecution charge sheet is presumed to be true and its documents presumed to be admissible, what is left to argue in a bail application? The present UAPA act is bracketed among special laws because in other IPC laws the alleged confessions to a police officer is not admissible at stages of both bail and the final judgement.
Currently I am not aware of other provisions of UAPA, but so far as section 43D(5) is concerned, UAPA is a draconian law. The judges dealing with UAPA cases usually say, that this case can be revoked but bail cannot be granted.
The conviction rate under UAPA is reportedly 2.8% that is less than the conviction rate in previous TADA and POTA. As far as the rates of convictions are concerned UAPA is as stringent as previous terror acts. It is clear from the above data that 97.2% accused under UAPA are innocent. The conviction rate of 2.8% includes those who confessed to the crimes they did not commit, in order to avail early court decision because in these cases the acquittal takes more time than actual period of punishment. Accordingly, this law in a way does coerce the accused for confession.
The more discriminatory aspect about the law is the definition of "terrorism". Terrorism is defined as a challenge to sovereignty of India. While adjudicating the veracity of ban on Jamaat-e-Islami during mid-nineties the judge of the Tribunal referring to the kalimah of Islam said, that Jamaat-e-Islami believes in only one God as sovereign and thus, it does challenges the sovereignty of India. The concept of sovereignty of India does not and should not challenge the sovereignty of God. India, being a multi-religious country, cannot afford to challenge the sovereignty of God like the European countries. Our concept of sovereignty is our territorial independence and against any pressure of foreign powers.
The problem with our legislature and executive is that they have adopted a narrative, in the name of nationalism, that is inimical to the ideals enshrined in the Preamble of the Indian constitution. On the other hand, this narrative criminalises the concept of Unity, including concept of unity of mankind whereas the basic ideal of our constitution confirms the concept of Unity in Islam. Thus, the paradox of the current ruling dispensation is that it wants to promote Muslim sections that are compatible to discriminatory ancient Indian traditions and want to discourage the true Islamic believes that has the potential to establish the value that  are core to our preamble.
The style of functioning of security agencies is that they are microscopically searching the  Muslim youth who have the potential of doing something for promoting Islamic ideology. I  want to forward here two stances. In one instance, a Hindu youth from West Bengal and a  son of a Police Officer created a WhatsApp group namely "Al Qaeda" and invited Muslim youths to join, when some Muslim youth joined the group, the admin exited himself from the group, then after few days NIA arrested the group members and 11 members of the group are currently in Tihar Jail charged under UAPA. In another instance, a youth, a student of a seminary in Bangalore was befriended by an operative of NIA, and in the name of promoting the ideology of ISIS he was encouraged by him to shift to Delhi, and after attracting several used to this group, the NIA arrested all of them. They will be incarcerated in jails for a long time and after a long judicial trial they will be acquitted.
Therefore, we should try and let the legal, social, political community and the Human Rights organizations know that the provisions of UAPA are not very much different from the repealed TADA and POTA. For this objective, Legal Experts may be encouraged to file review petitions and PILs.
Abdullah Danish, under trail in UAPA case wrote this article about draconian law UAPA from Tihar jail.