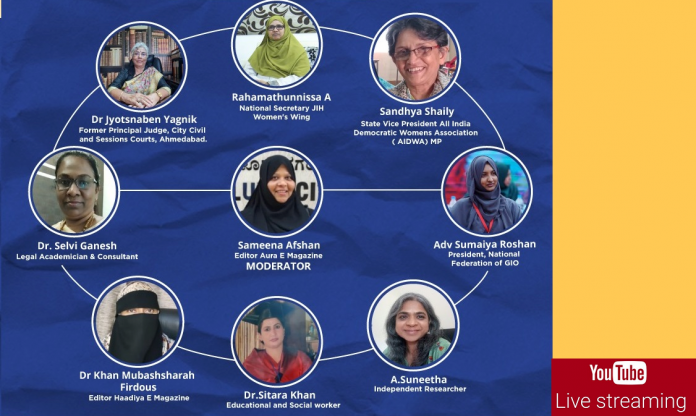 New Delhi:  Jamaat-e-Islami Hind (JIH) Women's Wing Secretary Rahamathunnissa has asserted that the Constitution of India assures justice, equality, liberty and fraternity to its citizens irrespective of gender, but Indian women are yet to get their constitutional rights.
Mrs.Rahamathunnissa was delivering the inaugural address in a JIH Women's Wing's special programme on the 'Constitution at 74 – Challenges and Possibilities for Indian Women' on the occasion of the 74th Republic Day of India.  Stressing on the need for a strict implementation of the constitutional provisions given to women in order to uplift them and ensure their equal status in society, she said, "we can feel proud that it is one of the best framed constitutions in the world with so much emphasis on equal rights for women.
A panel discussion featuring noted women activists and scholars, followed with Ms.Sameena Afshan, Editor Aura E Magazine as moderator. The expert panelists on board articulated their opinions on the wide gap between what the framers of the constitution envisaged and the practical reality in the country.
One of the panelists Dr. Selvi Ganesh, a legal academician and consultant said, "We have a constitution but we lack constitutionalism because the concept of gender equality is not in the general consciousness of the masses." She voiced concern about the plight of women in conflict zones, migrant labourers and abandoned widows in the country who are still unaware of their constitutional rights.
Dr Jyotsnaben Yagnik, former Principal Judge at the Civil and Sessions courts of Ahmedabad mentioned that the average Indian women do not consider themselves as equal citizens because of their mindset and nothing would ever change without changing the societal mindset.
Ms. Sandhya Shaily, State Vice President, AIDWA of Madhya Pradesh commented that the Indian constitution safeguarded the rights of women more than the constitution of other countries that secured their independence at the same time, but they got fever opportunities.
Expressing her concerns regarding the huge gap between rights given in the constitution and their implementations, Adv. Sumaiya Roshan, President of National federation of GIO said that the Hijab issue in Karnataka curbed the right to education not only for Muslim girls but affected the other marginalized communities as well.
Dr. Sitara Khan, Educationist and Social Worker has stressed that education alone can empower women and saw it as a strong weapon against crimes faced by women in India.
Observing that several studies place India on the top position in crime against women, Dr. Khan Mubashsharah Firdous, Editor of the Haadiya E Magazine, in her concluding address, lamented that domestic violence, forced labour and forced marriages were rampant in the country. She reiterated the dire need for an organized fight against the violence.
Ms Nada Khazia, Ms Sajida Falahi and Ms Fakhira Tabassum also spoke on the occasion while Ms Hina Farhan controlled the proceedings.