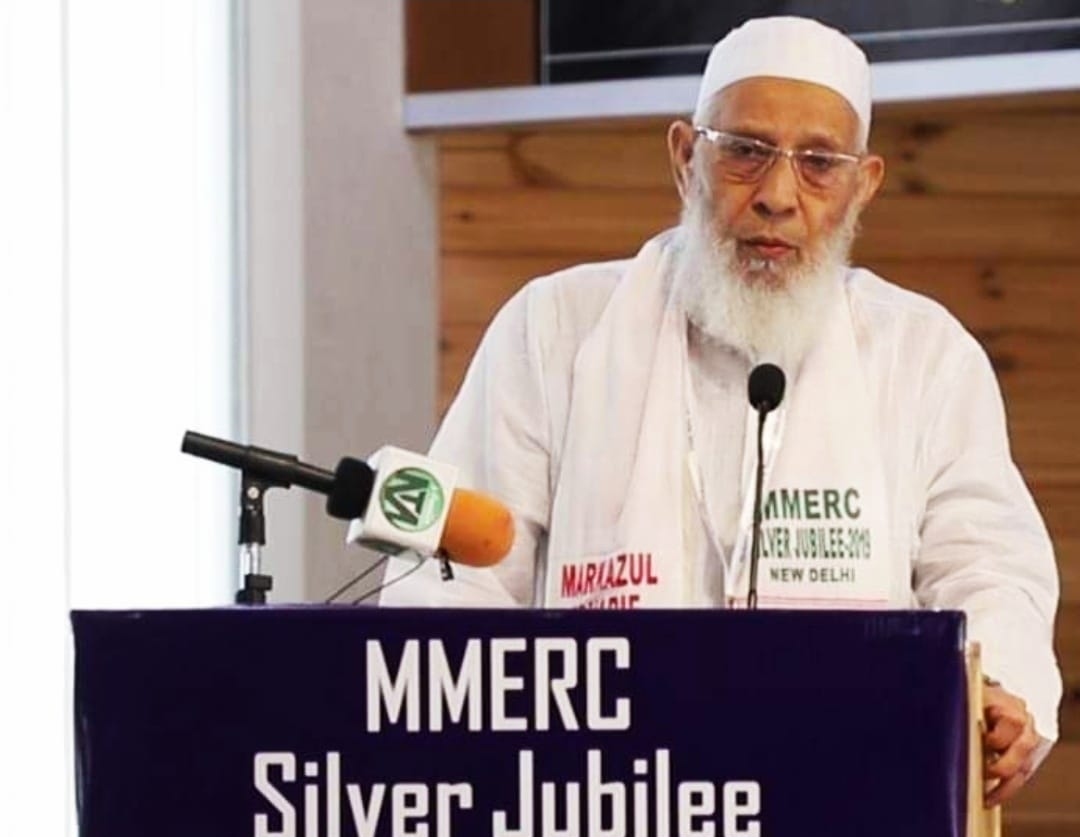 Khursheed Alam Dawood Qasmi
Qari Sayyid Muhammad Usman Mansoorpuri, popularly known as "Qari Sahib", was from the famous Sadaat family of Mansoorpur. It is situated in Mazaffarnagar district of Uttar Pradesh in India. He was born on 12th August 1944 at his ancestral place. His father's name was Nawab Sayyid Muhammad Isa.
Qari Sahib's Father:
Qari Sahib's father was a pious and God-fearing person. He practiced Islam in his day-to-day life as a true Muslim. He had much love and respect for the Ulama. He had taken the pledge of allegiance to Sheikhul Islam Maulana Sayyid Husain Ahmad Madani (1879-1957). He wanted his children to learn Islamic knowledge. He made Dua for his sons to memorize the holy Qura'an by heart. Allah accepted his Duaa and his all sons (Sayyid Muhammad Musa, Sayyid Muhammad Dawood and Qari Sayyid Muhammad Usman) completed the memorization of the holy Qura'an by heart. For the education of his children, giving the sacrifice, he left his hometown and shifted in a rented house in Deoband. He passed away in Deoband in 1963 and was buried in "Qasmi Graveyard" of Deoband. May Allah grant him Jannah!
Educational Journey:
Qari Sahib started his basic education at his hometown. He completed the memorization of the glorious Qura'an by heart at Madrasah Husainia, Mansoorpur. Then he got admission at Darul Uloom Deoband and started learning the Persian language. He learnt the whole Fazilat course at Darul Uloom. He completed the course 1965 (1385 AH) and passed the exams with flying colours.
Tajweed and Qira'ah:
After the graduation in Islamic studies, Qari Sahib remained in Darul Uloom in 1966 to learn Tajweed and Qira'at. He completed the course of Saba'h A'sharah to get perfection in the recitation of the holy Qura'an. While being the student of Qira'ah department and thanks to his perfect recitation of the holy Qura'an, he was invited in several programmes in Darul Uloom for the opening recitation. He, therefore, got fame as a Qari and it became the inseparable part of his name. Then commonly he was known as Qari Muhammad Usman Sahib.
It is appropriate to mention here that a delegation of Qurraa came from Egypt in Ramadan. They visited Darul Uloom Deoband. The programme was held in "Masjid Qadeem" for recitation of the Holy Qura'an following Zuhr Salah. They recited the holy Qura'an. When they had done their recitation, Qari Sahib stated that he had been a student of Qira'at Department in Darul Uloom Deoband. Then he also recited the Qura'an. He didn't recite in Tarteel as they did. He chose Hadar method. He would have read about one quarter of a Juz, I think. His recitation was so nice that not only the audience; but also those Qurraa liked and expressed their happiness. If I recall correctly, it was in Ramadan of 2002.
For spiritual guidance and soul rectification, Qari Sahib took the pledge of allegiance to Sheikhul Hadith Maulana Muhammad Zakariyyah (1898-1982) –May Allah grant him Jannah– But he was attached to Fidaye Millat Maulana Sayyid Asad Madani (1928-2006) with the suggestion of Sheikhul Hadith. He was granted Khilafah by Maulana Madani and was counted one among his great Khulafaa.
Teaching Career:
Following his graduation, Qari Sahib started his career as a teacher of Jamia Qasmia, Gaya, Bihar in 1967. The Madrasa was established by Maulana Qari Sayyid Fakhruddin (Rahimahullha), the Khalifah of Sheikhul Islam Maulana Sayyid Husand Ahmad Madani. He taught almost 5 years there. Then he resigned in 1972 to join Jamia Islamia Jama Masjid in Amroha, Uttar Pradesh. In Jama Masjid, he taught the books like Abu Dawood, Jalalein, Mukhtasar al-Ma'ani etc. He established al-Nadi al-Adabi in Jamia Islamia so that the students can learn how to write and speak Arabic language practically. He served in this Madrasah until he was appointed in his seat of learning Darul Uloom Deoband in 1982.
When we were in Darul Uoom, Qari Sahib was teaching Mishkat al-Masabih, Hidayah, Muwatta Imam Malik etc. In the final year of Fazilah Course, I had opportunity to learn Muwatta Imam Malik from him. The period used to be once in a week on each Friday in the morning. He used to come to the class at the stated time. While teaching, his lectures were brief and to the point. When there was a certain difficult topic, he used to explain deeply to make the students understand easily. Whenever he used to explain something, he used to mention the reference book. He had learnt Muwatta Imam Malik from Sheikh Muhammad Bashir Ahmad who had learnt it from Allamah Muhammad Anwar Shah Kashmiri (1875-1933) (May Allah grant them Jannah!). Currently he was teaching Mishkat al-Masabih, Tahawi etc.
Interest in Arabic Language:
Qari Sahib had been one of the close students of Maulana Waheeduz Zaman Qasmi Kairanavi (1930-1995), a celebrated teacher of Arabic language and Literature in Darul Uloom Deoband. He had much interest in Arabic language. He had good command over spoken Arabic. At the time of learning, he was one of the prominent students of the Arabic language. He taught "Asalib al-Inshaa" in "Takmil-e-Adab" (the Department of Arabic language and Literature) several years as well. He was patron of al-Nadi al-Adabi. Mostly he used to preside over its annual function.
Administrative Duties in Darul Uloom:
Qari Sahib was a principled, cool-minded, soft-spoken and very taciturn person. He was very sincere and serious regarding his duty. He was considered just, fair and firm in taking a decision in the light of the rules and regulations. Along with teaching responsibility, he was assigned the several administrative duties in the course of different times. He was made administrator of "Kul Hind Majlis Tahaffuze Khatme Nabuwwat" in 1986, Chief Manager of Boarding from 1415 to 1418, Deputy VC (1997-2008) and lately he was selected as the Assistant VC of Darul Uloom Deoband (October 2020= Safar 1442). He used to perform his assigned duties with accountability.
Remarkable Work as Administrator of Majlis:
Due to the spread of Qadianism, Darul Uloom Deoband held a three-day international conference on the topic: Tahaffuze Khatme Nabuwwat on 29-31 October 1986. Qari Sahib was the convener of the conference. Several scholars from India and abroad were invited to write the papers on the topic and participate in the conference. A good number of scholars partook in it from Saudi Arab, Bangladesh, UAE and another country. The conference was inaugurated with the comprehensive speech of Mufakkire Islam Maulana Sayyid Abul Hasan Ali Nadvi (1914-1999), ex-President of All India Muslim Personal Law Board. The concluding talk was delivered by famous scholar, Dr. Abdullah Omar Nasseef, General Secretary of the Muslim World League.
On the same occasion of the international conference, "Kul Hind Majlise Tahaffuze Khatme Nabuwwat" was established in Darul Uloom Deoband. The conference's convener, Qari Sahib was nominated as its administrator, Mufti Saeed Ahmad Palanpuri (1940-2020) was selected as its chief administrator and the then VC of Darul Uloom Deoband, Maualana Marghubur Rahman (1914-2010) was selected as its President. The services of the Majlis to remove the misconceptions and false views created by the Qadianis are noteworthy. Several workshops were held to train the scholars how to tackle the issues of Qadianism. In other parts of the country also the programmes were held to let the people know the true colour of Qadianism. The Majlis published dozens of books/booklets to remove baseless interpretation of Islamic thoughts by Qadianis. Several branches of Majlis were established in other Indian provinces. Qari Sahib used to participate himself without any excuse in such programmes and supervise all activities of the Majlis in the love of the Prophet Muhammad (Sallallahu Aleihi Wa Sallam). He continued heading the Majlis until he breathed his last. Almost three decades back, he himself wrote about the achievement of the Majlis:
"(1) To prepare the working men, two training camps, in 1409 and 1410 AH, were held in Darul Uloom. (2) Apart from them, some big camps were held in Gauhati, Madras, Mel Palem (Tamil Nadu), Alwak (Kerala), Bhagalpur, Bengaluru etc. (3) Despite of challenge, the Qadiani scholars couldn't muster courage to face the Islamic scholars in Khamini (Mathura) and Rohta (Agra). As the result, the debate was won by the Islamic scholars. (4) Our debaters have reached such places where the Qadiani group is busy secretly in its mischief-making. At some places, they had face-to-face talk where the Qadianis had to run away and Muslims were protected from their cheatings. (5) Almost 50 books have been published from the office. (6) Thousands of literatures have been spread in the whole country…." (Muhazrah Ilmiyyah Bar Mauzu' Radde Qadianyyat 2/32-33)
Jamiat Ulamae Hind:
Qari Sahib was an active member of Jamiat Ulama from the very beginning. Latter he was made the member of working committee of Jamiat. As the senior member, on the occasion of "Mulk Wa Millat Bachaw Tahreek" in 1979, leading a group, he was arrested and imprisoned in Tihar Jail of Delhi. On 15th April 2008, he was selected as the President of Jamiat Ulama Hind. Following the demise of the third Amiru Hind, Maulana Marghubur Rahman Bijnori (1914-2010), he was selected as the 4th Amirul Hind in 2010 under the Imarat Shariah Hind. He served Jamiat as its President for more than 13 years until he breathed his last. As the president, he took several worth mentioning decisions like establishment of "Jamiat Youth Club", "Jamiat Open School" etc.
Lectures on Qadianism:
Qari Sahib used to give weekly lectures on Qadianism among the students who were learning in several departments following their graduation in Darul Uloom, Deoband. Those lectures are published in 5 parts. In the first part, introduction of the topic, biography of Mirza Ghulam Qadiani, his character, his educational and religious background, introduction of his books and some other Qadiani leaders' books and several Qadianis groups etc. have been presented. In the second part, the topics like: list of Ghulam Qadiani's misleading beliefs, his political face, Qadianis' interest in establishing Jew state and the historical services of the elders of Deoband against Qadianism etc. have been included. In the third part, the important topics like: the Prophethood, Messengerhood and its need, proofs of finality of prophethood in the Holy Qura'an and the holy narrations, meaning of finality of prophethood according to Qadiani group, doubts and fallacy of Qadianis regarding the verses and Hadiths related to the finality of prophethood and its replies, distortion of meaning of the Qura'anic verses and Hadiths by Mirza Ghulam Qadiani etc. have been discussed. In the fourth part, the beliefs of Jew, Christians, Muslims and Qadianis about Isa (AS) being alive, raised to the skies and coming before the Last Day as its major sign have been deliberated in detailed. In the fifth part, several claims of Mirza Ghulam Qadiani like being replica of Jesus (AS), Mahdi, the prophet and messenger, his misleading wrong prophecies, essential of Deen, categories of Kufr and the ruling regarding having relation with Qadianis have been presented in details. In brief, these lectures are very comprehensive and important to know the false views of Qadiani about Islam in the light of the authentic reference books.
Qari Sahib's Sade Demise and Survivors:
Qari Sahib fell sick in the mid of Ramadan 1442 AH. Latter he was tested Covid-19 positive. Then oxygen level also went down. The oxygen was arranged and he was treated under the care of the doctors at the home. Following some days, when he was tested covid-19, the negative report came. Once again he fell sick and the health condition started deteriorating and the weakness grew. At that time, he was admitted in the Medanta Hospital Gurgaon in Haryana on 18th May 2021 = 5th Shawwal 1442. Then the health situation improved a bit; but again the condition started deteriorating and he left for heavenly abode on Friday 21st May 2021 = 8th Shawwal 1442 AH in Hospital. First his funeral prayer was performed in the central office of Jamiat Ulama Hind in Delhi and the second one in Darul Uloom Deoband which was led by Mualana Sayyid Arshad Madani, Head-Teacher of Darul Uloom Deoband. He was buried in the Qasmi Graveyard of Deoband. May Allah accept his services and grant him Jannah! Ameen!
Allah the almighty blessed him with one daughter and two sons. The first one is Mufti Sayyid Muhammad Salman. He is Mufti, teacher of Hadith and the editor of "Nidae Shahi", Urdu monthly organ of Jamia Qasimia Madrasa Shahi Muradabad. He has compiled more than dozen books. He is a well-known and respected scholar within the country and abroad. The second one is Mufti Sayyid Muhammad Affan Mansoorpuri. He is head-teacher of Madrasa Islamia Jame Masjid, Amroha. He is also a qualified scholar and well-known for his oratory and writings. Qari Sahib was a distinguished person in upbringing the children. His two sons are the fruits of his upbringing as the elders say. Qari Sahib is survived by his wife, the daughter and two sons. May Allah give them long life with safe and sound health! Ameen!
The writer is an Islamic scholar and teacher at Mon Rays Trust School, Zambia, Africa. He can be reached at qasmikhursheed@yahoo.co.in.