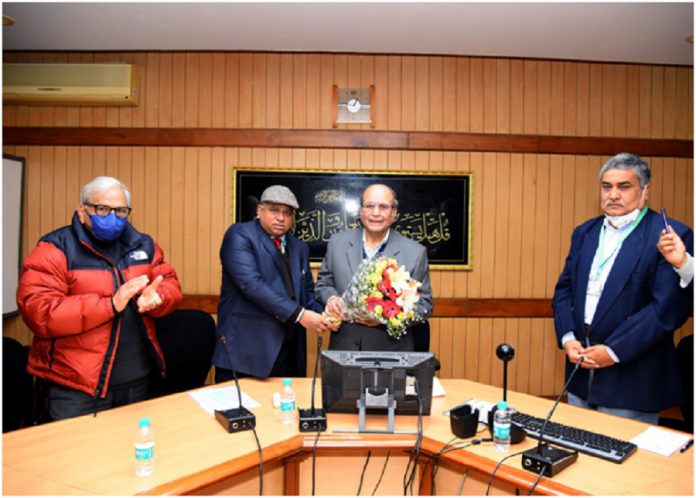 New Delhi, January 25,  2022 :  Jamia  Hamdard  is  very  proud  to  announce  that MR. HAMMAD AHMED, Hon'ble Co-Chairman, Hamdard National Foundatioin (India), President, Hamdard National Foundation (India) – HECA  and  Chief Mutawalli (Trustee) of Hamdard Laboratories India (Foods) has been appointed as the Chancellor of Jamia Hamdard (Deemed to be University), New Delhi.
 The Hon'ble Chancellor is welcomed by Prof.(Dr.) M. Afshar Alam, Vice Chancellor, Prof. Iqbal S. Hasnain, Former Pro-Chancellor, Mr. Syed Saud Akhtar, Registrar in the presence of various Deans of Schools, Dy. Registrar, Chief Proctor, DSW, FSA, Executive Engineer and other senior  officers of Jamia Hamdard in the Vice Chancellor Board Room, Jamia Hamdard.
Mr. Hammad  Ahmed is also a well known philanthropist, man of wisdom and exemplary character. He is one of the founding members of Hamdard National Foundation at its inception in 1964, he brings with him infinite wisdom and experience. Over more than 50 years, he has forged Hamdard National Foundation into one of India's most prominent and respected charitable organizations.
His charming and inspiring personality borrows dimensions from his father, Late Janab Hakeem Abdul Hameed, the founder of Hamdard National Foundation and Jamia Hamdard. Mr. Hammad Ahmed's quiet modesty hides the magnitude of his achievements in introducing new initiatives for contributions to society, and his relentless commitment to the charitable cause has improved the lives of countless people.
He has been involved in Jamia Hamdard  before its recognition as Deemed University status in 1989. Over the years, he has served in the Executive Council, Finance Committee and various other advisory bodies of the University and has championed the growth of Jamia Hamdard through sustained personal attention and interest.
Since joining Hamdard Laboratories India as its Sales and Marketing Head in 1973, he has overseen a meteoric rise in business and the Hamdard name, in the process establishing himself as one of India's prominent business leaders.
Educated in Sherwood College, Nainital, and then in Cornwall, UK and New York, USA for further studies, Mr. Hammad Ahmed has inculcated a strong sense of discipline in his life and work, and the results are self-evident.
Md. Tauhid Alam
Public Relations Officer (PRO)
Jamia Hamdard
Hamdard Nagar
New Delhi-110062
(M) 9810185303